NFL
Player ratings for the Cardinals vs Browns game | NFL Week 6
Kyler Murray threw four touchdowns in the Arizona Cardinals 37-14 win over the Cleveland Browns. Murray is the early season favorite for NFL MVP.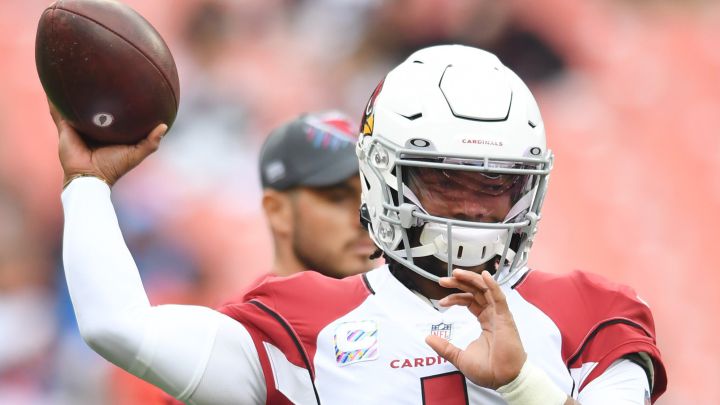 Kyler Murray continued his campaign for MVP of the NFL with another fantastic performances in the Arizona Cardinals sixth straight win to start the season. The former Heisman Trophy winner stole the headlines from former teammate Baker Mayfield, throwing for 229 yards and four touchdowns in the Cardinals 37-14 win.
Arizona Cardinals skill player ratings:
Kyler Murray QB: 8.5
If the Cardinals had been efficient in the red zone in the opening half, Murray could have had six touchdowns. But 226 yards and four touchdowns is nothing to slouch at. He did have a staggering four fumbles, all of which he recovered, but if his rating seems low that's the reason on an other wise flawless night.
James Conner RB: 6
Added a nice balance to the Cardinals offense. Wore the Browns defense down, and it was visible in the second half. He had 16 carries for 71 yards.
Chase Edmonds RB: 4
Started the game with a 40 yard dash to get the Cardinals started of in the right direction on their opening possession. Had just three carries for six yards the rest of the day.
A.J. Green WR: 7
Murray spread the love tonight, so the numbers weren't incredible for any of the receivers, but Green led all with 79 yards and a touchdown on five receptions.
Christian Kirk WR: 6.5
Almost identical numbers as Green. He had 75 yards and a touchdown on 5 receptions. We'll give him a half point less because he was targeted eight times as opposed to Green's six targets.
DeAndre Hopkins WR: 7
What an embarrassment of riches Murray has at his disposal. Three top receivers, and he still manages to make sure everyone gets their fair portion of the pie. Hopkins had 55 yards and two touchdowns on three catches.
Cleveland Browns skill player ratings:
Baker Mayfield QB: 4
One thing you can't question is this dude's toughness. Came in with a bummed shoulder and had an awkward landing on his second fumble of the night that looked like it could have been serious. Mayfield had 234 yards, two touchdowns, an interception and two fumbles
Kareem Hunt RB: 5
Filling in as the main ball carrier with Nick Chubb out with a calf injury, he wasn't used a whole lot in the first half because the Browns were down big early.
Donovan Peoples-Jones WR: 7
Was without question the bright spot of the night for the Browns. He and Mayfield's chemistry is growing more dangerous by the day. He had four catches, including a ferocious catch and run into the end zone and the Hail Mary TD at the end of the first half. Ended with four catches for 101 yards and the only Cleveland touchdowns of the night.
Odell Beckham Jr. WR: 5.5
Looked as if he was getting back to his most dangerous self after a weeks of working his way back to 100%. Had a scare in the first half after a big completion. Went to the sideline after landing on his shoulder but came back to finish with five catches for 79 yards.
Anthony Schwartz WR: 1.5
Just two catches for Mayfield's third option at receiver. Ended the game with 11 yards.
Austin Hooper TE: 1
Just one catch for four yards for the Browns starting tight end.