NFL
Rodgers taunts Bears fans: "All my f****** life I own you" after Packers win
Aaron Rodgers had some words for Chicago Bears fans after the Green Bay Packers won on Sunday.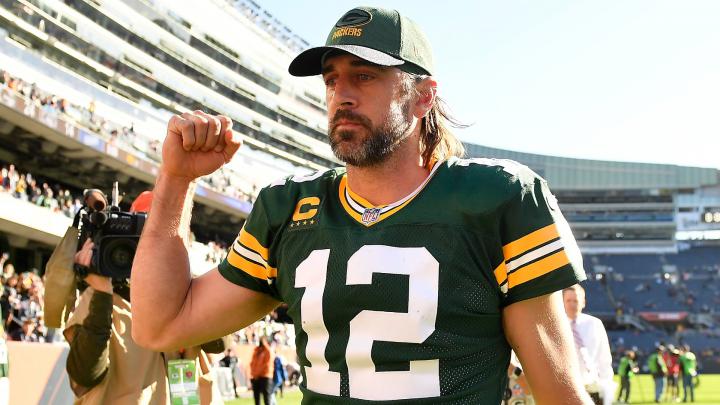 Green Bay Packers star Aaron Rodgers told jeering Chicago Bears fans "I still own you" after the reigning NFL MVP inspired a 24-14 victory on the road.
Rodgers was at his brilliant best as he claimed his 22nd win over the Bears, the veteran quarterback throwing two touchdowns and running for another at Soldier Field.
His 22-5 record against the Bears ranks third-best for winning percentage (81.5) by a quarterback against a single opponent since 1950 (minimum 25 starts), behind Tom Brady (91.4 per cent against the Buffalo Bills) and Ben Roethlisberger (87.0 per cent against the Cleveland Browns).
Rodgers: "All I saw was a woman giving me the double bird"

As he left the field, Rodgers could be heard taunting Chicago supporters: "All my f****** life, I own you. I still own you. I still own you."
Rodgers finished 17-of-23 passing for 195 yards and no interceptions with a 128.0 passer rating as the Packers (5-1) won their fifth straight game.
The Super Bowl winner also reacted to one fan after his touchdown against the Bears.
"Sometimes you black out on the field – in a good way," Rodgers said. "I looked up in the stands and in the front row all I saw was a woman giving me the double bird.
"So I'm not sure exactly what came out of my mouth next."
"I love this rivalry. It's been a lot of fun over the years," Rodgers said. "That's what I told [Bears rookie] Justin [Fields] on the field. I said, 'Enjoy this. It's a special rivalry, unlike any other in our game.'"
Packers head coach Matt LaFleur added: "Listen, all I can say is: A lot of stuff gets said on the field that nobody ever hears.
"It's one of those moments of competition where things get said and ... I don't know what Aaron said about it, I'm sure you guys asked him. ... Again, it's a competitive game, and I think that's one of those moments where you see the competitor in Aaron come out."