US NEWS
Fourth stimulus check: When did the negotiations take place?
Lawmakers pushed hard and began negotiating for a fourth stimulus check to be sent in the spring, then suddenly, it fell off the legislative agenda.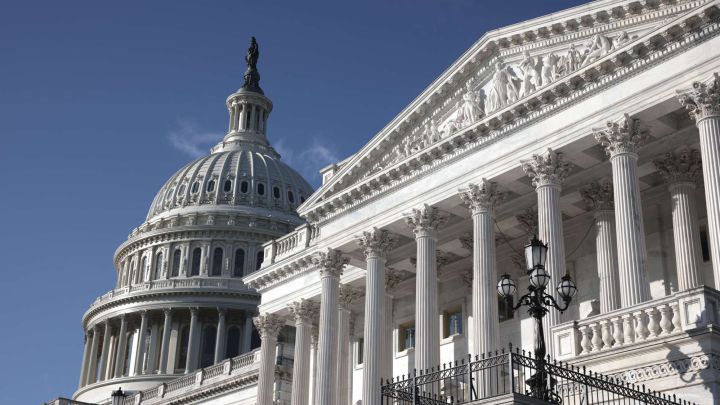 In April and May, nearly one hundred Democratic lawmakers advocated and called on their legislative bodies to pass a fourth stimulus check. To many, it seemed that momentum was growing, and then suddenly lawmakers fell silent.
Shift to Build Back Better
Focus shifted to President Biden's Build Back Better agenda and the White House made it clear that they were not going to push for the sending of another round of direct payments. Rather, the Biden administration pushed for other benefits that would send more sustained payments to fewer individuals. One example is the Child Tax Credit, which under the American Rescue Plan was altered to reach more families. Whereas before, there were income requirements to claim the credit, the new structure allowed those with no income to claim the benefit. This change made more than twenty-four million more children eligible to receive the credit.
Biden hits an NJ Transit train yard as a deadline looms on his "Build Back Better" spending plans

"These bills are about competitiveness vs. complacency ... leading the world [or] letting the world pass us by."

"Aging infrastructure ... an impediment."https://t.co/n2Kc8lVIVR

— New York Daily News (@NYDailyNews) October 25, 2021
Infrastructure and Reconciliation
In April, President Biden unveiled the American Jobs Plan, which aimed to make historic investments in both the nation's crumbling infrastructure and workers. However, Republicans quickly rejected the proposal saying that they would only support a bill focused on traditional infrastructures like roads, airports, and bridges.
Negotiations between the White House and Republican leaders like Senator Shelly Moore Capito took place and quickly fell apart. Replacing these negotiations, came the bipartisan infrastructure bill put together with a group of Democratic and Republican Senators. Progressive Democrats did not accept this proposal arguing that it left out many of the campaign promises made by the President and other Democrats elected in 2020.
Chairmen of the Senate Budget Committee Bernie Sanders began leading a parallel reconciliation bill that initially totaled more than $3.5 trillion. This bill included an extension of the current structure of the Child Tax Credit for five years, the establishment of a federal paid family leave program, and provided two years of free community college.
What is the status of both bills?
The infrastructure bill has been approved by the Senate but has been held up in the House of Representatives by Democrats who are withholding their votes until the reconciliation bill is brought to the floor.
Until the last week, the White House had been negotiating with two Democratic Senators: Joe Manchin of West Virginia and Kyrsten Sinema of Arizona. Both Senators are withholding their votes on the reconciliation bill based on its size. To gain their votes some outlets have reported that popular aspects are being cut. Changes to the reconciliation bill could include the elimination of the community college measure and the extension of the Child Tax Credit for one year.
Senator Joe Manchin said Monday Democrats should be able to reach a deal this week on a framework for President Biden's economic agenda. https://t.co/IePnDuB6ay

— Bloomberg Government (@BGOV) October 25, 2021
Speaker Nancy Pelosi and Senate Majority Leader Chuck Schumer are hoping to have their chambers approve both pieces of legislation by the end of the month, but as negotiations drag on, it is unclear whether this deadline will be met.