NFL
Packers WR Davante Adams placed on covid-19 reserve list
As the Packers head to Arizona for the toughest game so far, they may have to play it without one of their main attacking options.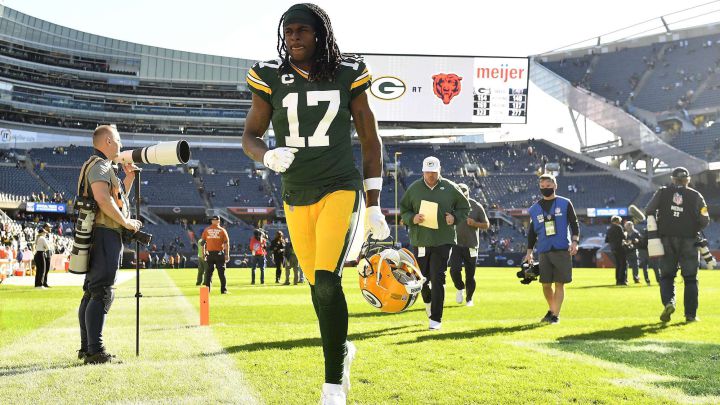 One of Aaron Rodgers' best partners in crime is now sidelined due to covid-19 protocols
Packers' Davante Adams out with covid-19
As the Green Bay Packers approach their game against the unbeaten Cardinals, it could be that they will have to play it without one of their biggest attacking threats, as star wide receiver Davante Adams has now been placed on the reserve/COVID-19 list.
Packers placed WR Davante Adams on the COVID-19 list.

— Adam Schefter (@AdamSchefter) October 25, 2021
According to ESPN's Adam Schefter, Adams tested positive for COVID-19. Interestingly, Adams was not subjected to the protocols for unvaccinated players, which would seem to indicate that he is in fact vaccinated. Assuming this is the case he will need to be asymptomatic along with registering two negative PCR tests 24 hours, in order to play on Thursday night. Adams status was announced only moments after Packers coach Matt LaFleur stated that defensive coordinator Joe Barry will also be absent for Thursday's game away to Arizona due to COVID-19 rules.
Coach LaFleur confident there is no big problem
LaFleur added that the team had entered enhanced mitigation protocols that call for daily testing of all personnel and for masks to be worn at the facility. LaFleur went on to say that there were "potentially some other issues with the [coaching staff], however, he felt that it would not impact any of the players. Conversely it was just two hours later that Adams was placed on the list.
Matt LaFleur said the Packers have gone to heightened COVID protocols because in addition to Joe Barry, "there are potential other issues with the staff."

All coaches meetings today are virtual and everyone has to be masked in the facility, regardless of vaccination status.

— Rob Demovsky (@RobDemovsky) October 25, 2021
"Any time that you have any cases, you're always a little bit concerned about that," the coach stated. "But the majority of our guys are vaccinated, so there's a little bit different protocol with that. I don't think in terms of being at close contact with any of our players, I don't think that's a real concern of ours right now. But we're still waiting to hear back from the league before we get clearance on anything."
Davante Adams' numbers and LaFleur's defensive hopes
So far this season Adams has quite simply been impressive. The wide receiver leads the Packers in catches (52) and receiving yards (744). He is currently tied for second in the NFL in catches and sits at third in yards among all receivers. The Cardinals will understandably now be liking their chances a lot more.
Speaking on his idea of strategy for the game, LaFleur said defense will be a "collective effort with everybody involved and having an input." LaFleur will of course have to rely heavily on Defensive backs coach Jerry Gray, who will likely have to take the lead in Barry's absence. Barry is in fact the second member of the Packers' defensive coaching staff to test positive for COVID-19. Defensive line coach Jerry Montgomery was absent for the Week 2 game due to a positive test.
The Packers (6-1) now face their strongest opponent so far and a team that is unbeaten in the Cardinals (7-0). Quarterback Kyler Murray has proven to be a stand out player this season, however, he will surely be put to the test by the Packers who boast one of the most solid defenses in the league.