NBA
Jokic won't miss extended time after knee injury vs. Jazz Tuesday
The reigning NBA MVP Nikola Jokic went down in the second quarter of the Nuggets game against the Jazz. Tests showed no structural damage to the star's knee.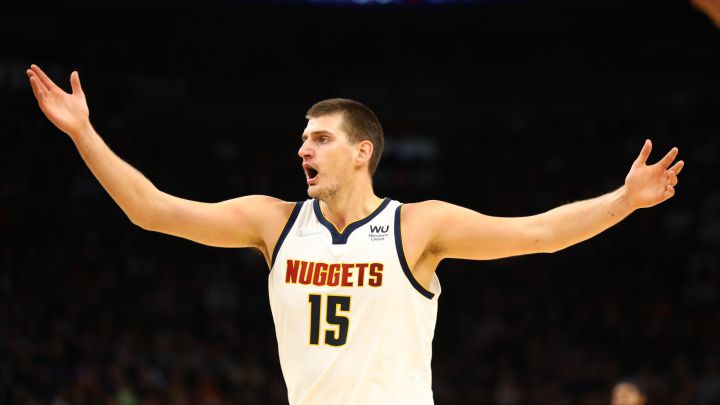 The Denver Nuggets and the league's reigning MVP received good news after an MRI showed no structural damage to Nicola Jokic's knee.
Jokic injury just a scare

The Serbian went down in the second quarter the Nuggets' game against the Jazz on Tuesday night. Jokic tried to make a defensive play on Utah center Rudy Gobert who drove along the baseline, and collided knees with the Nuggets start.
Jokic was visibly in a great deal of pain after dropping immediately to the hardwood. He came out for warmups for the second half, but in the end did not return to the game as Denver went on to lose 122-110 to Utah.
Malone: if up to Jokic, he'd play every game
"He said it feels a little weak, and I just shut him down," said Nuggets coach Mike Malone. "I took the decision; it's not his decision to make."
The MVP spoke to the Denver Post on Wednesday morning, saying that his knee was sore, but tests came back negative on the star big man's knee.
Malone made the decision not to play Jokic in the second half, stating "What I have learned about Nikola is, if you leave it up to Nikola, he is going to play every game. So sometimes I have to make decisions for him, and it makes no sense for me when he told me it feels a little weak for him to play in the second half. And that is for any player. ... It just didn't make any sense to have Nikola go out there for a second night of a back-to-back and the risk of any further damage."
Nuggets avoid another long term knee injury
The Nuggets can certainly not afford to lose their MVP considering they have been without Jamal Murray since late last season when he tore his ACL in April.
Jokic got off to a blistering start against the Jazz, posting 24 points, 6 rebounds and 6 assists in just over a quarters time. The defending MVP has started his season averaging 27 points and 16 assists in the early stages of the season.