NBA
Steph Curry passes Ray Allen record in win over Bulls
Stephen Curry is looking for the Golden State Warriors to continue their winning run on the road after a record-breaking performance.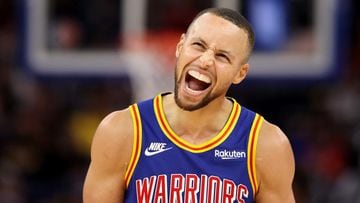 Stephen Curry took Ray Allen's three-point record as he dropped 40 in the Golden State Warriors' win against the Chicago Bulls on Friday.
Warriors point guard Curry came into the game one behind Allen's tally of 3,358 three-pointers made across the regular season and playoffs.
And the two-time MVP eased past that mark as he shot nine of 17 from beyond the arc, moving to 3,366 for his career from 7,871 attempts in 886 games; Allen had 8,388 attempts in 1,471 games.
It is a record Curry is set to hold for a long, long time, with the nearest active player on the list James Harden in fourth, some 539 back on 2,827.
Lillard behind Curry
This was Curry's 38th career game making nine or more threes. His closest challenger in that regard is Damian Lillard on a distant 12, while Allen had only three such performances. Curry has two this season alone.
The Warriors as a team have now made 10 threes in 40 straight games, continuing a franchise record run.
Curry's 28.4 points per game have carried Golden State to a league-best 11-1 start, but only now does he feel he is truly coming into form, having also scored 50 against the Atlanta Hawks this week.
The previous two games before Atlanta's visit had seen Curry fail to reach 20 points, yet he was not concerned.
"It follows kind of the usual pattern for how I start seasons," he said on Friday.
The Warriors superstar said he was "not really worrying about the output". "It's just about trying to find win games and create momentum, and usually good things happen," he added.
Strong record versus Bulls
The Chicago game – a 119-93 win, their ninth in a row against the Bulls – brought to an end an eight-game homestand in which Golden State went 7-1, suffering their only defeat on the year to the Memphis Grizzlies before winning seven straight.
"We took care of business. Defensively, we were really solid for all eight games," Curry said.
"We had different guys step up every night, we found a pretty solid rotation, for the most part, even got some young guys some good minutes.
"We're still trying to find opportunities for everybody, still trying to find our identity for how we're going to win, and everybody being comfortable in their roles and all of that, but we're winning and learning on the fly with some really good momentum.
"I'm proud – for eight games, it's hard to stay locked in, with the routine and monotony of every other day doing the same thing. It was a really impressive homestand."
Now the Warriors go on a four-game road trip, starting at the Charlotte Hornets on Sunday.
But Golden State have won their first three road games this year, meaning another victory would tie their second-best start to a season away from home. They have some way to go before matching the 14 consecutive road wins the 2015-16 Warriors started with.
"Hopefully we can pack that momentum with us," said Curry, part of that team, too. "But it all comes down to how you execute and getting that energy and effort that you bring.
"It's easy to get up for it when you have your home crowd rooting you on and that energy, but on the road it requires another level of focus and intensity to win games. We know how to do it, it's just a matter of showing up."