NFL
NFL Week 11 Schedule: Cowboys vs Chiefs, dates, games, times
The Chiefs will try to slow down the Cowboys, whose 8-2 record is tied for the NFL's best, in Sunday Night Football. Find the full Week 11 schedule below.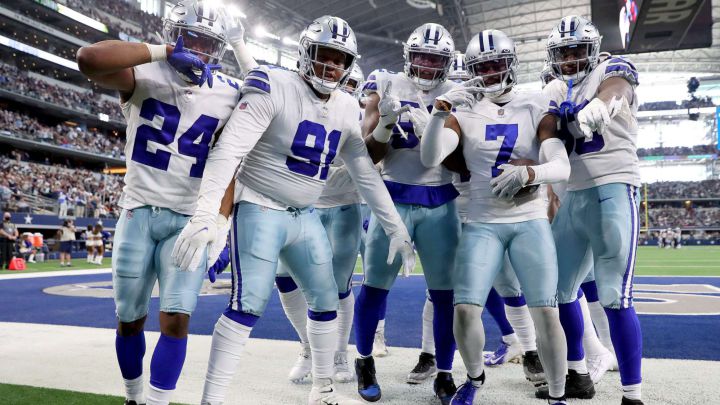 Week 11 of the regular 2021 NFL season kicks off with the New England Patriots and Atlanta Falcons in Thursday Night Football on Nov. 18.
This week brings us many important matchups on Sunday, Nov. 21, including the Green Bay Packers vs. Minnesota Vikings, Cincinnati Bengals vs. Las Vegas Raiders, Pittsburgh Steelers vs. Los Angeles Chargers and the most exciting one for us, the Dallas Cowboys vs. Kansas City Chiefs.
Wrapping up Week 8 will be the New York Giants and the Tampa Bay Buccaneers on Monday Night Football on Nov. 22.
Highlight of the Week: Cowboys vs Chiefs
And in what is the highlight of the weekend, the Cowboys (7-2), go up against the Kansas City Chiefs (6-4) on Sunday, Nov. 21 at Arrowhead Stadium, MO.
If we go back in time for a quick reminder, some of us will recall how this very game was a potential Super Bowl matchup in the 2020 season, before Dak Prescott got hurt and everything quickly changed.
And while the Cowboys and Chiefs are not giving us the same feels this season, we anticipate quite a matchup in Kansas City as both teams are coming off of explosive offenses in Week 10.
Dallas swallowed the Atlanta Falcons on Sunday in a 43-3 defeat where both their electric offense and defense visibly caught Atlanta off guard. Led by quarterback Dak Prescott who threw for two TDs and rushed for one in the blowout, Dallas set a record for most points in a quarter, scoring 29 in the second period alone. By halftime, the Cowboys were already at 36-3, reliving their largest halftime lead since 1971.
The Chiefs are coming off of a 41-14 victory over the Las Vegas Raiders, where their offense looked really good too; QB Patrick Mahomes threw for five touchdowns (406 yards) lifting the Chiefs up to 6-4.
While it must have felt real good for the Cowboys to finish their last game off with such exquisite force, we anticipate "America's team" to feed off of that game's momentum as they head over to Kansas City.
Let's take a look at the Week 11 schedule and how it will unfold when it gets underway on Thursday, Nov. 18.
Week 11 NFL Schedule
Thursday 18 November
Patriots vs Falcons (8:20 p.m. ET / 5:20 p.m. PT)
Sunday 21 November
Saints vs Eagles (1:00 p.m. ET / 10:00 a.m. PT)
Dolphins vs Jets (1:00 p.m. ET / 10:00 a.m. PT)
Washington vs Panthers (1:00 p.m. ET / 10:00 a.m. PT)
Colts vs Bills (1:00 p.m. ET / 10:00 a.m. PT)
Lions vs Browns (1:00 p.m. ET / 10:00 a.m. PT)
49ers vs Jaguars (1:00 p.m. ET / 10:00 a.m. PT)
Texans vs Titans (1:00 p.m. ET / 10:00 a.m. PT)
Packers vs Vikings(1:00 p.m. ET / 10:00 a.m. PT)
Ravens vs Bears (1:00 p.m. ET / 10:00 a.m. PT)
Sunday Late Games
Bengals vs Raiders (4:05 p.m. ET / 1:05 p.m. PT)
Cowboys vs Chiefs (4:25 p.m. ET / 1:25 p.m. PT)
Cardinals vs Seahawks (4:25 p.m. ET / 1:25 p.m. PT)
Monday 22 November
Giants vs Bucs (8:15 p.m. ET / 5:15 p.m. PT)
Chargers vs Steelers (8:20 p.m. ET / 5:20 p.m. PT)
How to watch the NFL Games
Our guide on how to watch every NFL game of the 21-22 season.