NFL | BROWNS
Baker Mayfield not concerned by Browns fans after "shit game" against Detriot
Quarterback Baker Mayfield says he did not face the media after the Browns' win over the Lions as he felt it was "best to wait".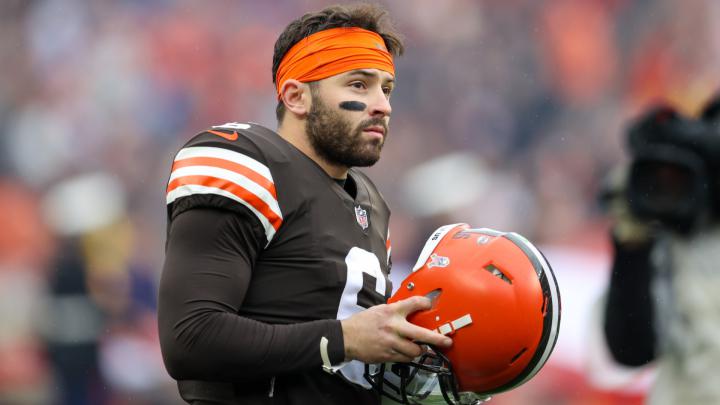 Baker Mayfield declared he doesn't care about being booed by Cleveland Browns fans during what he acknowledged was a "s***" performance in a win over the Detroit Lions.
The Browns moved to 6-5 at FirstEnergy Stadium on Sunday but it was certainly not a vintage display as they ground out a 13-10 win.
Mayfield has been hampered by injuries all season and the quarterback played through the pain barrier once again before snubbing the media after the game.
Coming up against the only winless team in the NFL, Mayfield only completed 15 of 29 passes for just 176 yards, threw two interceptions and one touchdown pass for Nick Chubb.
A passer rating of 53.2 was his lowest of the season and the fourth-worst of his career.
Browns supporters vented their displeasure at Mayfield in no uncertain terms, but the 26-year-old signal-caller says he is not paying much attention to those who turned on him.
Mayfield gives Browns fans short shrift
He told reporters on Monday: "Those are probably the same fans that won't be quiet while we're on offense and trying to operate. So, don't really care."
Mayfield says he did not fulfil his post-game media duties as he needed time to cool down after falling short of the standards he expects from himself.
"I've never dodged any questions or hid away from that. Just frustrated, removed the emotions and all that from it. Just decided it was best to wait," he added.
"Not one part of that's about not being accountable. I'd be the first to tell you I played like s***. I don't owe that to you guys, I owe that to my team-mates."
Mayfield marched straight off the field at the end of the game because he did not feel in the mood to celebrate the win.
"My guys know that all I care about is winning. But I'm going to be frustrated if I do stuff to make it harder on us. And I did yesterday. And that's just flat-out where it was," Mayfield said.
"But I'm never going to take winning for granted. That's something that's very hard to do in this league. And it hasn't been a very common thing around here for a long time.
"So, I'm just frustrated with how I played. That's how I've always been. [My team-mates] know how I'm going to come back and attack this week."