Supreme Court Abortion Cases
Can the Supreme Court overturn Roe v Wade? When and who will decide?
Justices will hear oral arguments on a Mississippi law which would ban abortions after 15 weeks, greatly restricting women's access to the procedure.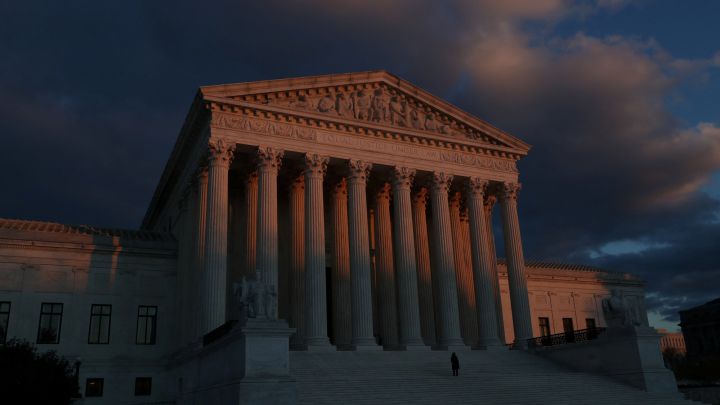 On Wednesday, 1 December the Supreme Court will begin hearing oral arguments on the most significant abortion rights case of a generation, which will challenge the fundamental principles of the historical Roe v Wade decision in 1973.
Dobbs v Jackson Women's Health Organization relates to a law passed by the state of Mississippi which prevents nearly all abortions after 15 weeks of pregnancy, slashing a key element of abortion rights in the United States.
Read more
Can the Supreme Court overturn Roe v Wade?
The Roe v Wade ruling ensures the key principles of constitutional abortion rights and is the only thing preventing a number of states of enacting their own abortion bans. States are unable to introduce bans on abortions before 24 weeks, which is considered the point of fetal viability i.e. when the fetus could potentially survive outside of the womb.
The Mississippi law is a direct challenge to that, but back in May the Supreme Court shocked abortion rights campaigners by announcing that they would hear arguments on the ban, indicating that there is a chance the state could be successful.
The decision reflects the rapid change of composition of the Supreme Court in recent years after former President Donald Trump was able to name three conservative-minded justices in his single term in office. Justice Brett Kavanaugh and Neil Gorsuch were joined by Justice Amy Coney Barrett, an open opponent of abortion rights.
This gives a 6-3 ideological split in the Supreme Court in favour of conservatives, who are typically more likely to impose restrictions on abortion rights. Justice Clarence Thomas has previously stated publically that he believes Roe v Wade should be overturned.
How will the Supreme Court rule on abortion rights?
The Supreme Court's willingness to even listen to a case relating to a pre-viability ban on abortions is a huge departure from previous decisions, but is far from confirmation that Roe v Wade will be overturned. While running for the White House, Donald Trump announced his intentions to appoint "pro-life justices" and a number of those on the Supreme Court are known sceptics of Roe v Wade.
The question at stake in the Supreme Court now is whether or not all bans on pre-abortion viability are unconstitutional. Mississippi's Republican attorney general, Lynn Fitch, has argued that both Roe v Wade and Planned Parenthood v Casey in 1992 were both "unprincipled decisions" and should not be allowed to dictate the terms of new abortion bans in relation to fetal viability.
It is possible, however, that the Supreme Court could rule to allow Mississippi's 15-week ban to remain in place without directly overturning Roe v Wade. The 24-week period has been a central tenet of abortion rights in the US for decades but is now facing the most serious threat to date.