NFL
NFL suspends Cowboys' Trysten Hill for punching opponent
And yet another unfortunate road bump for Dallas in what has been a rough week.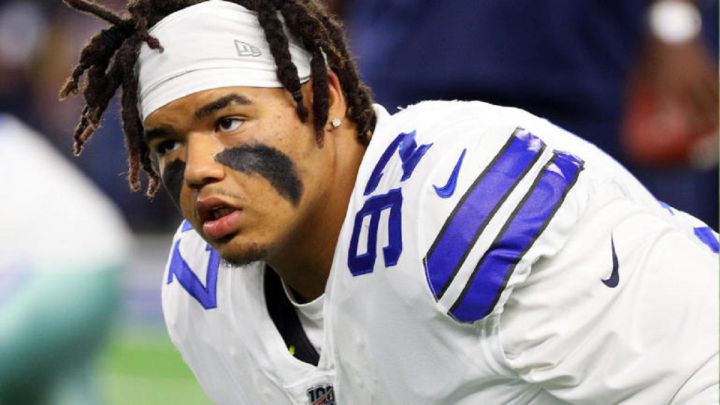 The Cowboys aren't enjoying the best of luck this week
The NFL suspends Cowboys' Trysten Hill for punch
Having seen head coach Mike McCarthy test positive for covid-19 earlier in the week, the unexpected loss against Las Vegas on Thanksgiving day was already bad enough. Unfortunately for the Cowboys it didn't end there. As the final whistle went on Sunday Cowboys defensive tackle Trysten Hill was seen punching Raiders guard John Simpson in the face mask region. As a result the NFL announced on Monday that it would be suspending Hill without pay for two games.
Cowboys' defensive tackle Trysten Hill is being suspended two games for throwing this punch at Las Vegas Raiders' guard John Simpson after Thursday's Thanksgiving Day game. The suspension starts Thursday night vs. the Saints. pic.twitter.com/bYLwI2v0gO

— Adam Schefter (@AdamSchefter) November 29, 2021
The NFL issues a statement to Trysten Hill
Officially Hill was charged with violations of unnecessary roughness and unsportsmanlike conduct. The suspension itself was issued by NFL vice president of football operations Jon Runyan. Runyan stated:
"After the Las Vegas Raiders-Dallas Cowboys game on November 25, you engaged in conduct that this office considers unnecessary roughness and displays a lack of sportsmanship. Specifically, as both teams were shaking hands, you waited more than 50 seconds for your opponent at the 50-yard line. When you located him, you then walked toward him in the opposite direction of your locker room. You both engaged in a verbal chest-to-chest confrontation which you escalated by throwing an open hand punch to his facemask, forcible enough to cause your opponent's helmet to come off."
Trysten Hill of the Cowboys has been suspended without pay for two games for violations of unnecessary roughness and unsportsmanlike conduct rules following Thursday's game against the Raiders. pic.twitter.com/lJHui6YGD4

— Michael Signora (@NFLfootballinfo) November 29, 2021
It is understood that Hill is attempting to appeal the decision, however, it is unclear on what grounds the Cowboys player is doing so. Should the suspension stand, he would miss games against the New Orleans Saints this coming Thursday and against the Washington Football Team on December 12th. Indeed would be eligible to return to the team on the 13th of December.
Cowboys' DC Dan Quinn weighs in
Defensive coordinator Dan Quinn was clear about where he stood on the altercation involving Hill. According to USAToday he stated he would soon be in contact with Hill. "He will be getting a call from me, that's for sure," Quinn said. "Like just making sure we keep our discipline right. And it takes a lot of discipline to unclench your fists, sometimes more than clench it. And so, I think on those ones, let's make sure we, we know how to have that kind of discipline too."
For more from the NFL
Hill for his part only recently returned to the roster having spent 13 months in rehab after tearing his ACL. Ironically, the Cowboys' Thanksgiving game was possibly the best performance of Hill's career so far, as he registered five tackles while showing an athletic versatility that had to be noted. Quinn also spoke of the positives as he praised the way in which Hill stood firm against the run.
"I definitely feel his effort and energy to play," Quinn said. "He's making the improvements you want him to make."