CORONAVIRUS STIMULUS CHECKS
How many stimulus checks were issued in 2021?
Direct payments were a vital lifetime during the first 12 months of the pandemic but in the second half of 2021 there was a reluctance to support the proposals.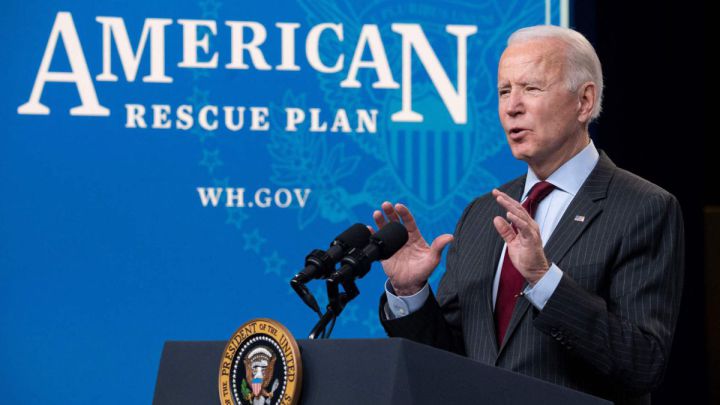 Throughout the pandemic the federal government has sought to ease the financial consequences of covid-19 and the related restrictions by offering relief to Americans. This has been done in the form of the boosted unemployment benefits and the expanded Child Tax Credit, but by far the most far-reaching of those programmes has been the three rounds of stimulus checks.
First introduced in the CARES Act of March 2020, Economic Impact Payments (more commonly known as stimulus checks) are a direct cash injection into the bank accounts of individual people. As we approach one year since the last round of the payments was approved, we take a look back at the stimulus checks in 2021…
Only one round of direct payments was distributed last year
2021 began with a change in the White House as President Biden was sworn into office, bringing with him an ambitious legislative proposal known as the American Rescue Plan. The bill comprised roughly $1.9 trillion of federal funding in total and while campaigning in the all-important Georgia Senate run-off election last January, Democrats vowed to pass a $2,000 stimulus check if they successfully retook the Senate.
After the victories of two Democrats, Rev. Raphael Warnock and Jon Ossoff, the party claimed unified control in Washington, giving them more freedom to pass legislation. However many were disappointed to find that Biden's proposals included a stimulus check worth just $1,400, which he justified as a 'top-up' on the $600 checks passed by President Trump the previous month, bringing the total to $2,000.
BREAKING: Consumer spending rose 4.2% last month, the fastest pace in nine months, while incomes, boosted by stimulus checks, soared a record-breaking 21.1% in March. The gains offer more evidence the economy is poised for a robust recovery.

— The Associated Press (@AP) April 30, 2021
The lower-than-expected third stimulus check payment was underwhelming for many, but it did at least allow Biden to pass the whole American Rescue Plan and begin distribution fairly quickly. By June the IRS reported that 163.5 million payments had been sent as part of the third stimulus check, totalling more than $390 billion.
Little desire in Washington to push for a fourth stimulus check in 2021
After passing the American Rescue Plan within his first two months in office, Biden moved onto other more far-sighted legislation to aid the nation's economic recovery. In the late summer he unveiled a massive infrastructure bill which was designed to provide a boost to industry.
Biden's version did not receive sufficient support in Congress but a revised bipartisan proposal worth around $1 trillion was duly signed into law in November. The President then continued to work on the more ambitious Build Back Better package, which included greater social spending.
The roughly $2 trillion package included additional funding for programmes like the expanded Child Tax Credit and consumer rebates to boost the green economy, but failed to include an additional round of stimulus checks.
.@LeaderHoyer to Minority Whip Scalise: "Unfortunately we don't have help from your side. [...] All those problems that you mentioned would be extraordinarily worse if we hadn't passed the American Rescue Plan. [...] Not a single person on your side of the aisle voted for that." pic.twitter.com/NVbrdGY7Nq

— The Hill (@thehill) October 24, 2021
At points in 2021 there was a groundswell of support in Congress for a fourth stimulus check to be considered. In May a group of 56 Democrats in the House of Representatives signed a letter to Biden calling for $2,000 recurring monthly payments to provide "certainty in a crisis" for American families.
However, although Vice President Kamala Harris had actually supported a similar proposal in 2020 while a senator, the request from lawmakers failed to gain any traction in the White House. After the failure to secure enough votes for the Build Back Better bill it seems unlikely that there will be sufficient support for an additional stimulus check in the near future, unless Republican members agreed to cross the aisle and support some of the Democrats' more ambitious proposals.