Bucs' Bruce Arians gives his side of the Antonio Brown feud
As the war of words between the Bucs and their recently released WR worsens, their head coach's comments will surely only add fuel to the fire.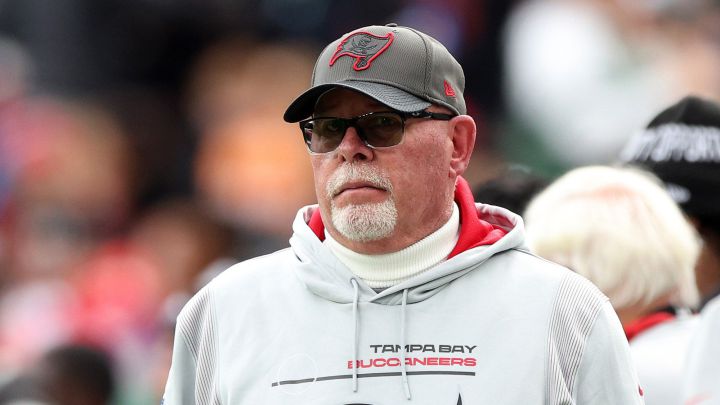 The back and forth between the Tampa Bay Buccaneers and their now x player, Antonio Brown seems to be going further off the rails. Bruce Arians has now entered the fray
Bruce Arians explains what happened with Antonio Brown
Though he was initially against the idea of giving any further comment on what transpired between himself and former Bucs' wide receiver Antonio Brown, Tampa Bay's head coach Bruce Arians has now given his side of what occurred on the team's sideline during the game against the New York Jets at MetLife Stadium. Indeed, Arians took to the podium just after Brown's release had been announced and proceeded to give detail on exactly how their altercation played out.
"Obviously, we let Antonio go today. Just to clear you up on some things that happened. At no point in time during that game did he ever ask the trainer or doctor about his ankle. He never went through - that's the normal protocol. You go through protocols during games. I was never notified of it. So that was the disturbing thing when we were going to look for him to go back into the game. He was very upset at halftime about who was getting targeted, but got that calmed down - players took care of that. It started again on the sideline. We called the personnel group that he had played in the entire game, but he refused to go in the game. That's when I looked back and basically saw him wave off the coach. I then went back and approached him about what was going on. [He said], "I ain't playing." [I said], "What's going on?" [He said], "I ain't getting the ball." That's when I said, "You're done. Get the F outta here." That's the end of it. We're working on Carolina and that's the end of the story. Hopefully, it ends today."
The Brown vs Bucs saga continues
While one can understand Arians hopes for the near future end of the ongoing feud with Antonio Brown, it does not look very likely that he will get his wish. With new reports emerging that Brown and his agent approached the Bucs' general manager Jason Licht in an effort to secure the remaining $2 million only to see Licht refuse, the situation looks set to get worse before it gets better. Add to that Arians' comments regarding Brown's anger at not being targeted more - Brown stood to earn hundreds of thousands of dollars in incentives - then it begins to look like an implication of financial concerns rather than physical health ones. With that said, one can surely imagine that Antonio Brown will soon have a response.