Tom Brady has his say on the Antonio Brown situation
With a tone of diplomacy, the Buccaneers star quarterback sidestepped questions about his feelings and instead focused on the realities of football.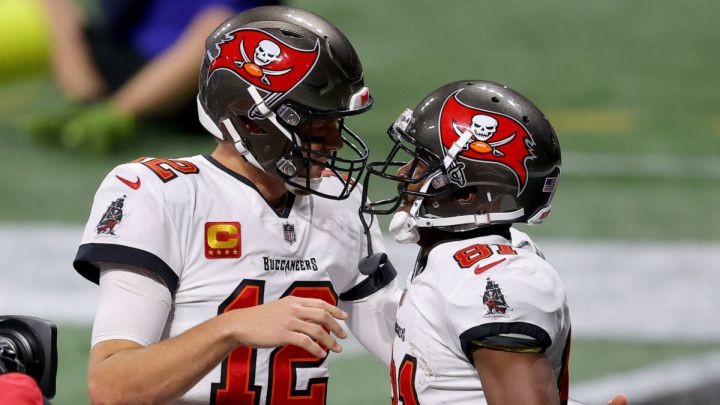 From the days of the Patriots' dynasty of domination to the impressive Super Bowl winning Buccaneers, the partnership between Tom Brady and Antonio Brown has been on full display. That is until now.
Antonio Brown, Tom Brady and the issue of money
For anyone on the outside looking in, it must seem strange to see the recent accusations leveled at Tom Brady by Antonio Brown. Indeed, Brady has been one of Brown's most consistent supporters, coming to his defense on numerous occasions over the years. As recently as Monday, just one day after the infamous Jets game in which Brown left the field mid game, Brady made calls for empathy and compassion as he expressed his intention to be the best friend he could be for Brown.
For more from the NFL
That, however, will surely be the last time. As mentioned before Brown leveled varying accusations and to some extent insults at Brady. Firstly taking to social media on Thursday, where he implied on Twitter that Brady and his personal trainer Alex Guerrero had attempted to swindle him out of $100k. He later followed that bizarre episode with an appearance on the Full Send podcast where he directly questioned the nature of their friendship, saying that it was in fact Brady who helped him finalize the details of his Buccaneers contract. "Brady is the general manager," Brown said. "He's the guy my agent made the contract with, he's the middleman and politician. I talked to Tom and he knows I'm not going to play." According to Sportrac, Brown's contract included a number of incentives that he would undoubtedly have needed Brady's help to reach. Payments for achieving 50 and 70 receptions as well as 600 and 800 yards were in place. Additionally there was also an extra payment for arriving at five and seven receiving touchdowns.
Connecting the dots in the Antonio Brown saga
Where incentives are concerned, the reality is by getting cut from the Bucs this week, Antonio Brown fell just short of a $1 million payday in bonuses. If we then consider the recent comments of Buccaneers' head coach Bruce Arians, who said "He was very upset at halftime about who was getting targeted. Got that calmed down, players took care of that," we begin to get a clearer picture of a player who perhaps was not injured as he has maintained, but focused on his potential financial gains. Indeed, there is the very real possibility that Brown was upset because he knew he was on track to miss his incentives. According to reports Brown and his representatives actually approached Bucs management in an effort to see the incentives fully guaranteed. The request was denied.
Antonio Brown needed:

8 more catches to unlock a $333,333 bonus.

He also needed 55 receiving yards to unlock another $333,333 bonus.

He also needed just 1 receiving TD to unlock another $333,333 bonus.

This was a costly outburst.

— Spotrac (@spotrac) January 2, 2022
Tom Brady has his say
Ironically in the immediate aftermath of Brown's release, it was none other than Tom Brady who would first meet with the media. Asked whether or not he had been "hurt" by the events of the past week, the seven time Super Bowl simply sidestepped the question. As for the notion of targets and incentives that face his different teammates and his role in helping them achieve them, Brady was more forthcoming. "I think you'd always like to target, you want to get everyone involved, obviously," Brady said. "I think the receiver position there is always - they're a long ways from the football, when you stand out there. As a quarterback, you honestly do the best you can do. You try to read the coverage, try to find the open guy and realize that guys are going to be open and unfortunately don't get it sometimes, and other times you make bad reads, and you make bad throws. Just part of playing football and playing quarterback."
With a brief look at the chronology of events, one can't accuse Brady of not wanting to see Antonio Brown at his best. Does Brown see it that way? Probably not. In fact, it's quite likely that there will be a response to Brady's comments in the coming days, but judging from Brady's stance it would appear the Bucs' quarterback has said all he had to say and won't be entering into a public war of words with his former teammate, who is 'no longer a Buc.'