How and where to watch the Cincinnati Bengals vs the Las Vegas Raiders
After a tumultuous season - for the wrong reasons - the Raiders have a post season date with the title winning Bengals. Here is what you need to know.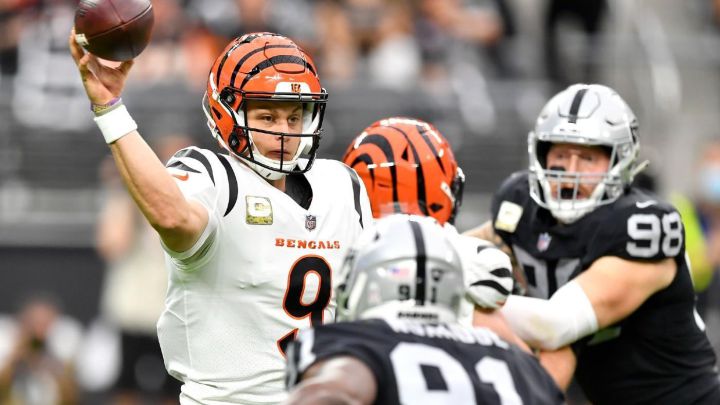 The Raiders have had quite a few off the field issues this season, while the Bengals clinched their first title in a while. Whatever way you cut it, the NFL playoffs have arrived.
The Raiders keep on going
After a dramatic late win against the Los Angeles Chargers during Sunday Night Football, the Raiders had to wait for a last gasp field goal, in order to emerge victorious in what was an exciting 35-32 victory over the Chargers. With that, it now seems that QB Derek Carr is set to make his first start in a playoff game. "I just have this weird feeling in my heart like the job is not done, like my favorite player Kobe [Bryant] said, 'Job is not done.' It does feel good, it's exciting, but I don't set out to just make the playoffs, although it's been since 2016 and I didn't even get to play. It feels cool."
A long time coming for the Bengals
The Cincinnati Bengals are in the middle of a great moment. Quarterback Joe Burrow has been at the forefront of a group of young players who have taken their division by storm. Along with the likes of Ja'Marr Chase and Tee Higgins, the Bengals claimed AFC North title for the first time since 2015 with a Week 17 win against the Kansas City Chiefs no less. With that in mind, there are some players who have been given a rest as such one can expect the Bengals to be ready to go. Add to that the fact that they already got the better of the Raiders back in Week 11 with a 32-13 win and can forgive the air of confidence that Cincinnati is currently showing.
How to watch the Bengals vs Raiders?
The NFL game between the Cincinnati Bengals and the Las Vegas Raiders comes to you live from the Paul Brown Stadium in Cincinnati, Ohio on Saturday January 15th. Kickoff is set for 4:30 p.m. ET. or 10:30 p.m. CET. If you'd like to watch on TV then there is only one station and that's NBC. If you'd like to stream on the other hand then you can find the game on Peacock Premium or the NBC Sports app. As always we will be bringing you our live text coverage here on AS USA, so be sure to check in with us if you'd like to follow the action!