NFL Picks: 49ers will win in Dallas; Tom Brady will advance and the Patriots won't
In 2020, 4 out of 6 visitors won at Wild Cards. Will history repeat itself? At least the oddsmakers don't think so, since all locals are favourites.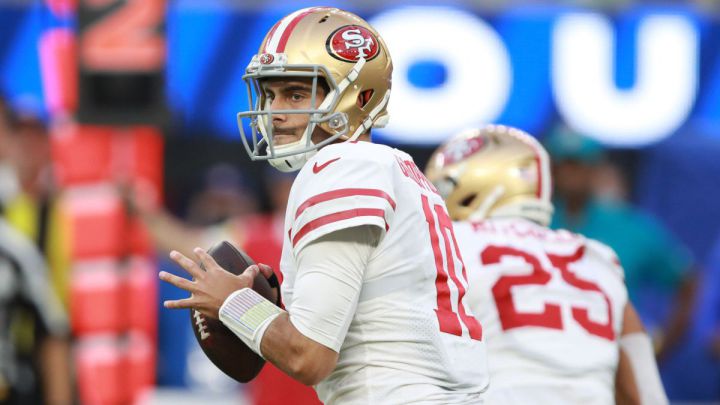 We're here at last: the NFL regular season is behind us and Super Wild Card weekend is here. And unlike last year, the NFL Playoffs will be played with public in the stadiums and that must be a factor to consider.
In 2020, four out of six visitors won at Super Wild Card Weekend. Will history repeat itself in 2021? At least the oddsmakers don't think so, since all home teams are favourites.
They probably don't expect too many upsets because four of the five quarterbacks making their playoff debuts (Derek Carr, Mac Jones, Jalen Hurts and Kyler Murray) will do so on the road. The other is Cincinnati's Joe Burrow.
There are three aspects of the game that are magnified when it comes to the postseason: defense, running game and turnovers.
Of the Playoffs teams, Buffalo comes in with the best defense; Philadelphia is the better running team and Dallas has forced more turnovers.
Did you know?
Las Vegas at Cincinnati (-5.5)
Playoff Series: Raiders 2-0
The Raiders defense will face the best version of Joe Burrow. In the last four, the young Bengals quarterback has completed 74.7 percent of his passes, averaging 369 passing yards, with 11 touchdowns and zero interceptions.
In wins over the Browns, Broncos and Colts, Las Vegas allowed 147 or fewer passing yards, but Justin Herbert broke through with 355 on the final Sunday Night of the season.
Pick: Maxx Crosby is key to the Raiders' aspirations because if Burrow has time to throw the ball, there isn't a cornerback on the Las Vegas perimeter who can handle rookie Ja'Marr Chase all game.
Bengals 28-24 Raiders
New England at Buffalo (-3.5)
Playoff Series: Patriots 1-0
In Week 13, New England won 14-10 at Buffalo, and in Week 16 the Bills defeated the Patriots 31-21 in Foxborough.
In late December, Josh Allen destroyed Bill Belichick's defense with 314 yards, three touchdowns and zero interceptions. The Bills need more of the same if they want to stay alive in the Divisional Round.
Buffalo (17.0) and New England (17.8) defenses ranked first and second, respectively, in points allowed per game. The Bills and Patriots also finished with 30 turnovers, tied for third in the NFL.
Pick: Buffalo needs to do a better job stopping New England's rushing game, which had 222 yards in Week 13 (111 by Damien Harris), and forcing rookie Mac Jones to throw more than Belichick and Josh McDaniels want. Because Jones, like it or not, is the Patriots' weakest link.
Buffalo 23-17 New England
Philadelphia at Tampa Bay (-8.5)
Playoff Series: 2-2
Despite losing wide receiver Chris Godwin (ACL) four weeks ago, Tom Brady closed out the regular season with six touchdown passes in the last two games of the regular season.
Mike Evans (hamstring) isn't 100%, but the good news for Tom Brady and the rest of the Bucs' offense is the return of Leonard Fournette, a key player in last season's Playoffs.
Coach Bruce Arians is also hoping for the return of linebackers Shaquil Barrett and Jason Pierre-Paul, who are sorely needed against a quarterback with the mobility and rushing ability of Jalen Hurts.
Pick: If Miles Sanders (hand) doesn't play, it will be difficult for Philadelphia to set up the running game and Tampa Bay's defense will focus on Hurts; Fournette's return will help Brady, and that's bad news for coach Nick Sirianni's team.
Bucs 28-17 Eagles
San Francisco at Dallas (-3)
Playoff series: Cowboys 5-2
Dallas went 6-0 against the NFC East Division and 6-5 against the rest of the NFL. That includes a 1-4 against teams with 10 or more wins.
In those five games against rivals that are now in the playoffs, Dak Prescott threw 12 touchdown passes and had four interceptions. The problem for Dallas has been its inability to run the ball, averaging 62.5 yards in losses to Tampa Bay, Kansas City, Las Vegas and Arizona.
The Cowboys defense must find a way to contain Deebo Samuel, the most dynamic player in the 49ers offense, with 8 rushing touchdowns and 6 receiving scores. Micah Parsons and Trevon Diggs will be key to completing that mission.
Pick: No one doubts the ability of Prescott and the rest of the Dallas offense, but they've fallen short against contenders. San Francisco is a bad matchup not just for Dallas, but for any opponent in the NFC.
49ers 28-24 Cowboys
Pittsburgh at Kansas City (-12.5)
Playoff Series: 1-1
On Dec. 26, the Chiefs didn't have to do much to beat Pittsburgh 36-10 at home.
It's true that the Steelers' defense missed their best man, T.J. Watt, who did not play much (one tackle) due to a rib injury.
It's also true that Patrick Mahomes threw three touchdown passes despite the absence of his most trusted target, tight end Travis Kelce, who missed that game after testing positive for Covid.
Watt and Kelce will play Sunday night at Arrowhead.
Pick: Kansas City's defense has given up 364 yards or more in four of the last six, so Ben Roethlisberger and the Pittsburgh offense are likely capable of putting 10-plus points on the scoreboard.
Chiefs 31-21 Steelers
Arizona at Los Angeles Rams (-4)
Playoff Series: Rams 1-0
These two divisional rivals split wins in the regular season and both lost at home.
The Rams want to be the second team in history to play a Super Bowl at home, but for that Matthew Stafford has to put a stop to interceptions (seven in the last three games of the regular season).
Pick: The Cardinals are underdogs, but if they can run the ball against a defense that struggled all season in that area, Kyler Murray and company could walk out of SoFi Stadium with one of the Super Wild Card Weekend upsets.
Arizona 29-26 Los Angeles.
Full Wild Card Weekend schedule and how to watch
Check out the full schedule for this weekend's football action, as well as how to tune in to each game. You can also follow live commentary here in AS USA, starting with Raiders - Bengals on Saturday evening.