Doncic halts the Warriors as Embiid and Harden shine for 76ers
Slovenia's Luka Doncic held off the Warriros in the NBA to give his Dallas Mavericks a 107-101 win, while Joel Embiid and star James Harden shined for the 76ers over the NY Knicks.
Slovenia's Luka Doncic was in top form holding off the Golden State Warriros in the NBA on Sunday to give his Dallas Mavericks a 107-101 win, while Cameroon's Joel Embiid and star James Harden shined for the Philadelphia 76ers over the NY Knicks.
Doncic also converted two free throws with 7.9 seconds to play en route to totaling 34 points as his Mavericks rallied from a 21-point deficit in the third quarter.
Meanwhile, for the Warriors, star Stephen Curry hit a three-pointer with 10 seconds to play and finished with 27 points and 10 assists in his first home game since winning All-Star Game MVP honors, but the Warriors couldn't do enough against an unstoppable Mavericks.
Doncic hit 10 of 21 shots from the paint in the first of two matchups over the next five days between two of the top teams in the Western Conference.
Andrew Wiggins added 18 points for Golden State and Kevon Looney grabbed 10 rebounds to finish with eight points and five assists, while Klay Thompson sat out due to illness after missing Saturday's practice.
76ers out-muscle Knicks
Earlier, Embiid and Harden shined on the boards to lead the Philadelphia 76ers to a 125-109 victory over the NY Nicks.
Cameroon's Embiid scored 37 points and made a whopping 23 free throws while star Harden posted a triple-double with 29 points, 16 assists and 10 rebounds as the Sixers picked up their second straight win with their new duo.
The Sixers scored 39 free throws, the most by a team this season in the NBA, and Harden matched his season-best performance with his 16 services for touchdowns.
Embiid, the NBA's leading scorer this season, finished 23-of-27 on free throws and added nine rebounds.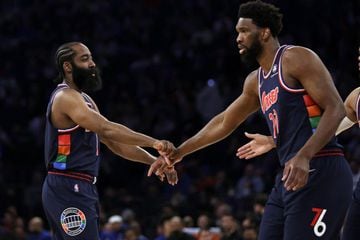 After a powerful performance in a 133-102 win Friday at Minnesota in Harden's debut with the 76ers, this Sunday the Philadelphia team handled the game much better.
They were tied at 100 points in the final quarter, but Philadelphia pulled away by scoring 10 of its next 12 from the stripe. Embiid converted six free throws, Harden four, in that stretch.
R.J. Barrett and Evan Fournier scored 24 points apiece for the Knicks, who have lost five straight and nine of their last 10 games. Julius Randle added 16 boards, 10 catches and seven assists.
Embiid had scored 34 and Harden 27 and 12 assists Friday in the sophomore's first game since the 76ers acquired him from the Nets.
Harden and Embiid received loud cheers from Sixers fans at Madison Square Garden. They then combined to score Philadelphia's first 11 points.
NBA: Sunday results
Philadelphia at NY Knicks 125-109
Utah at Phoenix 118-114
Indiana at Boston 128-107
LA Clippers at Houston 99-98
Detroit at Charlotte 127-126 (in over time)
Dallas at Golden State 107-101
Denver at Portland 124-92
New Orleans at LA Lakers 123-95