Former Lakers' DeAndre Jordan expected to sign with the 76ers
The Philadelphia 76ers plan to sign former L.A. Lakers center DeAndre Jordan, who was cut after LA's loss to the Pelicans, to make space for D.J. Augustin.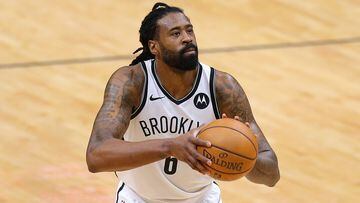 The Philadelphia 76ers, who have an open roster spot, are expected to sign NBA All-Star DeAndre Jordan as a waiver claim or as a free agent.
Jordan, 33, lived a short stretch with Los Angeles, joining them in free agency last summer, following two seasons with the Brooklyn Nets. The Lakers cut Jordan 24 hours after Sunday's blowout loss to the New Orleans Pelicans, and many NBA viewers couldn't help but wonder if that decision was based on the Hail Mary pass he launched in the second quarter of the game that went viral. Take a look below:
While Jordan's pass was just not helpful, the Lakers' decision to cut the three-time All-NBA and two-time NBA All-Defensive Team member was to clear space for D.J. Augustin, former Rockets' guard.
Lakers head coach Frank Vogel reiterated that on Tuesday night, ahead of the Lakers vs Mavericks game, "We wish DeAndre well… It's really just a need thing. He gets an opportunity to have a bigger role somewhere else, he felt. We granted that to him. We had the need for more point guard and shooting that we were able to pick up with DJ Augustin."
Augustin, who last played for the Houston Rockets, averaged 5.4 points and 2.2 assists in 32 games played in Houston, for 15 minutes per game. The 34-year-old was waived by Houston on Feb. 10 at the trade deadline.
See Also:
DeAndre Jordan and Lakers not having the best season
Both the Lakers and Jordan struggled to break into their stride this season. The veteran center averaged 4.1 points and 5.4 rebounds in 32 games with Los Angeles, while playing 12.8 minutes a game.
The James-led team, 27-33, are currently ninth in the Western Conference and are seemingly struggling to reach the postseason. They have 22 regular season games remaining, and between their continuous injuries, roster inconsistency and early-season covid restrainment, they might not reach their peak this season.
L.A. is 2.5 games ahead of the Portland Trail Blazers and the Pelicans for the last play-in tournament spot.