Russia - Ukraine war news summary: Tuesday 5 April 2022
Russia - Ukraine conflict: live updates
Headlines
- Zelenskyy admits Ukraine has "no option but to negotiate with Russia"
- Satellite images show civilian corpses in Bucha while it was in Russian hands
- President Biden calls Putin a "war criminal" in response to atrocities in Bucha
- Russian Defence Ministry denies war crimes committed in Bucha, describing images as "fake" and "staged"
- Germany, France and UK join calls for tougher sanctions on Russia
- EU lining up more Ukraine support and more Russia sanctions
- Ukrainian photojournalist Maks Levin was found dead in Kyiv after being reported missing.
Background: Russia-Ukraine conflict
- State of the fighting: which armies control what areas?
- Hacking collectiveAnonymous continues to attack Russian companies.
- Western leaders are "weary" of Russian de-escalation messages
Related news:
Russian lies at the UN exposed by BBC research
Russia has persistently claimed that the bodies found in the Ukrainian town of Bucha were deposited there by Ukrainian forces once the town was liberated. However, satellite images of Bucha from weeks ago show that the reality is they had been shot by Russian troops.
Video footage from April 1 shows scattered bodies on the road in Bucha, while satellie footage from March 19 shows the same bodies in the same locations.
What is the Russian narrative at the UN conference?
We're told that there can be no Nazis in Ukraine. Unfortunately they are running the show... We came to you to Ukraine not to conquer lands. We need to cut out the malignant Nazi tumour that is consuming Ukraine and would in time begin to consume Russia. And we will achieve that goal.
Zelenskyy speaks to UN about his nation's plight
Ukrainian President Volodymyr Zelenskyy urged the United Nations on Tuesday to act and reform its system which gives Security Council permanent member Russia a veto, saying everything must be done to ensure the international body works effectively.
In a passionate address to the United Nations Security Council, Zelenskiy described in detail grim scenes in the Ukrainian town of Bucha, saying Moscow wanted to turn Ukraine into 'silent slaves'.
UK urges G7 to ban Russian ships and set timetable for oil and gas exit
Britain will urge G7 nations on Tuesday to ban Russian ships from their ports, agree a timetable to phase out oil and gas imports from Russia, and further tighten sanctions on banks and key industries.
Speaking in Poland ahead of a meeting of G7 foreign ministers later this week, British Foreign Secretary Liz Truss is expected to say:
"On Thursday, I will be urging our G7 partners to go further by joining us in banning Russian ships from our ports, cracking down on Russian banks, going after new industries filling Putin's war chest like gold, and agreeing a clear timetable to eliminate our imports of Russian oil and gas."
In response to the invasion of Ukraine, Britain and international allies have already sanctioned Russian banks and wealthy elites and taken steps to cut Moscow off from the international financial system.
Russian ships have already been banned from British ports. Truss said existing sanctions had frozen $350 billion of Russian money and made over 60% of its foreign currency reserves unavailable.
"Our coordinated sanctions are pushing the Russian economy back into the Soviet era," Truss was due to say, according to advance extracts released by her office.
Austrian chancellor plans to meet Zelenskyy in Ukraine this week
Austrian Chancellor Karl Nehammer plans to meet Ukrainian President Volodymyr Zelenskyy in Ukraine in the coming days to discuss humanitarian and political support for the country, his office said in a statement on Tuesday. "For security reasons no further details of this trip can be announced for the time being," the statement said, adding that the two men had had a phone conversation on Monday evening.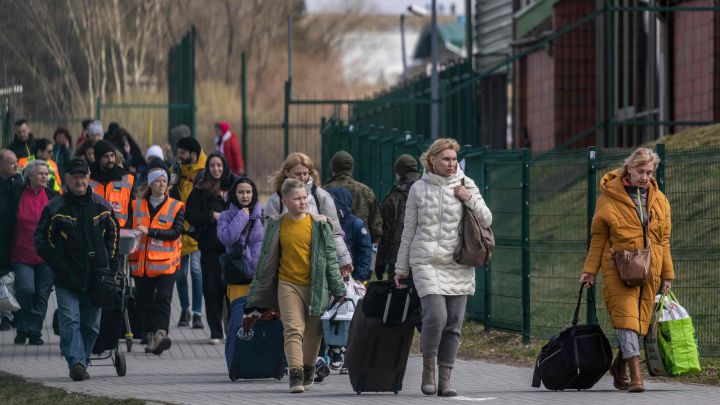 Italy and Denmark expel Russian diplomats over security fears
Italy has expelled 30 Russian diplomats because of security concerns, Foreign Minister Luigi Di Maio said on Tuesday, according to comments sent by a spokesman. A number of other Western governments have taken similar steps following Russia's invasion of Ukraine.
Denmark followed suit and said on Tuesday it would expel 15 Russian diplomats, Danish Foreign Minister Jeppe Kofod told a press briefing.
The Danish foreign ministry said that it did not want to cut diplomatic ties to Moscow and that the Russian ambassador and the rest of the embassy were not part of the expulsion. The Danish Security and Intelligence Service said in a report earlier this year that the Russian embassy employed several intelligence officers involved in espionage. "We want to send a clear signal to Russia that espionage on Danish soil is unacceptable," Kofod said.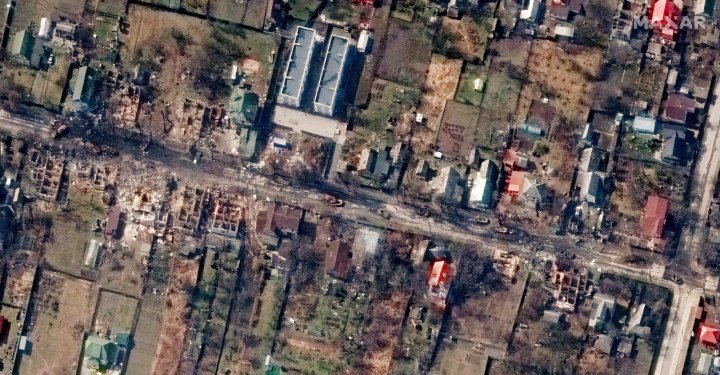 Satellite images show civilian deaths in Bucha while it was in Russian hands
Satellite images taken weeks ago of the town of Bucha in Ukraine show bodies of civilians on a street, a private US company said, undercutting the Russian government's claims that Ukrainian forces caused the deaths or that the scene was staged. Maxar Technologies provided nine images taken of Bucha on March 18, 19 and 31 to Reuters. At least four of the images appear to show bodies on one of the town's roads, Yablonska Street.
The city was occupied by Russian forces until about March 30. Russian Foreign Minister Sergei Lavrov said the dead bodies were 'staged' and that images of them and what he said was Ukraine's false version of events had been spread on social media by Western countries and Ukraine. Vasily Nebenzya, Russia's envoy to the United Nations, said Moscow would present 'empirical evidence' to the Security Council that its forces have not been killing civilians in Ukraine and were not involved in events in Bucha.
The Security Council is to meet later on Tuesday. The New York Times, which was provided a separate set of images from Bucha by Maxar, analysed the pictures in a story published April 4, comparing them to video taken at street level that showed the same scenes, and confirming the locations of the bodies. Its analysis, it said, confirmed the accuracy of the satellite images.
The Pentagon said on Monday it could not independently confirm the accounts of atrocities but had no reason to dispute them. Bucha's deputy mayor, Taras Shapravskyi, said 50 of the dead residents, found after Russian forces withdrew from the city late last week, were the victims of extra-judicial killings carried out by Russian troops.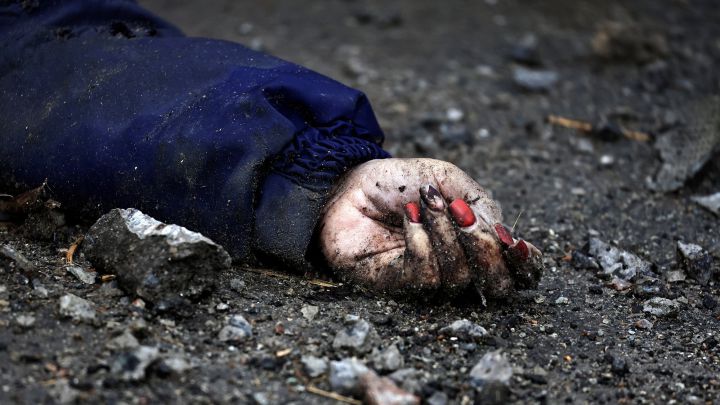 What is the evidence of Russian war crimes in Ukraine?
Evidence is emerging of atrocities committed against the civilian population in Ukraine as towns that have been occupied since the first week of the war are for the first time having light shone upon them. Mass graves and dead civilians have been found in abundance. Journalists from AFP and the BBC have been able to access the towns and verify the discoveries of war crimes.
"Well, the truth of the matter – we saw it happen in Bucha – [Putin] is a war criminal." President Biden told reporters at Fort McNair army post in Washington. "This guy is brutal and what's happening in Bucha is outrageous."
European Union Commission President, Ursula Von Der Leyen, and EU Foreign Policy Chief, Josep Borrell will travel to Ukraine this week to meet President Volodymyr Zelenskyy, the EU Deputy chief spokeswoman and Director for Political Communication Dana Spinant confirmed via Twitter on Tuesday.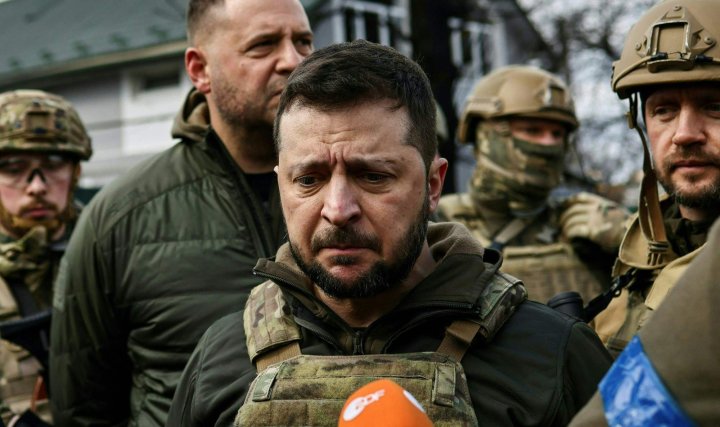 Ukraine-Russia talks the only option to end war - Zelenskyy
President Volodymyr Zelenskyy said on Tuesday Ukraine had no option but to negotiate with Russia to end fighting but that he and Russian President Vladimir Putin might not personally hold talks.
Zelenskyy was speaking after accusing Russian troops of carrying out extra-judicial killings in the town of Bucha west of the Ukrainian capital, Kyiv. Former Russian President Dmitry Medvedev said the reports of civilian killings in Bucha were "fakes" aimed at discrediting Russia. Moscow said it would present "empirical evidence" to a meeting of the United Nations Security Council on Tuesday proving its forces were not involved..
"All of us, including myself, will perceive even the possibility of negotiations as a challenge," Zelenskyy said in an interview with Ukrainian journalists broadcast on national television. "The challenge is internal, first of all, one's own, human challenge. Then, when you pull yourself together, and you have to do it, I think that we have no other choice."
He said the events in Bucha were unforgivable but Ukraine and Russia should take the difficult option of pursuing talks, and signalled that Moscow should recognise what its troops were alleged to have done. The Russian news agency Interfax cited a deputy Russian foreign minister as saying talks were continuing via video link. Asked whether he and Putin would hold direct talks, Zelenskyy said it was possible this would not happen but gave no further details.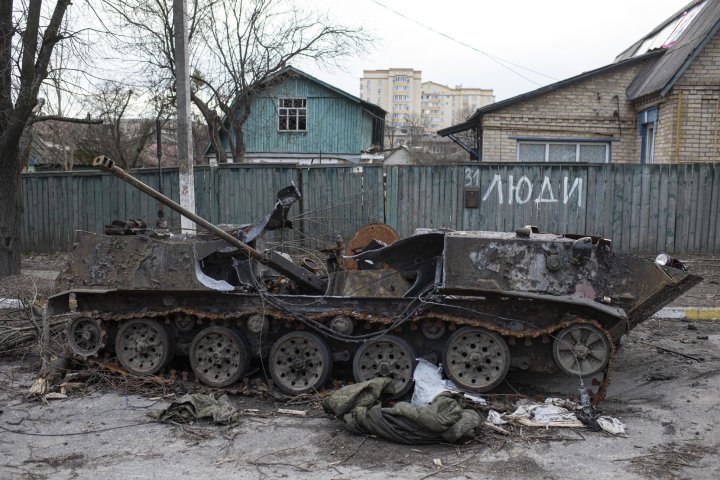 Russia's top lawmaker said on Tuesday that civilian killings in the Ukrainian town of Bucha were part of a deceitful attempt by the West to discredit Russia. "The situation in Bucha is a provocation aimed at discrediting Russia," Vyacheslav Volodin, the speaker of Russia's lower house of parliament, the Duma, said. "Washington and Brussels are the screenwriters and directors and Kyiv are the actors," Volodin added. "There are no facts - just lies."
Since Russian troops withdrew from towns and villages around the Ukrainian capital Kyiv last week, Ukrainian troops have been showing journalists corpses of what they say are civilians killed by Russian forces, destroyed houses and burnt-out cars. Russia denies all the claims.
Ukraine forces have retaken the north
Ukrainian forces have retaken key northern terrain, forcing Russian forces to retreat from areas around the city of Chernihiv and north of the capital Kyiv, British military intelligence said on Tuesday. Low-level fighting is likely to continue in some of the recaptured areas, but reduce this week as the remainder of the Russian forces withdraw, the defence ministry said in a regular bulletin on Twitter.
Many of the withdrawing Russian units are likely to require significant re-equipping and refurbishment before they redeploy for operations in the country's east, the ministry added.
Biden calls Vladimir Putin a "brutal war criminal"
US President Joe Biden called Russian President Vladimir Putin a war criminal on Monday and urged holding a war crimes trial, as a global outcry mounted over civilian killings in the Ukrainian town of Bucha.
"You saw what happened in Bucha," Biden told reporters at the White House. "This warrants him - he is a war criminal."
The discovery of a mass grave and tied bodies shot at close range in Bucha, outside Kyiv, a town taken back from Russian troops, looked set to galvanize the United States and Europe into additional sanctions against Moscow.
Biden said, "We have to gather the information. We have to continue to provide Ukraine with the weapons they need to continue the fight. And we have to get all the detail so this can be an actual, have a war crimes trial."
Putin "is brutal. And what's happening in Bucha is outrageous, and everyone's seen it," Biden said. The Kremlin categorically denied any accusations related to the murder of civilians, including in Bucha, where it said the graves and corpses had been staged by Ukraine to tarnish Russia.
Russia-Ukraine conflict: live blog
Hello and welcome to out daily live blog on Tuesday 5 April 2022. We'll bring you all the latest on the ongoing Russian invasion of Ukraine.
Intelligence reports on Tuesday announced that Ukrainian forces have retaken almost all of the northern part of the country, as Russian troops redeploy to the east. In other developments, European Commission President Ursula von der Leyen and the EU's top diplomat Josep Borrell will travel to Kyiv this week for a meeting with Ukrainian President Volodymyr Zelenskyy.
Russian forces returned Chernobyl to Ukrainian hands after various soldiers experienced radiation poisoning after digging trenches in the area.
Negotiators from Russia and Ukraine have been meeting in Istanbul for peace talks which have yet to yield an end to the conflict. The diplomatic discussions have been questioned by Russia after an attack on a fuel depot that the Kremlin is blaming on Ukrainian forces. Zelenskyy said today that Ukraine had no option but to negotiate with Russia to end fighting but added that he and Russian President Vladimir Putin might not personally hold talks.
Zelenskyy called the Russian invasion a "genocide" after reports of the alleged massacre of some 300 civilians in the town of Bucha as Russian forces retreated. The international community has called for an investigation and for any war crimes to be punished. Moscow has vehemently denied committing war crimes in Bucha, the Kremlin stating that "not one civilian" was harmed by occupying forces and calling the reports "another staged performance by the Kyiv regime for the Western media."
Moscow questioned why, if its forces withdrew from Bucha on 30 March and the mayor of Bucha declared the area free of Russian forces on 31 March, that the bodies of dead civilians were only shown for the first time on 3 April. Russia also says the bodies shown in some footage did not show characteristic signs of degradation that would be expected after a number of days.