2022 mass shootings in the United States: A timeline
As the nation reels from another deadly massacre, President Biden called on Congress to pass new laws restricting gun ownership to better protect people.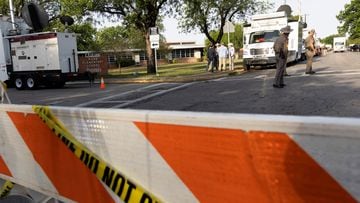 President Biden gave an emotional address from the White House on Tuesday night, urging Congress to act after 19 children and two teachers were mercilessly killed in a mass shooting at Robb Elementary School.
He took aim at the politicians, lobbyists and gun manufacturers who have fought to prevent the meaningful and necessary changes to United States gun laws that are so desperately required.
"Why?" Biden asked, "Why are we willing to live with this carnage? Why do we keep letting this happen?"
"The gun manufacturers have spent two decades aggressively marketing assault weapons, which make them the most and largest profit," he added. "For God's sake, we have to have the courage to stand up to the industry."
Mass shooting incidents on the rise in the US
The number of mass shootings that take place every year in the United States far exceeds any other nation in the world. The Gun Violence Archive, a non-profit corporation formed in 2013, records and provides data relating to gun violence in the US. Their records show that the Robb Elementary School attack was the 213th mass shooting since the start of this year.
Of those shootings, seven have resulted in the deaths of at least five victims. Here are the most deadly massacres to have taken place in the US this year.
23 January
- Six killed - Milwauke, Wisconsin
5 February
- Six killed, two injured – Corsicana, Texas
28 February
- Five killed - Sacramento, California
3 April
- Six killed, twelve injured - Sacramento, California
20 April
- Five killed – Duluth, Minnesota
14 May
- Ten killed, three injured – Buffalo, New York
24 May
- Twenty-one killed, seven injured – Ulvade, New York