Gas and inflation stimulus checks: What is the status in each state?
Various states have proposed new bills that would offset the cost of increasing fuel prices for their residents.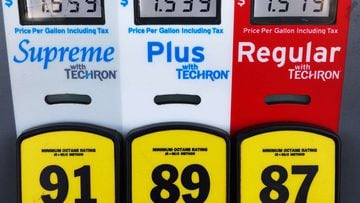 Across the country, many drivers are dealing with historically high gas prices.
Before the Russian invasion of Ukraine, fuel prices were already on the rise and the war has only pushed them up even further.
The US, which is not a major importer of Russian energy resources has banned imports to place pressure on President Putin's regime in hopes that he will abandon his efforts in Ukraine. To offset the impact of the shortage President Biden announced that over the next six months, one million barrels of oil will be released from the nation's strategic reserves each day.
At the state level, governments are proposing and passing legislation to provide direct relief to residents. These proposals vary widely from fuel tax holidays like those seen in Connecticut, Georgia, and Maryland to direct cash payments like in New Mexico. Additionally, various states aiming to increase ridership on public transit systems have cut prices by up to seventy-five percent to give commuters more options that do not involve using their cars.
Laws passed to offset increasing fuel prices
Connecticut
Connecticut is one of three states to pass a bill eliminating state gasoline taxes to offset increasing costs for consumers. The suspension will be in effect through 30 June and lawmakers hope that the move will "provide some relief to consumers as they face rising prices due to a number of international dynamics and market instability that go far beyond our state."
In addition to the tax break, the state has also eliminated "fares on public buses statewide during that same period."
Georgia
Govenor Brian Kemp announced that beigning in April, Georgia would suspended taxes on gasoline through 31 May, to provide relief to residents. When signing the bill, Gov. Kemp also said that the state would also be "returning money back to hardworking Georgians through a tax refund and an income tax cut." More details on this rebate have yet to be released.
Maryland
Like Connecticut and Georgia, Maryland has also suspended state taxes on gasoline. However, this tax holiday only lasts through 18 April.
"This is, of course, not a cure-all, and market instability will continue to lead to fluctuations in prices, but we will continue to use every tool at our disposal to provide relief for Marylanders," said Gov. Larry Hogan when sigining the bill into law.
Looking forward, Gov. Hogan would like to see the state legislature eliminate the automatic gas tax increases that form part of Maryland state law.
Which states are providing direct payments or checks to residents?
Idaho
Those who reside and pay taxes in Idaho will be sent a check with $75 or twelve percent of the taxes they paid to the state in 2020. If the latter is higher, that amount will be sent and if it is the former the taxpayer will receive $75.
Indiana
In December 2021, Indiana's Govenor Eric Holcomb had proposed that the eligibility requirements to receive a $125 payment be expanded to those without a reported income. A bill to send these payments was passed earlier in the year, in light of increased inflation after the state expereinced a historic budget surplus.
In February, the minimum income was eliminated expanding access to more than 400,000 residents in the state. Those who have yet to receive their check should receive it before 1 May.
New Mexico
A bill passed in New Mexico on 8 April "will automatically send $500 payments to single tax filers and $1,000 to joint filers." No actions are needed to claim the payments.
The payments will be sent in July and August and no actions are needed to claim the payment. The passage of the bill came after Gov. Michelle Lujan Grisham had requested lawmakers return to the capital for a special session to provide relief as gas prices were soaring. The Staet will also take steps to lower the price of public transportation as gas prices hit record highs in some parts of the sate.
What proposals are circulating in the states?
States with proposals to suspend taxes on gasoline
The governors of both Alaska and Florida have proposed suspensions of gas taxes in their state.
Alaska Governor Mike Dunleavy proposed in mid-March that the state "suspend the collection of tax on motor and marine fuels, aviation gas, and aviation jet fuel until June 30, 2023." Whereas, Florida's Ron DeSantis proposed a five-month suspension back in November, before the Russian invasion began. Neither legislature has taken up this proposal.
States with proposals to send direct payments
California
Govenor Gavin Newsom announced in late March that he would be sending a proposal to the state's legislature that would call for the sending of $400 checks to households with cars. There would be a two-car limit, but no income requirements to receive the checks. Should the bill pass, the checks could be sent as soon as July.
Leaders in the Golden State are also proposing a seventy-five percent reduction in fairs for public transit systems with an aim to increase ridership.
Hawaii
In January, as inflation steadily increased and Hawaii saw a budget surplus Gov. David Y. Igedavid proposed that the legislature "issue refund checks of $100 for every taxpayer and for each dependent."
"In this way, we'll also inject $110 million back into our economy, giving it a boost as well," said Gov. Igedavid when making the announcement.
Illinois
State Senators, all Democrats in Illinois caught their colleagues in the House and the Govenor by surprise when they passed a bill that would include a $100 stimulus check for most taxpayers and $50 for each dependent.
The bill also includes other controversial items like a $300 check for property owners to reduce their property tax bill as well as a suspension on taxes for gasoline and groceries.
In a press release, Senator Elgie Sims said that the bill aims to "drive down skyrocketing gas and grocery costs and give people some needed relief."
The chances of the bill passing are not yet known, but Republicans have been quick to call the move by Democrats a stunt and say that they are just pandering during an election year.
Kentucky
In late March, the Kentucky Senate passed a law that if approved by the House, would send a one-time payment between $500 and $1,000 to households to offset increased inflation.
Maine
Govenor Janet Mills of Maine proposed a budget bill in March that would provide "relief checks to Maine people to $850 in the face of record-high inflation and rising oil and gas prices caused by Russia's invasion of Ukraine." This represents a change to the budget after considering the impact that rapid changes in prices are having on households across the state.
The one-time payment of $850 would be sent to around 800,000 taxpayers in the state, which aligns with a proposal made by Republicans in the weeks leading up to the governor's announcement.
Which govenors have voiced opposition to removing gas taxes?
Alabama Governor Kay Ivey has said that she is not supportive of reducing the state's gas taxes as it would harm the state's economic prospects. Many governors have taken a similar position hoping to see the federal taxes on gasoline lowered or eliminated to reduce costs for their state's residents without lowering their own revenues.
"You see the crisis on our shelves, the supply shortage crisis. Under President Trump, you could go buy gas and not have to hold your breath. Now, prices are jumping sky-high almost day by day. Right now, President Biden is in the driver's seat."
This is a common refrain from Republican leaders but the point is nullified when considering how the economic and business environment has changed since Donald Trump was president. Russia had not invaded Ukraine, the pandemic was still raging, and with demand still low there was far less pressure was being put on international supply chains.