Johnny Depp v Amber Heard trial aftermath news summary: Thursday 14 July 2022
Depp vs Heard aftermath: Thursday 14 July 2022
Headlines:
- Judge Penny Azcarate dismisses Amber Heard's motion for mistrial
- Heard lawyers claimed confusion over identity of juror was grounds for new trial
- "Due process was guaranteed and provided", Judge Azcarate says in response
- Heard post-trial motions "verge into frivolous", Johnny Depp attorneys say
Some of AS USA's related news articles:
The Guardian calls Beck-Depp performance "a dull display of self-pity"
Since the defamation trial between Amber Heard and Johnny Depp, the latter has been on tour with Beck.
Writting for The Guardian, Michael Hann, said that the "collaboration was "an odd case."
"Partly because while a British court decided Depp had beaten his now ex-wife, Amber Heard, he then won his case on the same issue in a US court, so people can (and have) taken diametrically opposing stances on his actions," Said Hann.
Montreux Jazz Festival up next for Depp and Beck
Johnny Depp's tour with musician Jeff Beck will see the Pirates of the Caribbean actor perform next at the Montreux Jazz Festival on Friday. The pair will follow Van Morrison at the Auditorium Stravinski in Montreux, located in the south-west of Switzerland, some 70km from the capital, Bern.
After performing in Montreux, Depp and Beck's following tour date is a concert in Perugia, Italy, on Sunday.
Recommended listening: Law & Crime Sidebar
One podcast we recommend listening to as you follow the Depp v Heard case if Law & Crime's Sidebar. In the latest episode, host Angenette Levy and attorney Mitra Ahouraian take a look at Judge Azcarate's decision to deny Amber Heard's post-trial motions asking to set the verdict aside and seeking a mistrial.
Discussing the claim by Heard's lawyers that there should be a new trial due to alleged conclusion over the identity of one of the members of the jury, Ahouraian said: "The argument about this 'Juror No. 15' was so tenuous, if it even was an argument at all."
Insurers refusing to pay Heard's liability policy
In case you missed it, it was reported in recent days that Amber Heard's insurers are refusing to pay part of the defamation damages awarded to Johnny Depp.
Per TMZ, Heard has a $1m liability policy with New York Marine and General Insurance Co.
However, this policy does not cover 'willful' misconduct.
"New York Marine says not only did the jury find the defamation Amber committed was willful, it was malicious," TMZ says.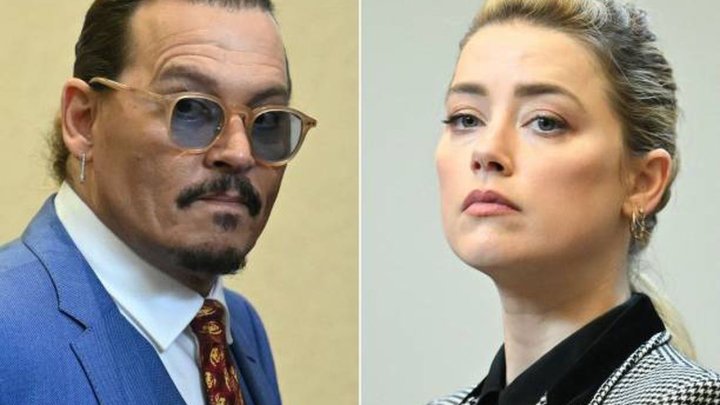 Heard claims "desperate" - Depp camp
Prior to Judge Azcarate's dismissal of the Heard team's bid for a new trial, Depp's attorneys had branded the Aquaman star's post-trial motions as "desperate", declaring that they "verge into the frivolous".
AS USA's Daniela Barrera has the full story
(Photo: Jim Watson/Getty)
"Due process was guaranteed and provided": judge's response to mistrial motion
In her ruling on the mistrial motion on Wednesday, Judge Penny Azcarate said that Amber Heard's team had not "shown evidence of prejudice", explaining:
"The Summons issues to Juror Fifteen listed his legal name and address and no birth date was noted. The Court has pulled Juror Fifteen's Jury Questionnaire […]. Juror Fifteen completed the Jury Questionnaire as himself filling in his proper birth date. The information presented on the Jury Questionnaire matches the information Juror Fifteen provided to the Court. Juror Fifteen was vetted by the Court on the record and met the statutory requirements for service.
"The parties also questioned the jury panel for a full day and informed the Court that the jury panel was acceptable. Therefore, Due Process was guaranteed and provided to all parties in this litigation. Voir dire was conducted in a fair and impartial manner, with the Court and both parties examining the potential jurors. There is no evidence of fraud or wrongdoing."
Heard lawyers had alleged wrong juror reported for duty
To recap, the mistrial motion filed by Amber Heard's lawyers last week - following a motion to set aside the verdict earlier in July - claimed that a member of the seven-person jury was not the same individual that had been summoned to Fairfax County Court.
According to Heard's lawyer Elaine Bredehoft, the man who reported for jury service as 'Juror 15' is aged 52, born in 1970, and therefore could not be the same person originally summoned in April, who is 77. Both share the same name and are resident at the same address.
"Ms. Heard's due process was therefore compromised," the motion for a mistrial says. "Under these circumstances, a mistrial should be declared, and a new trial ordered."
Full story: Why did Amber Heard ask for a new trial?
Depp v Heard aftermath, live updates: welcome
Good morning and welcome to our daily live blog on the fallout from the Depp v Heard defamation trial, which concluded in June.
On Wednesday, a judge at Fairfax County Court in Virginia dismissed Amber Heard's motion to have the trial verdict tossed - Heard was found to have defamed her ex-husband in a 2018 op-ed - and a new trial declared.