Johnny Depp v Amber Heard trial aftermath news summary: Saturday 9 July 2022
Headlines:
- Amber Heard's legal team has petitioned to have the jury's verdict set aside
- Johnny Depp remains in Europe on tour with Jeff Beck
- Depp to play Louis XV in a new film
- Depp supergroup the Hollywood Vampires to tour Germany, Austria and Luxembourg next summer
Check out some of AS USA's related news articles: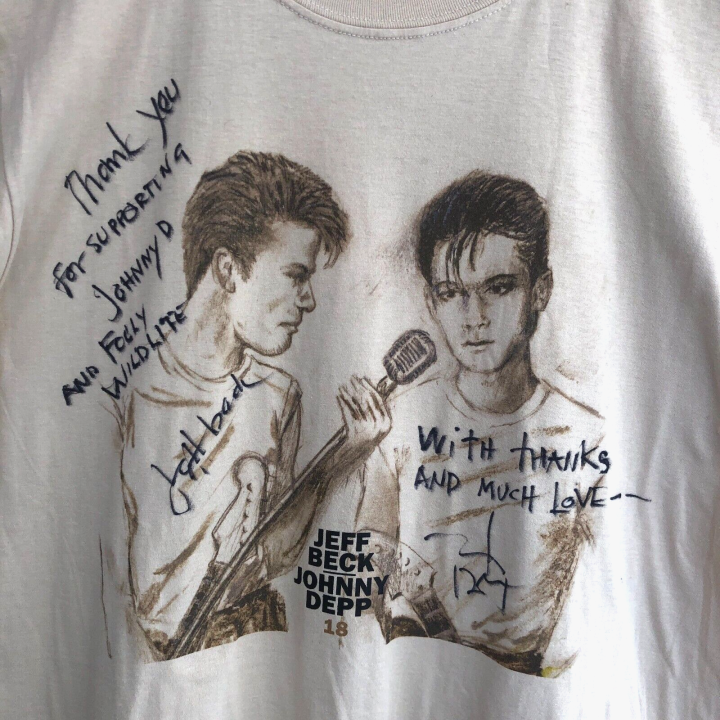 Depp and Beck signed T shirts auctioned to help animal centre
In the middle of their current European Tour, Jeff Beck and his special guest, Johnny Depp have very graciously signed 10 tour t-shirts to raise funds for Folly Wildlife Rescue, in Tunbridge Wells - a UK charity, dedicated to the rescue and rehabilitation of injured, orphaned and distressed wild animals and birds throughout West Kent, East Sussex and the surrounding region. Both stars are patrons of Folly Wildlife Rescue.
The shirts, which feature striking artwork from their forthcoming album, 18, were designed by Sandra Beck. Each shirt has a slightly different layout and wording and comes with a copy of a letter of authentication.
All proceeds will go 100% to helping UK wildlife in need.
The Ebay auction, which ends on Saturday 16 July, is here:
Netflix green lights first movie for Depp since the defamation trial
Depp will play King Louis XV in a Netflix-funded movie. The movie is still in pre-production and no information on its release or filming schedule has been made publilc. Many see this as the first sign that Depp's acting career will be back in full force after the court's decision in the defamation case against Amber Heard.
What did Heard tell Savannah Guthrie about Depp trial? Summary, highlights of TV interview
A couple of weeks ago NBC aired the full Dateline interview given by Amber Heard to journalist Savannah Guthrie, portions of which had been released earlier. The interview was Heard's first since losing her defamation lawsuit and counter-suit to ex-husband Johnny Depp last month.
She has been ordered to pay Depp $10.35m in damages after a jury deemed she defamed the 59-year-old in a Washington Post op-ed in which she didn't mention Depp by name, but described herself as a "public figure representing domestic abuse." Heard's lawyer, Elaine Bredehoft, has said she intends to appeal.
Heard's insurance company refuses to cover damages costs
Amber Heard took out a $1 million liability policy with New York Marine and General Insurance Company which she had hoped that might cover at least part of the multi-million dollar damages bill she needs to settle after losing last month's defamation case with Johnny Depp.
Heard was ordered to pay Depp $10.35M, but was also awarded $2M in damages herself which means she must find $8.3M. But the insurance company insist they cannot pay out. The policy covers all sorts of wrongful conduct, including defamation but under California law, it is unenforceable if the holder commits willful, malicious misconduct.
Depp, Beck on stage in Monaco tonight
Johnny Depp and Jeff Beck's next tour date is on Saturday in Monaco, where the pair will be performing at the Ópera Garnierde Monte-Carlo.
Depp and Beck were last in concert in Offenbach, Germany, on Wednesday. Here is some footage of their performance:
Motion to set aside: verdict "inconsistent" and "unsupported by evidence"
In case you missed it:
In the motion to set aside submitted by Amber Heard's legal team on Friday, the Aquaman actor's legal team claimed that the verdict in Heard's defamation trial against Johnny Depp was "unsupported by the evidence".
Her lawyers also said the jury's findings were "inconsistent": Heard was ordered to pay Depp $10.35m, but was also awarded $2m in damages herself.
The motion additionally alleged that "proper and due process" was not observed in the selection of the jury. "On the juror panel list sent to counsel before voir dire, the Court noted that the individual who would later be designated Juror 15 had a birth year of 1945," Heard's attorneys said. "Juror 15, however, was clearly born later than 1945. Publicly available information demonstrates that he appears to have been born in 1970."
Amber Heard's legal team make imposter claim
Amber Heard's legal team claim that an imposter took the place of a jury member and are demanding a retrial. The document, filed by Ms Heard's lawyer Elaine Scott Bredehoft on Friday, requested that the court should "set aside the jury verdict in its entirety, dismiss the complaint, or in the alternative, order a new trial".
Heard's lawyer questioned the validity of Juror 15, whose birthdate was listed as 1945 while claiming that, according to their information, Juror 15 was born in 1970. She explained that two people with the same surname were resident at the same home in Virginia where the jury duty summons was sent in April. "It is deeply troubling for an individual not summoned for jury duty nonetheless to appear for jury duty and serve on a jury, especially in a case such as this," Heard's team added.
Depp/Heard aftermath: live udpates
It's Saturday 9 July 2022 and welcome to our daily live blog on the aftermath of the Depp v Heard trial, which concluded early last month.
Last week, Amber Heard's legal team submitted a motion to set aside the verdict reached by the seven-person jury, which awarded just over $10m to Johnny Depp after finding that Heard defamed her former husband in a 2018 Washington Post op-ed.