Johnny Depp v Amber Heard trial aftermath news summary: Monday 4 July 2022
Johnny Depp v Amber Heard trial fallout: latest news
Johnny Depp v Amber Heard aftermath: headlines
- Amber Heard lawyers file motion to set trial verdict aside
- Motion says verdict "inconsistent" and "unsupported by evidence"
- Heard legal team also challenges juror's stated birth year
- Johnny Depp and Jeff Beck to complete Scandinavian tour
- Depp-Heard pet-smuggling case reopened
Take a look at some of AS USA's related news pieces:
New European show added to Hollywood Vampire tour
Johnny Depp is currently touring in Scandanvia with British guitarist Jeff Beck in the lead-up to the release of the duos cover album '18' on 15 July. Next year though he will tour the continent again, this time with the Hollywood Vampires he plays in with Alice Cooper, Joe Perry, Tommy Henriksen with seven scheduled dates so far.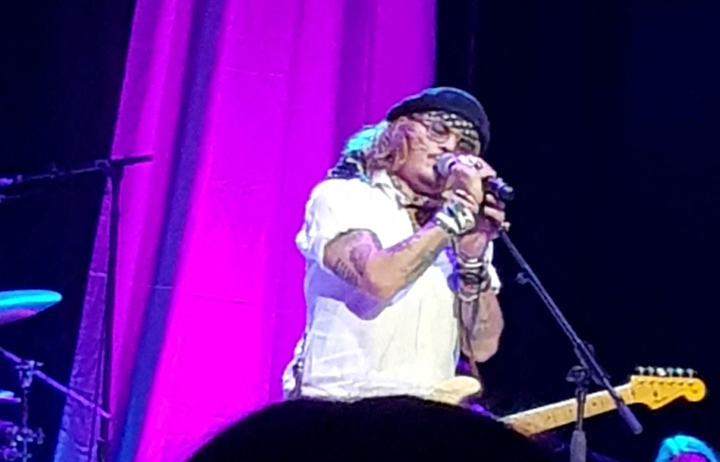 13 Euro dates remain on Beck-Depp tour
There are still 13 dates outstanding on the current Jeff Beck European summer tour with the veteran English rocker being joined by Johnny Depp. With their '18' album scheduled for release next week, the pair continue the dates with gigs still outstanding ion then likes of Perugia, Munich and Paris.
Beck has three US dates pencilled in for September and it remains unclear at this point if the former Yardbirds man will be joined by Depp.
Depp relaxes in Scandinavia
The American actor continues to tour Europe with English rocker Jeff Beck and posted a picture from the Stockholm fjords over the weekend that has gone on to gather three million 'likes'.
Depp has been more active on his social networks and this contrasts with ex-wife Amber Heard who has yet to post on her Instagram account since the day of the verdict.
Heard lawyers file motion to set aside trial verdict
Amber Heard's lawyers on Friday filed a motion to set aside the verdict in her defamation trial defeat to Johnny Depp, claiming the jury's finding in the case was "unsupported by the evidence".
Heard's legal team also argued that the verdicts of Depp's claim and Heard's counterclaim "are inconsistent and therefore should be set aside".
In a 44-page motion signed by Heard lawyer Elaine Bredehoft, who was one of the two attorneys that represented the actor at Fairfax County Court, Virginia, it was also alleged that "proper and due process" was not observed in the selection of a member of the seven-person jury.
"The Court should investigate whether Juror 15 properly served on the jury," the motion says. "On the juror panel list sent to counsel before voir dire, the Court noted that the individual who would later be designated Juror 15 had a birth year of 1945. Juror 15, however, was clearly born later than 1945. Publicly available information demonstrates that he appears to have been born in 1970."
Depp owes nearly $40,000 in ACLU legal fees
Despite coming up trumps in the court case, Johnny Depp owes the American Civil Liberties Union $38,000 in attorneys' fees for complying with a subpoena for evidence issued by the actor's legal team. The ACLU was required to provide certain documents used by Depp's attorneys in the defamation battle against ex-wife Amber Heard
"Attorneys, like taxes, are a fact of life," said Manhattan Supreme Court Justice Arthur Engoron, who announced the ruling on Friday.
An ACLU lawyer, Stephanie Teplin, from the firm Patterson Belknap Webb & Tyler, had requested a total of $86,253.26 but the judged ruled that they were entitled to less than half of that figure.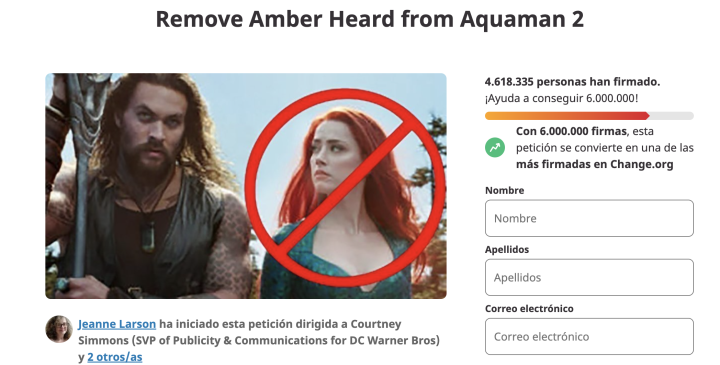 4.6 million sign up to remove Heard from Aquaman 2
The Chamge.org petition to have Amber Heard removed from playing her role in Aquaman 2 continues to gather signatures with now more than four and a half million signatures gathered.
The Warner Bros movie is currently scheduled for a March 2023 release and at present, it's unclear what role Heard will play in the follow-up.
Is Depp in $301 million Disney boost for Pirates' return?
After Australian pop culture blog poptopic.com.au published a story last month with the headline, "Johnny Depp USD $301 million Disney deal revealed?!" the dogged team at Snopes smelled something funny and went in to investigate.
Their noses were right...
The rumor, as they say, which was shared on Reddit, TikTok, Facebook, and Twitter, held that Depp, fresh off of his mostly victorious libel lawsuit against ex-wife Amber Heard, had been offered an enormous amount of money by The Walt Disney Studios to once again star as his "Pirates of the Caribbean" movie character, Jack Sparrow.
"However, we have yet to find any evidence that a deal for any amount of money is in the works between Depp and Disney."
Marilyn Manson fans target Evan Rachel Wood defamation lawsuit
As one defamation trial ends, another one begins. Singer Marilyn Manson is suing ex-girlfriend Evan Rachel Wood over her abuse claims against him. Woods claims that she was the victim of victim of "toxic mental, physical, and sexual abuse, which started slow but escalated over time" and was raped by Manson while they were shooting a music video.
Manson has repeatedly denied the allegations, calling them "horrible distortions of reality". He is seeking damages in a jury trial which echoes the recent case between Johnny Depp and Amber Heard which Depp won.
Since the lawsuit was announced, Wood has been on the receiving end of a similar backlash on social media to what Heard went through during her trial.
Johnny Depp and Jeff Beck album '18' due out in July
After three years of work, Pirates of the Carribean star Johnny Depp and English rock guitarist Jeff Beck will release their 13-track album called "18". It will go on sale 15 July, but the duo has already given fans a taste performing at several venues in the UK, Sweden, Norway and Denmark.
The two began working on the album, mainly of covers but with two songs were written Depp, in 2019 at the actor's home in France. Beck says of '18' "It's almost like you've been through a record store and gone jumping from one genre to another."
Where and when is Johnny Depp and his rock band playing in Europe?
After winning the recent trial against his ex-wife Amber Heard, Johnny Depp celebrated by doing what he enjoys most - playing music. As luck would have it, his long-time friend Jeff Beck was in the middle of his European tour and invited him along.
A US jury found Heard guilty of defamation on conclusion of the lawsuit on 2 June but by that time, Depp was already on the road with Jeff Beck, first appearing with the former Yardbirds guitarist at Sheffield City Hall three days earlier on 29 May. He stayed on the road with Beck for the remainder of the UK tour and also played a couple of dates in Finland. After the stress of a lengthy, six-week trial, it was the ideal way to put the case to the back of his mind and unwind.
Johnny Depp v Amber Heard: latest news
Hello and welcome to our live blog on Monday 4 July.
We'll be bringing you all the latest news and information from the aftermath of the Johnny Depp v Amber Heard court case, in which a Virginia jury found that Amber Heard had defamed ex-husband Johnny Depp in a 2018 Washington Post op-ed entitled: "I spoke up against sexual violence - and faced our culture's wrath. That has to change".
Heard was ordered to pay Depp damages of $10.35m, but also won out on one count of her defamation counter-suit against the Pirates of the Caribbean star. She was awarded $2m.