Johnny Depp v Amber Heard trial news summary, Saturday 25 June 2022
Depp vs Heard: live updates
Johnny Depp v Amber Heard aftermath: headlines
- Heard must post $11M suspension bond to appeal verdict
- Judge makes jury's $10.3M award official
- Depp's band Hollywood Vampires to tour Germany, Luxembourg in 2023
- Depp presently on Scandinavian leg of tour with guitarist Jeff Beck
- Amber Heard reported to be planning "revenge tell-all book"
- Heard "trying best to have positive outlook", source tells People
Take a look at some of AS USA's related news pieces: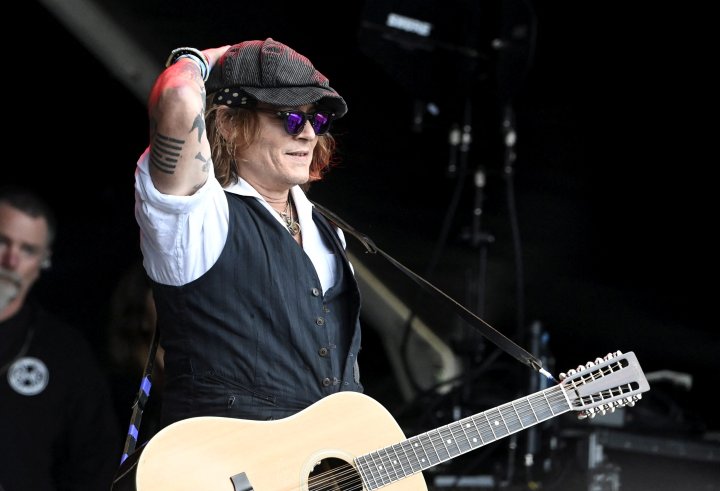 Johnny Depp & Jeff Beck release new single
Jeff Beck & Johnny Depp's new single "Caroline, No" is available now on all streaming platforms ahead of the forthcoming album '18' which will be released on July 15th.
Jeff Beck summer tour continues with two US September dates added
Johnny Depp is expected to continue guesting with the veteran English rocker as his summer tour dates roll on in Europe (albeit with some cancellations due to a Covid case within the band).
There are two September dates pencilled with Beck (and possibly Depp) set to play in Austin and Dallas in September 2022 on the 23rd and 24th respectively.
Bill Maher says Dems need Camille Vasquez
Political satirist Bill Maher has suggested Democrats get involved with the Camille Vasquez love-in and hire her to lend Joe Biden's party some "good representation" ahead of the November mid-terms. At this rate it's probably worth punting a few dollars on the US' most famous lawyer being elected president herself by 2028.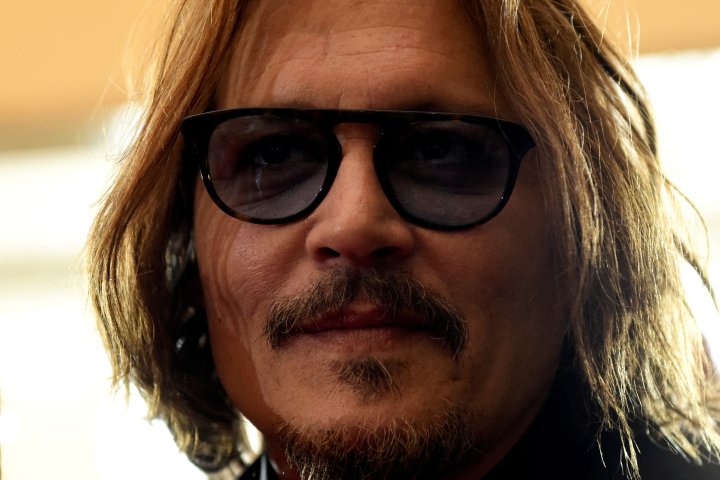 Johnny Depp back on screen in July
Johnny Depp will be back on screen next month as the actor is set to appear in a docuseries titled 'Boston George'. The series will tell the story of drug dealer George Jacob Jung. Depp portrayed the late Jung in the 2001 film Blow and is set to be aired on July 22!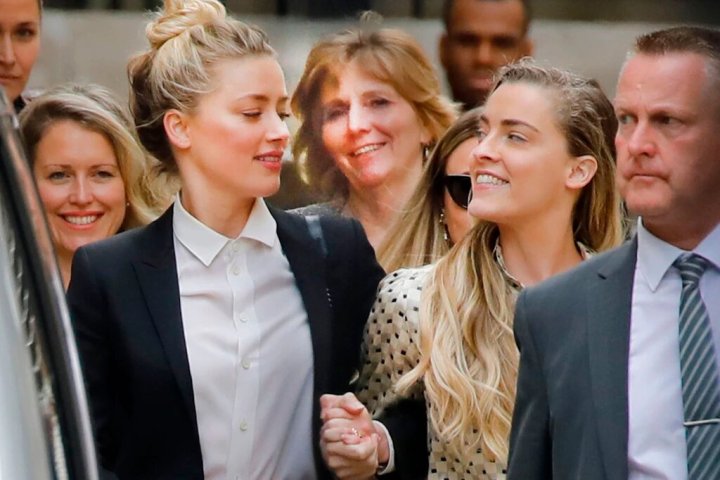 Amber Heard must pay 8 million dollars to appeal Depp trial ruling
On Friday, in a brief courtroom hearing in Fairfax, Virginia, Judge Penney Azcarate entered a final judgment in the civil trial into the record, where Heard's lead attorney, Elaine Bredehoft, shared her client's proposed appeal intentions.
However, Azcarate told Bredehoft that if she wanted to appeal the jury's verdict, she would have to file motions with the court. Azcarate also informed Heard's lawyer that the Aquaman star will have to post an $8.35 million bond with interest at 6% per year for any appeal to formally move forward.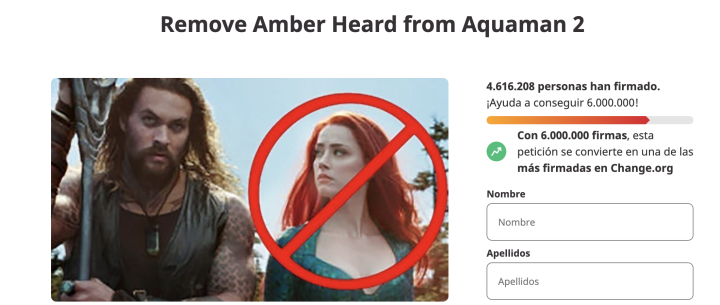 Petition to remove Heard from Aquaman 2 reaches 4.6M
The ongoing Chamnge.org petition requesting that actress Amber Heard be omitted from the Warner Bros. Aquaman 2 movie continues to gather support with more than 4.6 people having joined the initiative.
The film is scheduled for a 2023 release date and it remains unclear if Heard will play the role of Mera in the movie.
Depp's Hollywood Vampires group announce 2023 tour dates
Hollywood Vampires was formed in 2015 by Alice Cooper, vocalist and guitarist; Joe Perry, guitarist; and Johnny Depp himself, in charge of keyboard, guitar and backing vocals.
The rock band announced that it will tour five dates in Germany and one in Luxembourg during the summer of 2023.
The band posted the concerts on social networks to inform its fans that the Hollwyood Vampires "are back" on stage after canceling a tour in March due to the pandemic.
This time, they will visit the German cities of Oberhausen (June 20), Munich (June 24), Hamburg (June 27), Berlin (June 28) and Mainz (June 30). In addition, they will play a one-off concert in Luxembourg on June 21, 2023.

Depp joins Jeff Beck's 78th birthday bash
Johnny Depp joined his great friend Jeff Beck to celebrate the guitarist's birthday. Beck turned 78 on Saturday and took time out to celebrate with member os his band and road crew. In a short video posted by bass player Rhonda Smith, Depp can be seen licking sparkler flames on Beck's birthday cake.
Beck and Depp are on tour in Scandinavia although this weekend's dates have been cancelled after a band member tested positive for Covid-19.
Could Depp waive damages if Heard drops appeal?
Here's a reminder of what Johnny Depp attorney Ben Chew told Good Morning America's George Stephanopoulos when asked whether Depp might be willing to waive the damages awarded to him in exchange for Amber Heard foregoing an appeal against the trial verdict.
"We obviously can't disclose attorney-client communications, but as Mr Depp testified, and as we both [Chew and fellow Depp lawyer Camille Vasquez] made clear in our respective closings, this was never about money for Mr Depp," Chew said earlier this month. "This was about restoring his reputation, and he's done that."
Told by Stephanopoulos that his response made it sound like such a settlement "could be on the table", Chew said: "Again, we have to be careful what we say, but this was about Mr Depp's reputation. That was what it was about for him."
Depp's attorney, Camille Vasquez: "I think the verdict speaks for itself"
Camille Vasquez gave her first one-one TV interview since acting as Johnny Depp's attorney in the recent defamation trial. She explained how he handles being in the media spotlight after such a high-profile case.
"It's been an honour for me to represent women, to represent Latina women and just be famous just for doing a good job," Vasquez told Access Daily's Mario López. "I just focus on the work, I'm a lawyer at the end of the day. My life has changed but in a lot of respects it hasn't".
She carefully chose her words when asked her thoughts on Amber Heard's recent interview for NBC which aired last weekend. "I think the verdict speaks for itself. This was about Johnny getting up on the stand, telling his story and telling the truth about what happened in that relationship. I think he did that and unanimously, the verdict was, he was defamed".
Vasquez added that she is only too happy to work with Depp again in the future. "Absolutely, we have another potential trial coming up, in July".
Depp's 'heroic' lawyer is back at saving lives
Camille Vasquez will make headlines for pretty much anything at the moment - yeah, you've seen the merchandise - but the attorney is being heralded today as a hero for coming to the aid of an elderly man who suffered a medical emergency while aboard a flight on Thursday.
A representative for American Airlines confirmed to TMZ that an elderly man collapsed and hit his head during a flight from Los Angeles to New York.
"Passengers say [Vasquez] got in touch with her brother-in-law, a doctor, and he started guiding her through steps to check if the man was having a heart attack or brain bleed from the fall," per TMZ. "[Vasquez]'s bodyguard took off his Apple watch to monitor the passenger's heart rate."
Vasquez and her bodyguard were eventually joined by a surgeon, who was seated further back on the plane. The plane then returned to LAX, where the man was treated by EMS workers.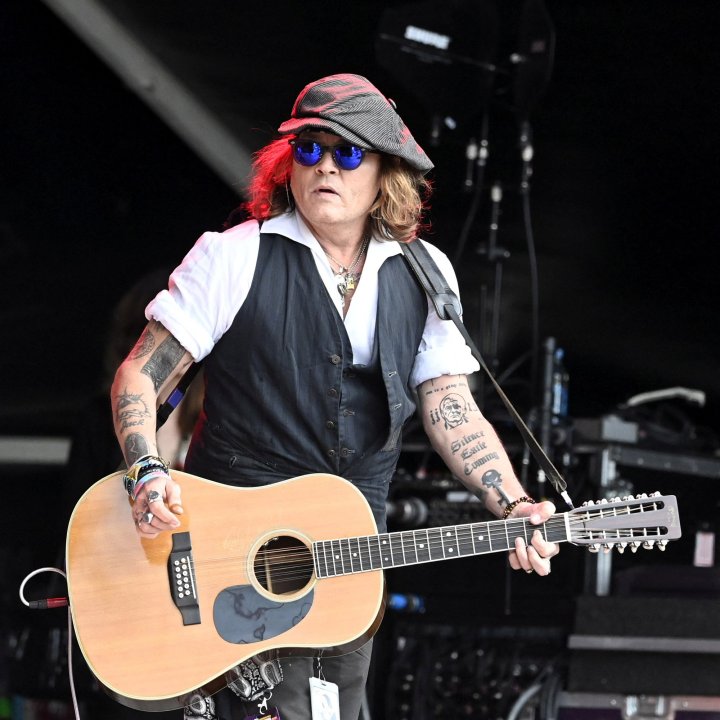 Jeff Beck's Oslo gig cancelled
Johnny Depp was due to perform a few songs with Jeff Beck at the Sentrum Scene in Oslo on Friday night but the concert, which had sold out, was postponed at the last minute after a membr of the band tested positive for coronavirus. The concert has been rescheduled for 2nd July.
The guitarist's tour continues this week with dates in Stockholm and Copenhagen but this evening's concert in Kristiansund has also been postponed with a new date still to be confirmed.
Depp stops to greet fans in Oslo
Johnny Depp stopped to greet fans and chat to a TV crew on Friday in Oslo, Norway where he was due to appear on stage with guitarist Jeff Beck at the Sentrum Scene. Clean-shaven, and weating a black T-shirt and fedora hat, the actor told television cameras outside the city's Grand Hotel, "Unfortunately, we didn;t get to play the concert but we'll be coming back" and added that he hasn't had a chance to do much sightseeing as "we don't get out much".
Amber Heard's team confirm they will launch an appeal
After much speculation, a representative of Amber Heard confirmed that the actress will be lodging a court appeal to the defamation case against her, which she lost earlier this month. She was ordered to pay ex-husband Johnny Depp damages and compensation totalling close to $15 million.
"As stated in yesterday's congressional hearings, you don't ask for a pardon if you are innocent," said Heard's rep, in a reference to the previous day's January 6 Committee hearings. "And, you don't decline to appeal if you know you are right."
Depp-Heard trial invoked by Laundrie judge
Few have been able to avoid the goings on in the Depp-Heard case and the Florida judge overseeing a civil lawsuit filed by the parents of slain travel blogger Gabby Petito against the parents of her suspected killer and ex-boyfriend, Brian Laundrie, invoked it this week during a hearing on whether the case will proceed to trial.
Twelfth Circuit Judge Hunter Carroll grilled both sides over whether an early statement made by Steve Bertolino, the Laundries' longtime lawyer, amounted to speech on their behalf. The lawsuit alleges that the Laundries knew Gabby Petito was already dead and misled her parents and stepparents.
Carroll noted that Johnny Depp had just been found liable for defaming his ex-wife Amber Heard due to a comment his lawyer made.
What kind of future awaits Johnny Depp and Amber Heard now that the trial is over?
In the social media age, it is perhaps more the case than ever that the old adage "all publicity is good publicity" rings true. Johnny Depp is releasing an album '18' that is guaranteed to sell in vast numbers, his Dior fragrance is flying off shelves, his band Hollywood Vampires have announced tour dates in Europe and the actor has been tipped to return to the Pirates of the Caribbean franchise.
Amber Heard, meanwhile, has reportedly had her screen time in Aquaman 2 bumped up and it seems likely she will get plenty of offers given the media coverage of the defamation trial.
Heard must post $11M suspension bond to appeal verdict
Representatives for Amber Heard confirmed that the actress will press ahead with an appeal, challenging the verdict of the six-week defamation trial.
During Friday's hearing in Virginia, Judge Penney Azcarate outlined that if if Heard appeals, she must post a suspension bond for the full amount of the $10.35 million award while the appeal is pending. The judge's order says both awards would also be subject to a 6% interest charge per year until the appeal case is resolved.
Depp-Heard trial judge ratifies jury decision
The judge who presided over the Depp-Heard defamation trial has finalized the verdict after a behind-the-scenes deal between the parties failed to materialize. Judge Penney Azcarate issued a written order for Heard to pay Depp $10.35 million for damaging his reputation and Depp to pay Heard $2 million, after a brief hearing in Fairfax County Circuit Court on Friday.
Depp v Heard aftermath, live updates: welcome
Good morning and welcome to our daily live blog for Saturday 25 June 2022, bringing you the latest news on the aftermath to the Depp v Heard defamation case.
Just to recap: a jury in Fairfax, Virginia, deemed that Heard had defamed Depp in a 2018 Washington Post op-ed in which she described herself as a "public figure representing domestic abuse", and ordered her to pay her former husband damages totalling $10.35m. Heard, meanwhile, won $2m after the jury found in her favour on one count of her counter-suit against Depp.