Monkeypox latest news summary | 22 May 2022
Monkeypox outbreak: live updates
Monkeypox outbreak: headlines
- President Biden responds to media question on monkeypox: "We're working on it hard to figure out what we do and what vaccine, if any, may be available for it. But it is a concern in the sense that if it were to spread, it's consequential."
- As of Saturday 21 May, the WHO is reporting that twelve non-endemic countries have reported 92 cases with an additional 28 suspected cases under examination.
- US government orders $119 million of smallpox vaccine Jynneos - does it protect against monkeypox?
Helpful information & links:
- Monkeypox symptoms: fever, malaise, headache, and sometimes sore throat and cough, and lymphadenopathy.
- Everything you need to know about Monkeypox.
- Mokeypox: How does it spread? Does it require sexual contact?
Where are cases being confirmed?
- Austria, Israel and Switzerland confirm cases of monkeypox
- Australia confirms first case via traveller from UK
- Second and third cases confirmed in Germany
- New cases detected in Netherlands, Belgium and Italy
- Authorities in Madrid, Spain close sauna linked to majority of infections
- US case "poses no risk to the public", Massachusetts Department of Health says
- Potential case of monkeypox being analyzed in Florida
"Presumptive" case of monkeypox being inestigated in Florida
Florida health officials are investigating a possible case of monkeypox in an individual who traveled internationally. If confirmed it would be the first in the state and third in the US. The first case of monkeypox was indentified in a person in Massachusetts who recently traveled to Canada. A second was indentified in New York that is still awaiting CDC confirmation.
There are now over 190 cases confirmed or suspected in 16 countries outside the area where it is endemic.
Concern about reporting on monkeypox is reinforcing stigmas
A significant portion of reported cases in the monkeypox outbreak, which has spread to at least 12 countries, have been among gay, bisexual and other men who have sex with men. UNAIDS cautions that the disease could affect anyone.
Evidence suggests that close contact with those who are infected, not just men who have sex with men, puts a person at risk for contracting the virus according to the WHO. UNAIDS urges "media, governments, and communities to respond with a rights-based, evidence-based approach that avoids stigma."
"Stigma and blame undermine trust and capacity to respond effectively during outbreaks like this one," said Matthew Kavanagh, UNAIDS Deputy Executive Director. "Experience shows that stigmatizing rhetoric can quickly disable evidence-based response by stoking cycles of fear, driving people away from health services, impeding efforts to identify cases, and encouraging ineffective, punitive measures".
Dr. Jha confident US will be able to get arms around monkeypox outbreak
Dr. Ashish Jha, who is currently serving as the White House Coronavirus Response Coordinator, was asked about President Biden's remarks on the monkeypox outbreak that "we should all be concerned," and if it were to spread, it's consequential."
"I would not be surprised Martha if we see a few more cases in the upcoming days. And I think the president's right, anytime we have an infectious deisease outbreak like this, we should all be paying attention," Dr. Jha said.
"I'm confident we're going to be able to get our arms around it. But we're going to track it very closely and use the tools we have to make sure that we continue to prevent further spread and take care of the people who get infected."
Mr. President, quick question: What have your health advisors told you your level of concern should be about monkeypox and the cases that are in the United States and around the world?

THE PRESIDENT: Well, they haven't told me the level of exposure yet, but it is something that everybody should be concerned about. We're working on it hard to figure out what we do and what vaccine, if any, may be available for it.

But it is a concern in the sense that if it were to spread, it's consequential. That's all they have told me.
How concerned should we be about monkeypox?
Reuters - Global health officials have sounded the alarm over rising cases in Europe and elsewhere of monkeypox, a type of viral infection more common to west and central Africa.
The risk to the general public is low at this time, a U.S. public health official told reporters at a briefing on Friday.
Monkeypox: What is it? Is it deadly? Is it easy to catch?
Cases of the monkeypox virus have been springing up in the US and western Europe. They have been reported in London, Madrid, Lisbon, Rome and Stockholm.
Usually, the cases are linked to people who have recently travelled to Africa, where the virus is much more prevalent.
WHO: One monkeypox case considered an outbreak
WHO - In non-endemic countries, one monkeypox case is considered an outbreak.
Because of the public health risks associated with a single case, clinicians should report suspected cases immediately to natl or local public health authorities.
Biden says 'everybody' should be concerned about monkeypox
Reuters - The monkeypox outbreak is something "everybody should be concerned about," US President Joe Biden said on Sunday, adding that US health officials are looking into possible treatments and vaccines.
"We're working on it hard to figure out what we do," Biden told reporters at an air base in South Korea before departing on Air Force One for Japan.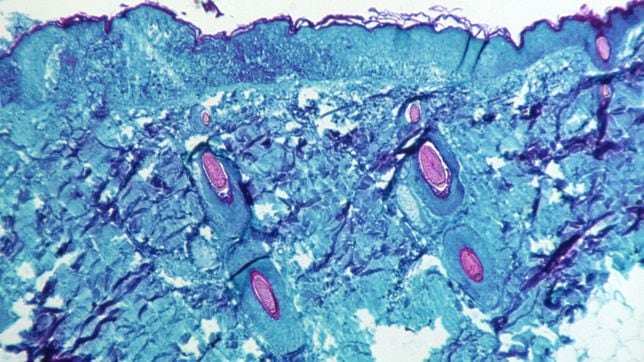 How does monkeypox spread and what are the differences with covid-19?
Researchers have identified a number of cases of monkeypox in the United States and Europe in recent weeks, raising concern that the viral disease is becoming more transmissible.
Normally monkeypox is only found in West and Central Africa, rarely spreading outside of the continent, but cases have been reported or suspected in the United Kingdom, Portugal, Spain and the United States.
Is there a cure for monkeypox?
On Wednesday health officials confirmed that a Massachusetts resident had tested positive for monkeypox, a viral disease rarely found outside of Western and Central Africa.
It was the first such case recorded in the United States this year but similar discoveries in Europe, particularly in the United Kingdom, suggest that the virus may be becoming more transmissible.
The risk to the public is incredibly small and cases remain extremely rare, but in Africa studies have found that the virus causes death in as many as one in ten people infected with the virus. There are currently no specific treatments available for monkeypox infection.
What is monkeypox?
Monkeypox is a viral infection first discovered in monkeys in the late 1950s - hence the name. The first human case was recorded in 1970, in the Democratic Republic of Congo.
Monkeypox occurs chiefly in west and central African countries, and has symptoms "similar to but milder than the symptoms of smallpox", the US Centers for Disease Control and Prevention (CDC) says.
According to the World Health Organization, monkeypox is chiefly transmitted "from direct contact with the blood, bodily fluids, or cutaneous or mucosal lesions of infected animals".
The WHO describes transmission of monkeypox between humans as "relatively limited", noting that the longest documented chain of person-to-person transmission is six people.
"Infection can result from close contact with respiratory secretions, skin lesions of an infected person or recently contaminated objects," the WHO says. "Transmission via droplet respiratory particles usually requires prolonged face-to-face contact, which puts health workers and household members of active cases at greater risk."
Monkeypox outbreak, live updates: welcome
Hello and welcome to our live blog for Sunday 22 May on the outbreak of monkeypox, of which just under 40 confirmed or suspected cases have been reported across the United Kingdom, Spain and Portugal. One case has also been confirmed in the United States.