NASA Artemis 1: watch the launch - mission to the Moon
NASA Artemis I: the launch to the Moon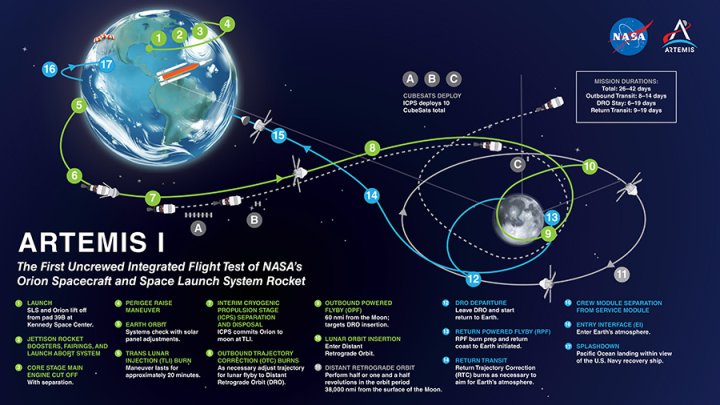 Mission overview
1. Launch site: Launch Pad 39B at NASA's Kennedy Space Center in Florida
2. Launch date: Nov. 16, 2022
3.Launch window: 1:04 a.m. EST to 3:04 a.m.
4. Mission Duration: 25 days, 11 hours, 36 minutes
5. Destination: distant retrograde orbit around the Moon
6. Total mission miles: approximately 1.3 million miles (2.1 million kilometers)
7. Targeted splashdown site: Pacific Ocean, off the coast of San Diego
8. Return speed: Up to 25,000 mph (40,000 kph)
9. Splashdown: Dec. 11, 2022

The mission objectives
1. To demonstrate Orion's heat shield can withstand the high speed and high heat conditions when returning through Earth's atmosphere from lunar velocities.
2. To demonstrate operations and facilities during all mission phases.
3. Retrieve Orion after splashdown.
4. Accomplish additional flight test objectives.
The weather at the launch
After another postponement last Sunday, the new attempt will take place today, Wednesday, November 16 at 1:04 a.m ET. At this time the launch window opens. NASA will provide special coverage of the launch one hour before from the Kennedy Space Center in Florida.
NASA is leading this project with the support of half a dozen other space agencies and several private companies. The long-term objective is for astronauts to travel to Mars sometime after 2030.
Artemis 1 mission is about to start
Welcome to the live feed of the NASA Artemis I launch mission to the moon. The last time a space ship reached the moon was in 1972. It was the Apollo 17 mission 50 years ago.
As always, the launch will depend on the weather conditions in Florida and it could be postponed again depending on the weather.