Potential Trump arrest live updates: Manhattan DA may bring charges against former president
Trump Feed: Latest News
Headlines: Wednesday, 22 March, 2023
- Former President Donald Trump could be indicted in the Stormy Daniels 'hush money' case
- However, the grand jury hearing evidence in the case won't be meeting today
- Reports even suggest the grand jury may not meet again this week
- Trump's former lawyer Michael Cohen has already been jailed for the payments made to pornstar Stormy Daniels
- An arrest would make Trump the first US president to face criminal charges
- Republicans have rallied around their former leader, describing the prospective charges as "politically motivated"
Related stories:
Court blocks Trump appeal over Corcoran grand jury appearance
In other Trump-in-legal-trouble news, a Washington DC court of appeals says his defence attorney, Evan Corcoran, must testify before a grand jury on Friday in relation to an investigation into the former president's potential mishandling of classified files. Corcoran will also have to turn over documents.
Trump had attempted to prevent Corcoran from having to testify.
Potentially no decision on Trump indictment this week
It's being reported that the grand jury hearing evidence in the Stormy Daniels 'hush money' case may not meet again this week, after being told not to convene today as planned.
Grand jury won't meet today - reports
It's being reported that the grand jury in the Stormy Daniels investigation won't be convening today. The jury, which is tasked with voting whether or not to indict Donald Trump, is now said to be "on standby" about meeting tomorrow.
Reports indicate that Donald Triump wants to be seen in handcuffs if he is arrested.
According to The New York Times and The Guardian, the ex-president has told advisers that he wants to turn his potential detention into a "spectacle". It's thought this is motivated by a desire to whip up anger among his support base over what he considers an unfair investigation, in the process potentially boosting his 2024 presidential bid.
Has Trump been arrested? Be careful what you believe...
As we've been following, the idea of the former president being arrested is one on many people's minds, but not everything that you see on the internet is what it seems, as we explain here...
The fake images of Trump being arrested
With news breaking that Trump would be arrested on Tuesday, people began to have some fun at the premise. Putting the prompt into AI programmes of Trump being arrested meant people could share images of what might happen, though they did fool some social media users.
They were created in Midjourney v5.
After news organisations picked up on the pictures, creator Eliot Higgins tweeted "This all got a bit out of hand."
What has Trump said about the Stormy Daniels charges?
Illegal leaks from a corrupt & highly political Manhattan district attorney's office ... indicate that, with no crime being able to be proven, based on an old & fully debunked (by numerous other prosecutors!) fairytale, the far & away leading Republican candidate & former president of the United States of America, will be arrested on Tuesday of next week. Protest, take our nation back!
Republicans gather to protect Trump
Lead Republicans like Ted Cruz took to the airwaves this week to speak out against what they saw as a political arrest.
The charges that prosecutors may bring against the former president are unclear but would most likely be related to fraudulent bookkeeping. Because the statute of limitations has expired to charge Trump with a misdemeanor, a felony charge could be expected. For this the district attorney will need to show that in falsifying the business records, there was the intention of committing, aiding or concealing a second crime.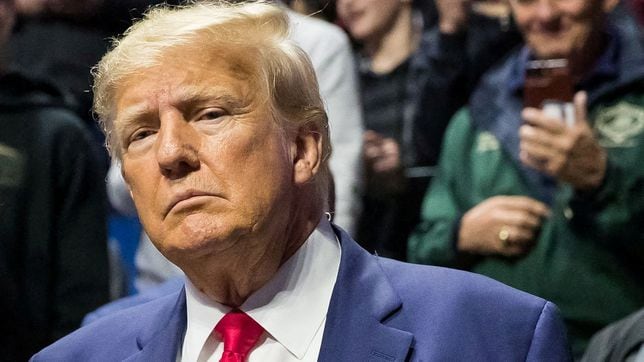 Former US President Donald Trump, and contender in the 2024 election, could face a number of criminal charges stemming from various inquiries both at the state and federal level. Indictments in one of those investigations carried out by the Manhattan District Attorney's office could come as early as Wednesday.
Good morning
It's Wednesday 22 March, and you join AS USA for out coverage of the developing Donald Trump news.
The 45th president of the United States is expected to be arrested today for his role in allegedly paying Stormy Daniels to be silent about a potential relationship in the buildup to the 2016 election.