Shooting in Texas elementary school live news: 21 killed, 19 children, law enforcement, parents, shooter updates, reactions...
Texas School Shooting: live updates
Texas elementary school shooting: Headlines
- 19 children and two teachers killed in Robb Elementary school shooting
-Police and other law enforcement officers tased, pepper sprayed, and hand cuffed parents desperate to have police enter the building to protect their children.
- Law enforcement officials now reporting that no one confronted, shot at, or engaged the shooter before he entered the school, conflicting previous reports.
- President Joe Biden and First Lady to visit Uvalde in coming days
- More children have been killed at school than police officers in theline of duty: fact check
- Fatal shooting in Uvalde, Texas, is deadliest school attack in US since Sandy Hook in 2012
- Democratic gubernatorial candidate, Beto O'Rourke disrupts current Governor Greg Abbott's press conference; demanding answers to gun safety and violence questions.
- NRA still plans to hold rally in Houston, Texas in the wake of the horrific school shooting with prominent Republican leaders still scheduled to speak.
- Shooting took place in one classroom
- President Biden says US needs to stand up to gun lobby
Related AS USA articles:
And I know, of course, that today, following yesterday, that all of our hearts, of course, are with the people of Uvalde, Texas; with the parents, with the children; with all the folks who said goodbye yesterday morning to someone they loved, not knowing that that goodbye would be their last.

Enough is enough. Enough is enough.

As the President said last night, we must have the courage to stand up to the gun lobby and pass reasonable gun safety laws.
Husband of wife killed in Robb Elementary School shooting dies of a heart attack
WRTV Indianapolis reports that the husband of Irma Garcia, Joe Garcia has died after suffering a heart attack in the wake of his wife's murder. According to the reports, the Garcia's were "set to celebrate their 25th anniversary this year."
Texas DPS Lieutenant tells local reporter that some officers were able to get their children out as the shooting was taking place
A new video has sufaced online wherein a Texas DPS Lieutenant confirms that some law enforcement officers who had children who attended Robb Elementary School were able to safely evacuate their own children as the shooting was taking place. This comes as new evidence emerges showing that when parents began to arrive at the seen, any police offers were unwilling to enter the building and did not allow the parents access to the building. Some parents were tacked to the ground and in the video some officer can be seen holding their tazar.
Is the NRA really banning guns at their convention in Texas?
The National Rifle Association Institute for Legislative Action (NRA-ILA) is holding a leadership forum on Friday. The organization is known for its lobbying to relax gun laws including the right to carry them in public spaces where they are currently banned.
So, it should come without a little irony that their event at the end of the week will be "gun non grata." The reason, fair enough, is not the organization banning deadly weapons but the Secret Service who will be there to protect former President Trump who will be speaking at the event.
Don McLean will sit out Texas NRA rally out of respect for grieving families
The NRA is still going forward with its leadership summit in Houston on Friday where former President Trump is the headline speaker. " A star-studded cast of political heavyweights" from the GOP will join him at the event for the "celebration of Second Amendment rights" as the NRA says.
However Don Mclean, who was scheduled to perform announced, "In light of the recent events in Texas, I have decided it would be disrespectful and hurtful for me to perform for the NRA at their convention in Houston this week."
He added, "I'm sure all the folks planning to attend this event are shocked and sickened by these events as well. After all, we are all Americans. I share the sorrow for this terrible, cruel loss with the rest of the nation."
LAw enforcement response to Texas shooting questioned
As we learn more about the tragic events in Robb Elementary School on Tuesday, more questioned are being asked about why it took police so long to respond to the shooting once law enforcement had arrived at the scene. It is thought that the gunman, Salvador Ramos, was in the school for at least 40 minutes before members of Border Patrol were able to enter the building.
This report from AP states: "Texas Department of Public Safety Director Steve McCraw said Wednesday that 40 minutes to an hour elapsed from when Ramos opened fire on the school security officer to when the tactical team shot him."
Florida Representative Randy Fine threatens Biden if he tries to 'take our guns'
The debate over gun control in the United States has returned to the fore in the aftermath of the horrifying attack on Robb Elementary School on Tuesday. President Biden gave a White House speech the same day, offering condolences to those affected but demanding that Congress do more to regulate the availability of firearms.
But in response to Biden's empassioned plea, Florida's Rep. Randy Fine took to Twitter, threatening Biden with violence if he continues to push for further gun control.
On Wednesday morning Fine posted on Twitter, "I have news for the embarrassment that claims to be our President — try to take our guns and you'll learn why the Second Amendment was written in the first place."
No guns allowed at Trump's upcoming NRA speech
In recent days many have pointed to lobbyists the National Rifle Association for preventing any meaningful change in the country's gun laws. While countries all around the world adopted tougher restrictions in the wake of a major shooting attack, the United States is yet to do so and the massacres continue.
The decision to ban guns at this weekend's NRA event with a speech from Donald Trump, has therefore raised eyebrows. Speaking to NPR, the Secret Service said that the agency has the "authority to preclude firearms from entering sites visited by our protectees, including those located in open-carry states."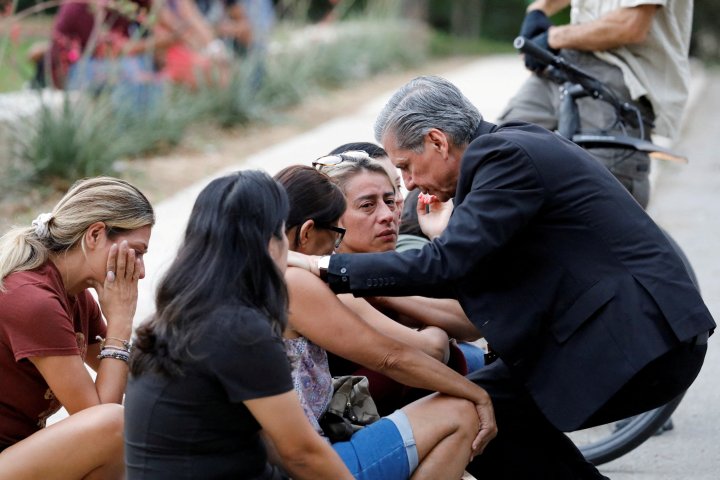 Threat of deadly violence hangs over American school children
The threat of deadly violence hangs over American school children in a way it does not in most other countries. Starting from a young age, students regularly practice active shooter drills, learning to hide in classrooms with the lights off and doors barricaded.
As a daily precaution, some schools not only lock the front doors but also classroom doors, hoping to block potential gunmen who make it into the building. In Texas, there is even a school marshal program, where trained teachers can carry handguns.
The increase in shootings has spawned a schools safety industry. Many schools have installed bullet-proof windows and doors, special locks, metal detectors. Some have hired armed guards.
Arming teachers is "ill-advised"
Arming teachers is "ill-advised," said Denise Gottfredson, a criminologist at the University of Maryland, pointing to research that more availability of guns is likely to lead to more gun violence.
"These guns might be fired accidentally, the teachers who carry them might deliberately use them for unintended purposes, and, even more likely, the guns might end up in the hands of students," said Gottfredson.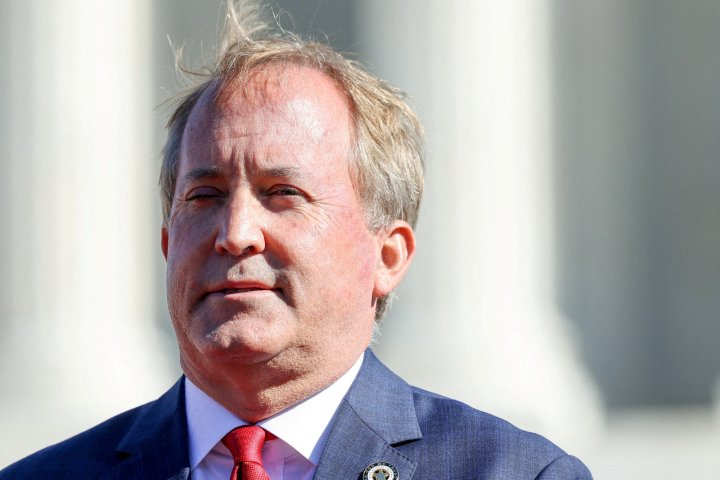 For Texas conservatives, armed teachers are a solution to school shootings
Immediately after Tuesday's school shooting in Texas, conservative politicians reacted with another push for arming school officials to protect students – a notion that has raised strong objections among teachers, researchers and gun control activists.
"We can arm and prepare and train teachers and other administrators to respond quickly, because the reality is we don't have the resources to have law enforcement at every school," Texas Attorney General Ken Paxton told Fox News on Tuesday.
Texas has already pioneered such training, the School Marshal Program, which allows teachers and administrators to carry handguns after an 80-hour training at academies overseen by the Texas Commission on Law Enforcement.
The program was enacted in 2013 and expanded under Governor Greg Abbott, a Republican. There are now 256 school marshals in Texas, up from 34 before a high school shooting in Santa Fe near Houston in 2018, the Commission said.
Craig Bessent, assistant superintendent in Wylie Independent School District, was first trained in 2014 and, although the identities of marshals are usually withheld, he acts as a kind of program spokesman.
"We have school marshals at every campus in our district, even pre-K. Some we have more than one," said Bessent from his office in Abilene west of Dallas, where the Wylie district has eight campuses.
"I do carry my handgun on me, in a concealed fashion. If we have to react like in an instance that happened yesterday, we're always ready."
But while Bessent says marshals in his district have responded to "lots" of issues, including with upset parents, he stressed they see themselves as a "de-escalating" force and have never discharged their weapons.
Requirements to become a marshal include being a school employee, passing a psychological exam and having a license to carry, according to the Commission.
Prospective marshals go through training that includes weapon proficiency and "active shooter response," it said, but declined to share its training material with Reuters.
Abbott's office did not respond to a request for details about the program's scope and metrics for success.
A shocked Texas town struggles to make sense of school massacre
Frank Salazar pointed down the road at the low-slung buildings of Robb Elementary School, just two blocks from his home, struggling to make sense of the massacre there less than 24 hours earlier that stunned his little Texas town.
Salazar, 18, a senior at Uvalde High School, went to Robb Elementary as a child, walking to school with his cousins. Like seemingly everyone else in the town of about 15,000, he knows somebody directly affected by the killing.
"This community is extremely tight, but there are many people who choose to mourn quietly, alone, and in a small town like this we're going to respect that," Salazar said.
Two friends had younger siblings who died, he said. He delivered this information to a reporter in a matter-of-fact tone, his eyes bloodshot and wide open. Like many others in Uvalde, Salazar appeared dazed by what had just unfolded in his community - the murder of 19 children and two adults by an 18-year-old gunman armed with an AR-15 style rifle.
There were few outward signs on Wednesday that one of the deadliest school shootings in the United States had taken place just a day earlier. There were no spontaneous memorials of flowers and teddy bears that sometimes pop up at scenes of mass tragedy.
A Wednesday morning mass at the Sacred Heart Catholic Church was attended by about 50 people, who listened as a priest struggled to tell them why so many of their town's children had died. The priest said that he was praying to the Lord to guide him and everyone in Uvalde to some understanding of why such killings took place.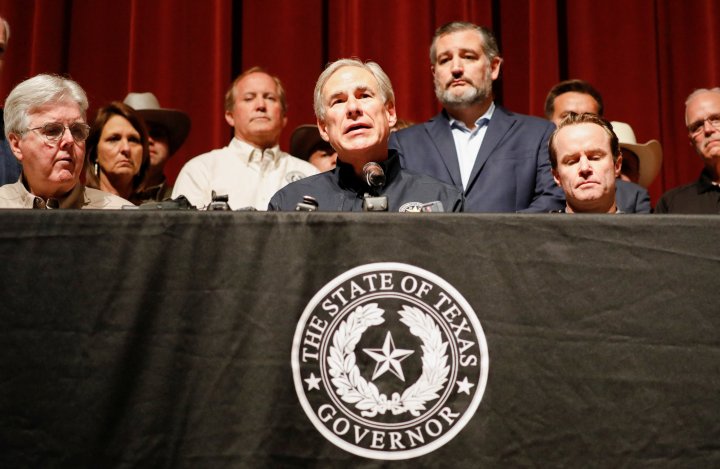 Senate struggles to unite on guns after Texas massacre
Democrats and Republicans in the U.S. Senate struggled on Wednesday to agree on legislation to prevent future mass shootings a day after a gunman killed 19 children and two teachers at a Texas elementary school.
Democratic Senate Majority Leader Chuck Schumer urged collaboration but neither he, nor Democratic President Joe Biden in a televised speech on Tuesday, offered a specific approach.
"My Republican colleagues can work with us now. I know this is a slim prospect, very slim, all too slim," Schumer said in a floor speech. "It's their choice."
The Senate will hold a procedural vote on Thursday to launch debate on legislation to fight domestic terrorism that passed the Democratic-controlled House of Representatives after a mass shooting in Buffalo, New York, earlier this month.
Republicans Susan Collins and Pat Toomey said they had been in contact with Democratic Senator Chris Murphy about possible legislation to deny weapons to people deemed dangerous and to tighten background checks for gun purchasers.
David Hogg, a survivor of the 2018 Parkland, Florida, high school shooting and a gun-control activist, urged lawmakers to act.
"I want anything. We gotta save lives now. Kids are dying right now," Hogg said in an interview. "Even if it just saves one life, because it's an updated background checks bill, or an expansion of extreme risk protection orders, or anything like that."
Schumer calls on "brave Republicans" to buck NRA
Senate Majority Leader Chuck Schumer gave an impassioned speech calling for Republicans to stand up against the gun lobbyists and usher in Second Amendment reform: "If the slaughter of schoolchildren can't convince Republicans to buck the NRA, what can we do? We just need some brave Republicans to stand athwart history and yell stop."
Biden to visit Texas to console families of shooting victims
US President Joe Biden said on Wednesday he and first lady Jill Biden will travel to Uvalde, Texas, in coming days to console families of the young shooting victims killed at an elementary school.
Biden was speaking at the White House to roll out an executive order on police reform on the two-year anniversary of the death of George Floyd, a Black man, while in police custody in Minneapolis. Floyd's death sparked protests around the country and the world.
The president added remarks to his speech about the Uvalde shooting, which police say was carried out by 18-year-old Salvador Ramos. Americans were shocked by the death toll in the latest in a long string of mass shootings: 19 students and two teachers.
"Jill and I will be traveling to Texas in the coming days to meet with the families to let them know we have a sense, just a sense of their pain, and, hopefully, bring some little comfort to a community in shock and grief and trauma," Biden said.
A little more than a week ago, he visited Buffalo, New York, to console the families of 10 people killed at a supermarket there - nearly all of them Black - by an avowed white supremacist.
"I'm sick and tired of it," Biden said on Wednesday. How far government can go in controlling access to firearms has been one of the most divisive issues in the United States. It pits those who say restricting the availability of guns will save lives against those who maintain that guns themselves are not the root cause of mass shootings and that the right to bear arms is protected by the US Constitution.
O'Rourke confronts Gov. Abbott for inaction on gun violence
Texas Governor Greg Abbott and state officials were giving a press conference to share details of mass shooting at Robb Elementary School in Uvalde, Texas. The largest mass shooting of children since 2012 at Sandy Hook, at least 19 children were shot and two teachers.
Democratic gubernatorial candidate Beto O'Rourke interrupted the briefing to call out Abbott for not doing anything to stop incidents such as the tradgic events on Tuesday.
CONTENT WARNING: Strong language
Gun violence is a uniquely American problem
One solution offered to solve gun violence by Second Amendment right activitsts is to put more guns into people hands.
This graph by Vox seems to suggest that isn't the answer...
Vigil held for those killed in Robb Elementary School shooting
The Huston community gathered on Wednesday to celebrate the lives of those lost in the horrific mass shooting at Robb Elementary School in Uvalde. Twenty-one people were killed in the attack which took place Tuesday and has shaken the nation which is still grappling with a mass shooting in Buffalo at a grocery store that took the lives of ten store patrons.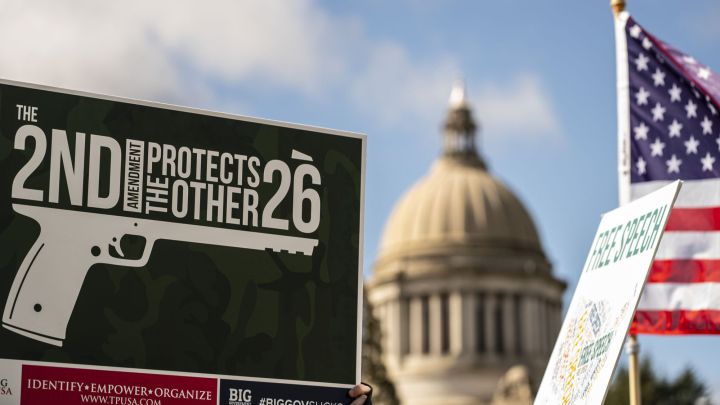 New York Times releases short video on victims of Tuesday's school shooting
The names of at least fifteen victims have now been released. Twelve of the names so far are of the children, fourth graders, all no more than ten years old. Eva Mierles and Irma Garcia were teachers at the school who according to the most recent reports made every attempt to protect the children in their care,and lost their lives doing so. A stark reminder of love teachers all over the country show for their students.
The 19 children who were killed were all aged between seven and 10, and many more wounded in the shooting at Robb Elementary School in South Texas on Tuesday, according reports.
The incident occurred around midday in the town of Uvalde, about 80 miles west of San Antonio. According to local officials, the gunman was shot dead by a Border Patrol officer who raced to the school when he heard shooting.
Hello and welcome to our live updates as we bring you the latest news following the tragic shootings in Uvalde (Texas) where 19 children and two adults are among the dead.
The shootings, carried out by a heavily armed 18-year-old suspect, have reopened the debate on gun control in the US, with President Joe Biden among those calling for legislation to reach the floor of Congress.