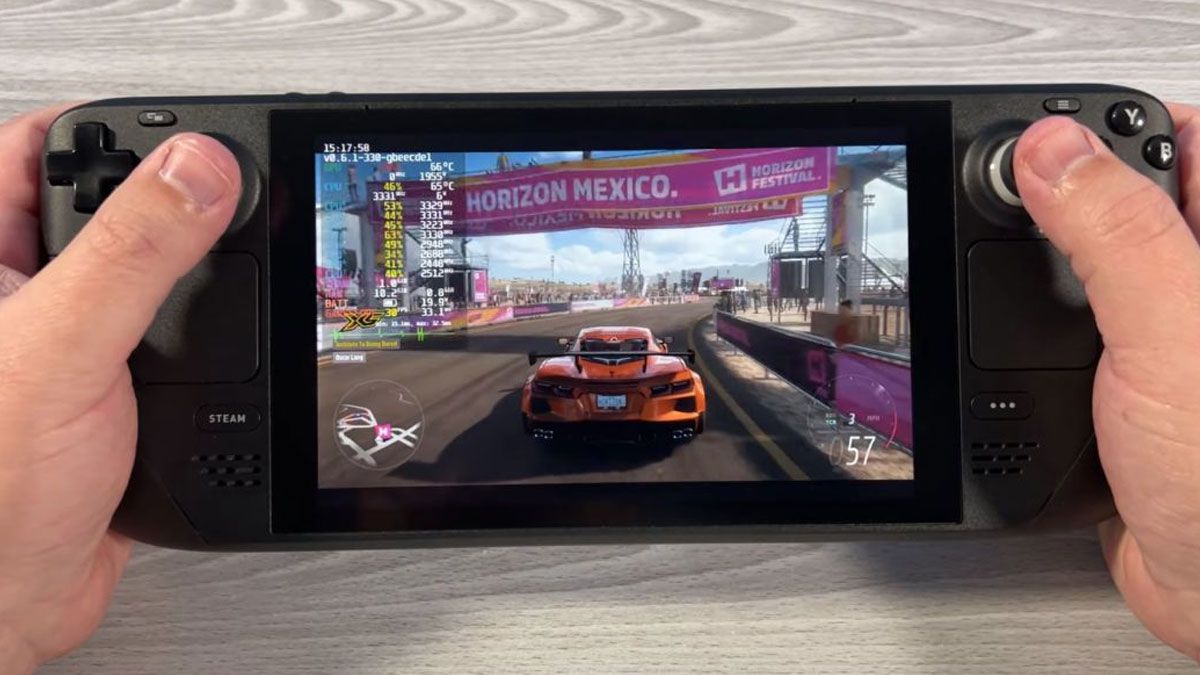 The Steam Deck is just a few weeks away from arriving to gamers' hands. With a few days away, we already have the first unboxing and details for this device.
Steam Deck, Valve's upcoming device that will take the PC Gaming experience into a portable mode, is about to arrive. Although there are already some details about this device, what we are most looking forward to is having it in our hands. And just to fire up the engines in this final stretch prior to its launch, the device is arriving to content creators and we already have the first unboxing.
Steam Deck's first unboxing
The ShortCircuit channel is the first to share its unboxing of the device. Although the video goes through the ritual rather quickly and shows the contents of the box in a rushed manner, it does spend a lot of time on other aspects such as weight, resolution and even comparison with other portable devices. You can watch the video below:
ShortCircuit also highlights the very eye-catching sleeve. This features a small space in the back that includes a pouch for the power cord, as well as being made of fairly sturdy material. Something that also stands out is the anti-glare screen it has, blurring the screen so it has no impact on your gaming experience.
Steam Deck list of verified playable games
Steam Deck already has the first grid of verified titles, as we can know thanks to the platform's database. And with a few weeks to go, the list of games already verified is growing, reaching a current total of 157.
This is the complete list with the games verified so far with Steam Deck:
8Doors: Arum's Afterlife Adventure

Aeterna Noctis

Aliens: Fireteam Elite

APE OUT

Baba Is You

BattleBlock Theater®

Bayonetta

Behind the Frame: The Finest Scenery

Blue Fire

Boomerang X

Business Tour - Board Game with Online Multiplayer

Castle Crashers®

Caveblazers

Celeste

Circuit Superstars

Cuphead

Curse of the Dead Gods

Cyber Hook

Danganronpa 2: Goodbye Despair

DARK SOULS™ II: Scholar of the First Sin

DARK SOULS™ III

Darksiders II Deathinitive Edition

Daymare: 1998

Dead Cells

Dead Estate

DEATH STRANDING

Death Trash

Death's Door

DEATHLOOP

Demon Turf

Desperados III

Despot's Game: Dystopian Army Builder

Disco Elysium - The Final Cut

Dishonored

Eastward

Evil Genius 2: World Domination

Fallout Shelter

Farm Together

Fell Seal: Arbiter's Mark

FINAL FANTASY

FINAL FANTASY II

FINAL FANTASY III

FINAL FANTASY IV

FINAL FANTASY VIII - REMASTERED

Firewatch

Football, Tactics & Glory

Genital Jousting

Ghostrunner

God of War

Graveyard Keeper

GRIME

Guacamelee! 2

Gunfire Reborn

Hades

Happy's Humble Burger Farm

Heavenly Bodies

Hellblade: Senua's Sacrifice

Hellish Quart

Hentai Girl Hime

HITMAN™

Hollow Knight

Horizon Zero Dawn™ Complete Edition

HOT WHEELS UNLEASHED™

Human: Fall Flat

Idle Champions of the Forgotten Realms

Idle Wasteland

INSIDE

Into the Breach

Intravenous

ISEKAI QUEST

Katamari Damacy REROLL

Kingdom Rush Vengeance - Tower Defense

LEGO® Star Wars™ - The Complete Saga

Life is Strange 2

Life is Strange 2 - Episode 2

LIMBO

Luck be a Landlord

Mad Max

Manifold Garden

Mark of the Ninja: Remastered

METAL GEAR RISING: REVENGEANCE

Metal Unit

Mortal Shell

NEKOPARA Extra

NEKOPARA Vol. 0

NEKOPARA Vol. 4

Ni no Kuni™ II: Revenant Kingdom

Nickelodeon All-Star Brawl

Nidhogg

Noita

Nuclear Throne

OCTOPATH TRAVELER™

Orcs Must Die! 3

Paint the Town Red

Paradise Killer

Pathologic 2

Portal 2

Potion Craft: Alchemist Simulator

PowerWash Simulator

Price

Price

Psychonauts 2

RAD

Rating

Rating

Realm Grinder

Record of Lodoss War-Deedlit in Wonder Labyrinth-

Redout: Enhanced Edition

Release

Release

Remnant: From the Ashes

Return of the Obra Dinn

Risk of Rain 2

Rocket League®

Rogue Legacy 2

Roundguard

Sable

Sam & Max Save the World

SCARLET NEXUS

Seed of the Dead: Sweet Home

Sekiro™: Shadows Die Twice - GOTY Edition

Shadow Man Remastered

Siralim Ultimate

Spelunky 2

Stardew Valley

Supaplex

Super Meat Boy Forever

Super Mega Baseball 3

SUPERHOT

SUPERHOT: MIND CONTROL DELETE

Supraland Six Inches Under

Tetris® Effect: Connected

The Binding of Isaac: Rebirth

The Evil Within

The Falconeer

The Jackbox Party Pack 5

The Jackbox Party Pack 6

The Jackbox Party Pack 7

The Jackbox Party Pack 8

The Life and Suffering of Sir Brante

The Messenger

Total War: WARHAMMER II

Travellers Rest

Tricky Towers

Tunche

Twelve Minutes

UnderMine

Unpacking

Webbed

West of Dead

WHAT THE GOLF?

WORLD OF HORROR

Wytchwood

Yonder: The Cloud Catcher Chronicles

Yooka-Laylee and the Impossible Lair

Your Chronicle

Yu-Gi-Oh! Duel Links
There are other games confirmed as "playable on Steam Deck", i.e. those that do not meet all the requirements to be verified but can be run without problem.
How to check if a Steam game works on Steam Deck
Follow these steps to find out which games are compatible with Steam Deck:
Log in to Steam from a new window in the Firefox browser
Press the key combination: Ctrl+Shift+M
The store will open in tablet mode.
Click on the devices
Create a new profile
Select: Valve Steam Gamepad
Change the resolution to 910 x 568
Save the changes
Refresh the window
Go to any game to confirm whether or not it is compatible with Steam Deck
Are Steam Decks sold out?
The quick answer is yes, the Steam Deck is out of stock. This may change, however. Valve recently announced that on February 25, all people who reserved their unit will receive an email notifying them that they have a 3-day period to finalize the purchase. So the waiting list could be shortened by those people who get cold feet or don't read their email in time. For now, Steam Deck reservations are open for users in the United States, Canada, United Kingdom and the European Union.
While you wait for the Steam Deck release date for this February 28 (or at least its first wave of shipments), don't miss our guide on how to share your Steam library with your family and friends.
Source | SteamDB