Where does One Piece RED go?
How to watch One Piece in order? All episodes and movies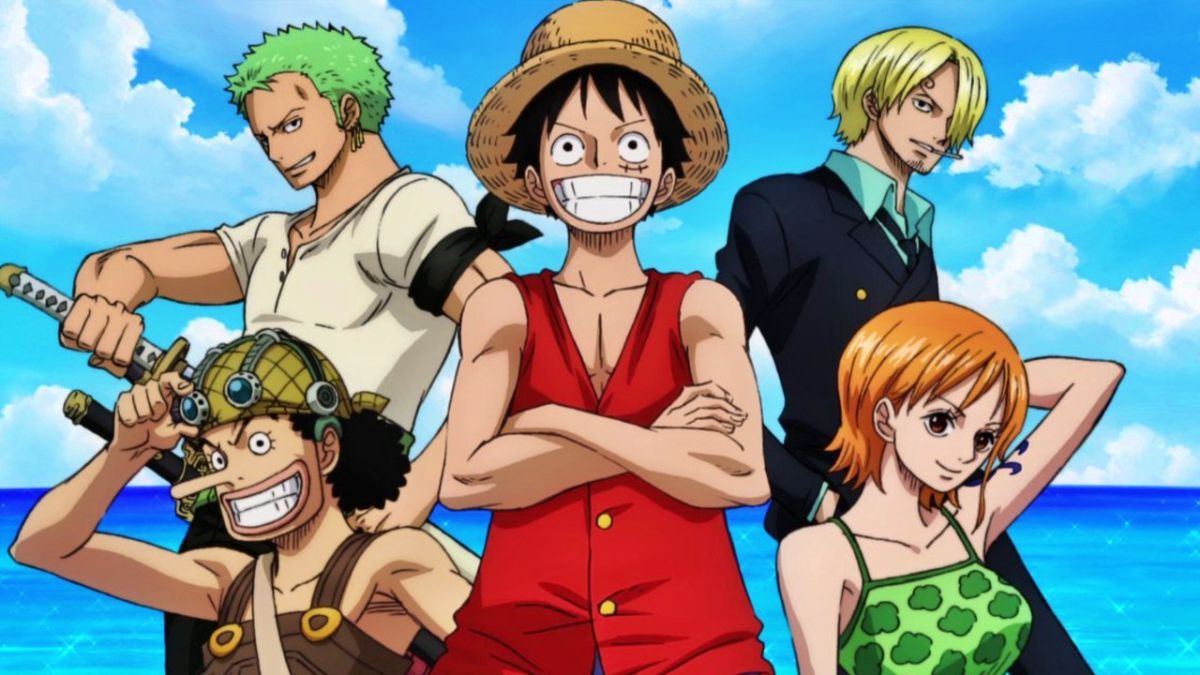 We tell you in what order you can watch the entire One Piece anime, including the filler, so you can choose how to follow each saga and story arc.
The arrival of One Piece RED in theaters around the world (November 3) is a historic event. It is the anime's first film in three years, the first with such fanfare at its international release, and most importantly, the first to focus on Shanks, one of the community's favorite characters. The mysterious knight (or pirate)-errant who gave Luffy his iconic straw hat. Straddling the line between canon and filler, RED is the 15th film based on Eiichiro Oda's work, and kicks off the final stretch of One Piece.
Despite its 25 years, its 15 movies and more than 100 volumes and 1000 episodes, One Piece is at an ideal moment to get on the Thousand Sunny. Having just finished the Wano arc in the manga and in the middle of the battle between Kaido and Luffy in the anime, it is clear that the best is yet to come. So, in case you want to get on board, or for those who want to review part of the unforgettable journey undertaken so far, we are going to review all the One Piece sagas, arcs and movies in chronological order, marking of course the filler chapters. Let's get down to business.
As you will see below, we divide the structure of the series in two big blocks: before the time-skip and after the time-skip; something similar to Dragon Ball and Dragon Ball Z or Naruto and Naruto Shippuden. We do not go into any kind of spoiler/plot spoilers.
Without further ado, we leave you the order to see the entire One Piece series as well as its movies. And you, which saga or arc do you prefer?
East Blue Saga (episodes 1-61)
Romance Dawn Arc(episodes 1-3)
Orange Town Arc (episodes 4-8)
Syrup Village Arc (episodes 9-18)
Movie #1 | One Piece: the movie (After episode 18)
Baratie Arc (episodes 19-30)
Arlong Park Arc (episodes 31-44)
Loguetown Arc (Episodes 45, 48-53)
Buggy's Crew Adventure Chronicles (episodes 46-47)
Movie #2 | Clockwork Island Adventure (After episode 52)
Warship Island arc (Filler arc) (episodes 54-61)
Arabasta Saga (episodes 62-135)
Reverse Mountain Arc (episodes 62-63)
Whiskey Peak Arc (episodes 64-67)
Diary of Koby-Meppo Arc (episodes 68-69)
Little Garden Arc (episodes 70-77)
Drum Island Arc (episodes 78-91)
Movie #9 | Episode of Chopper Plus: Bloom in Winter, Miracle Sakura (Drum Island Arc remake)
Arabasta Arc (episodes 92-130)
Movie #3 | Chopper's Kingdom on the Island of Strange Animals (After episode 102)
Movie #4 | Dead End Adventure (After episode 130)
Post-Arabasta Arc (Filler arc) (episodes 131-135)
Movie #8 | Episode of Arabasta: The Desert Princess and the Pirates (Arabasta saga remake)
Sky Island Saga (episodes 136-206)
Goat Island Arc (Filler arc) (episodes 136-138)
Ruluka Island Arc (Filler arc) (episodes 139-143)
Movie #5 | The Cursed Holy Sword (After episode 143)
Jaya Arc (episodes 144-152)
Skypiea Arc(episodes 153-195)
G-8 Arc (Filler arc) (episodes 196-206)
Water 7 Saga (episodes 207-325)
Long Ring Long Land Arc (episodes 207-219)
Ocean's Dreams Arc (Filler arc) (episodes 220-224)
Foxy's Return Arc (Filler arc) (episodes 225-228)
Movie #6 | Baron Omatsuri and the Secret Island (After episode 224)
Admiral Aokiji Arc (episodes 227-228)
Movie #7 | The Giant Mechanical Soldier of Karakuri Castle (After episode 228)
Water 7 Arc (episodes 229-263)
Enies Lobby Arc (episodes 264-290, 293-302, 304-312)
Boss Luffy Historical Special (Special Episodes) (Episodes 291-292, 303, 406-407)
Post-Enies Lobby Arc (episodes 313-325)
Thriller Bark Saga (episodes 326-384)
Ice Hunter Arc (Filler arc) (episodes 326-335)
Chopper Man Special (Special Episodes) (episode 336)
Thriller Bark Arc (episodes 337-381)
Movie #10 | One Piece Film: Strong World (After episode 381)
Spa Island Arc (Filler arc) (episodes 382-384)
Summit War Saga (episodes 385-516)
Saboady Archipelago Arc (episodes 385-405)
Movie #11 | One Piece 3D: Straw Hat Chase
Amazon Lily Arc (episodes 408-417)
Straw Hat's Separation Serial (418-421, 453-456)
Impel Down Arc (episodes 422-425, 430-452)
Little East Blue Arc (Filler arc) (episodes 426 - 429)
Marineford Arc (episodes 457-489)
Post-War Arc (episodes 490-491, 493-516)
Toriko Crossover (Special Episode) (Episode 492)
Time Skip to The Final Sea: The New World Saga
Fish-Man Island Saga (episodes 517-574)
Return to Sabaody Arc (episodes 517-522)
Movie #12 | One Piece Film: Z (After episode 573)
Fish-Man Island Arc (episodes 523-541, 543-574)
Toriko Crossover (Special Episode) (Episode 542)
Dressrosa Saga (episodes 575-746)
Z's Ambition (Filler arc) (episodes 575-578)
Punk Hazard Arc (episodes 579-589, 591-625)
Toriko & Dragon Ball Crossover (Special Episode) (Episode 590)
Caesar Retrieval (Filler arc) (episodes 626-628)
Dressrosa Arc(episodes 629-746)
Four Emperors Saga (episodes 747- Ongoing)
Silver Mine Arc (Filler arc) (episodes 747-750)
Movie #13 | One Piece Film: Gold (After episode 750)
Zou Arc (episodes 751-779)
Marine Rookie Arc (Filler arc) (episodes 780-782)
Whole Cake Island Arc (episodes 783-877)
Movie #14 | One Piece Stampede (After Whole Cake Island Arc)
Levely Arc (episodes 878-889)
Wano Arc (episodes 890-894)
Cidre Guild Arc (Filler arc) (Episodes 895-896)
Wano Arc Part 2 (episodes 897-1028)
Anime 20th Anniversary Special (Special Episode) (Episode 907)
Uta's Past Arc (Filler arc) (Episodes 1029-1030)
Movie #15 | One Piece RED (after Uta's Past Arc)
Wano Arc Part 3 (episodes 1031-ongoing)
All One Piece movies: order and when to watch them
Movie #1, 2000 | One Piece: the movie (After episode 18)
Movie #2, 2001 | Clockwork Island Adventure (After episode 52)
Movie #3, 2002 | Chopper's Kingdom on the Island of Strange Animals (After episode 102)
Movie #4, 2003 | Dead End Adventure (After episode 130)
Movie #5, 2004 | The Cursed Holy Sword (After episode 143)
Movie #6, 2005 | Baron Omatsuri and the Secret Island (After episode 224)
Movie #7, 2006 | The Giant Mechanical Soldier of Karakuri Castle (After episode 228)
Movie #8, 2007 | Episode of Arabasta: The Desert Princess and the Pirates (Arabasta saga remake)
Movie #9, 2008 | Episode of Chopper Plus: Bloom in Winter, Miracle Sakura (Drum Island Arc remake)
Movie #10, 2009 | One Piece Film: Strong World (After episode 381)
Movie #11,2011 | One Piece 3D: Straw Hat Chase
Movie #12, 2012 | One Piece Film: Z (After episode 573)
Movie #13, 2016 | One Piece Film: Gold (After episode 750)
Movie #14, 2019 | One Piece Stampede (After Whole Cake Island Arc)
Movie #15, 2022 | One Piece RED (after Uta's Past Arc)