By release and chronological
Dune: In what order to read all the books of the saga?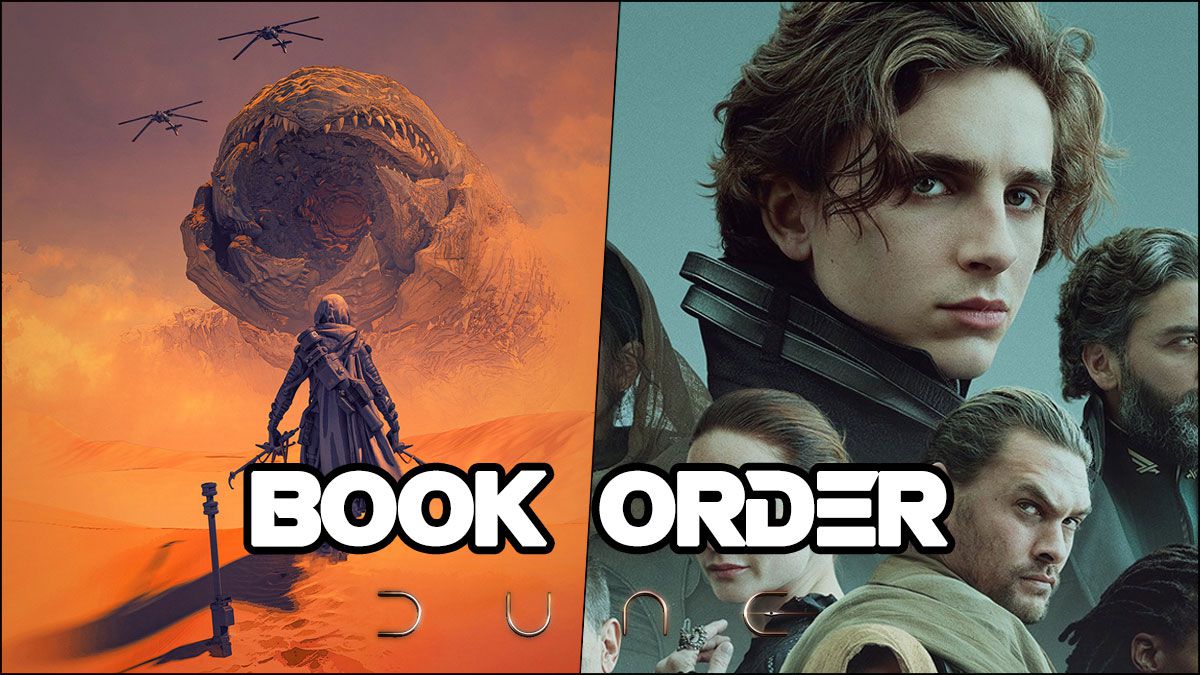 We tell you in which order to read the books by Frank Herbert and Brian Herbert, the novels on which Denis Villeneuve based his first Dune movie.
Dune, the latest film by Denis Villeneuve (Blade Runner 2049, The Arrival), has become one of the biggest cinematic events of the past year. The adaptation of the novels by Frank Herbert and Brian Herbert has resulted not only in a box-office success -its second part is already underway-, but also in an overwhelming recognition capable of charming the Academy with no less than 10 nominations for the Oscar Awards. So, after its release last September in theaters and the subsequent availability of the film on HBO Max, where it can be enjoyed from the comfort of home, we tell you in what order to read all the books in the saga.
Dune: order to read all books by Frank Herbert and Brian Herbert
Everything has an origin and a reason. In this case, we are talking about the figure of Frank Herbert, American author who in 1965 published the first Dune novel with a huge success immediately; with more than 12 million copies sold only for this first book, from which the film is based. Then came The Messiah of Dune (1969) and Sons of Dune (1976), thus concluding the first trilogy... but it would not be the only one. Then came God Emperor of Dune (1981), Heretics of Dune (1984) and Chapterhouse: Dune (1985), his last three novels.
After his death in 1986, Herbert's son, Brian Herbert, was in charge of writing and narrating, together with Kevin J. Anderson, the background of the main saga in two more trilogies: Prelude to Dune (1999-2001) and Legends of Dune (2002-2004). On the other hand, we find two more novels: Hunters of Dune (2006) and Sandworms of Dune (2007) and a trilogy called Great Schools of Dune, also by Brian Herbert and Kevin J. Anderson. The latest book, published in 2020 as part of a possible new trilogy, is Dune: The Duke of Caladan (2020).
We leave below the order to read all the novels of this successful literary saga, whose new film recreation (it is not the only one) is about to sweep the Oscar Awards.
Order to read the Dune books (according to their date of publication)
Dune (1965)
Dune Messiah (1969)
Children of Dune (1976)
God Emperor of Dune (1981)
Heretics of Dune (1984)
Chapterhouse: Dune (1985)
Dune: House Atreides (1999)
Dune: House Harkonnen (2000)
Dune: House Corrino (2001)
Dune: The Butlerian Jihad (2002)
Dune: The Machine Crusade (2003)
Dune: The Battle of Corrin (2004)
Hunters of Dune (2006)
Sandworms of Dune (2007)
Sisterhood of Dune (2012)
Mentats of Dune (2014)
Navigators of Dune (2016)
Dune: The Duke of Caladan (2020)
Order in which to read the Dune books (in chronological order)
Dune: The Butlerian Jihad (2002)
Dune: The Machine Crusade (2003)
Dune: The Battle of Corrin (2004)
Sisterhood of Dune (2012)
Mentats of Dune (2014)
Navigators of Dune (2016)
Dune: House Atreides (1999)
Dune: House Harkonnen (2000)
Dune: House Corrino (2001)
Dune: The Duke of Caladan (2020)
Dune (1965)
Dune Messiah (1969)
Children of Dune (1976)
God Emperor of Dune (1981)
Heretics of Dune (1984)
Chapterhouse: Dune (1985)
Hunters of Dune (2006)
Sandworms of Dune (2007)
References | How to Read