Clearing up doubts
What's happening with FIFA and EA Sports? All the details about the new football games, dates and licenses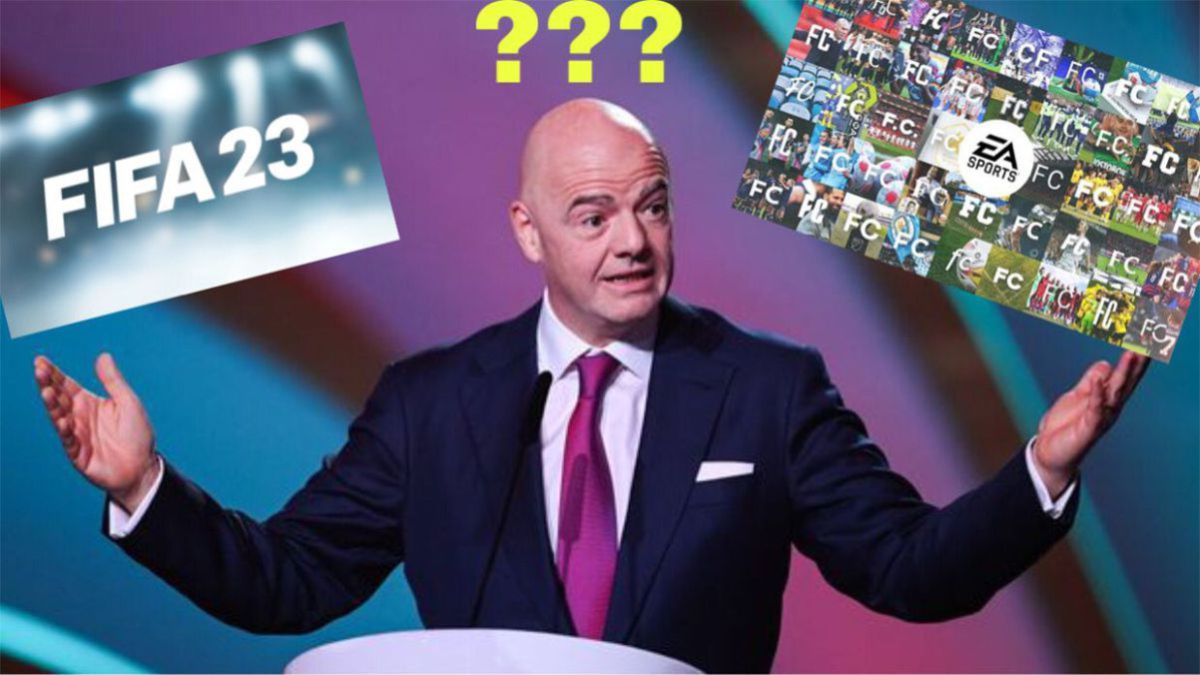 EA Sports FC, eFootball, FIFA, UFL... many soccer games and many doubts and questions to answer. We solve this mess of dates, licenses and names.
The bombshell has gone off in the transfer market. And no, we are not referring to Haaland or Mbappé. We are referring to EA Sports FC, the new soccer game from the creators of FIFA, who are breaking off relations with the famous organization after failing to reach an agreement for the rights to its name. As of 2023, and once FIFA 23 has been released, the developer will start its own solo adventure. Well, "solo". In the last few hours, many teams and competitions have assured to support and accompany them, such as Real Madrid, Manchester City, and Los Angeles Galaxy, among many others.
FIFA has not been too happy about the decision and the organization, through its president, has assured that they will continue making releases of the saga on their own. Gianni Infantino has promised that they will find someone to replace EA Sports and that there will be "FIFA 24, FIFA 25, FIFA 26, etc.". All this at a time when Pro Evolution Soccer, PES for friends, has been renamed eFootball, and when there is a promising new franchise on the horizon: UFL. What a mess! Let's try to get out of it by answering all your questions about the situation. How many soccer games are coming? With which licenses? When? All the details, below.
What is happening with FIFA?
After almost 30 years, the franchise is changing hands. After FIFA 23, Electronic Arts will stop selling its future releases with that title (something they have been doing since 1993). FIFA 24 and its successors will continue to be associated with FIFA, but will be developed by a new studio. The mythical phrase "EA Sports, it's in the game" will continue to be heard, but it will be followed by another title, given that EA will continue to make their own football games, but under a new name: EA Sports FC.
When is FIFA 23 released?
As we said above, FIFA 23 will be the last one made by EA Sports. That's why this year's release will behave the same and will follow the same steps as the rest. Also in terms of its release window. It will be released in September 2022 and you can expect the usual content and features.
FIFA 23 will be the last FIFA game by EA
We may be hearing a lot about the split between Electronic Arts and FIFA, but we'll still have 1 more year of collaboration with FIFA 23. After that, we'll have to wait if the FIFA got any studios for their annual installment. For now, if you have a PS Plus subscription you can download FIFA 22 for free (and keep it in your collection as one of the last titles of this long-lived alliance).
How many football games will there be from now on?
Four! Yes, yes, long gone are the days of the rivalry between FIFA and PES (now eFootball). From next year it will be a four-way fight.
FIFA
eFootball
EA Sports FC
UFL
We will still have FIFA (developed by a new studio, yet to be announced) and Konami will remain faithful to eFootball (which has returned to the path of Pro Evolution after its last update), but EA Sports and Strikerz will have to be added to them.
You already know the first ones. They have years of experience and the only thing they will do is to move to their own saga, EA Sports FC. The second ones don't have so much curriculum, but they are working on a very interesting project that will be free-to-play, will use Unreal Engine and will arrive for the first time this year to PlayStation and Xbox consoles.
What licenses will each football game have?
We will have to wait until the summer of next year to find out. The next few months are going to be worse than the transfer market in August, but interesting movements are already beginning to appear. Many tournaments and clubs have shown their preferences, as is the case of UEFA and CONMEBOL, who will remain with EA Sports. Thus, tournaments such as the Champions League, Europa League or Libertadores, and competitions such as the Premier League, Bundesliga and Serie A, among others, aim to be exclusive to EA Sports FC.
In response to this, Gianni Infantino has responded and come out on behalf of FIFA to assure that there will be "FIFA 24, FIFA 25, FIFA 26, etc." and that the name FIFA will "remain THE BEST". To this end, they are working with "leading game publishers, media companies and investors" to keep the series at the forefront of the football genre.
And what is left for eFootball and UFL? Well, they both do what they can, and it's not exactly nothing. Konami has never cared too much about licenses, but even so, the eFootball saga has some juicy exclusives. They are the only games in which Juventus appear and in which players can visit stadiums such as the Nou Camp and the Allianz Arena. In turn, UFL has signed an agreement with FIFPRO, the main organization of professional soccer players, to count on their collaboration and apply it in, for example, the recreation of the faces of the great stars.
Let's stay tuned to see which squad everyone ends up with when the market closes. Tick tock.