Anime
October is the month of anime: 5 season premieres not to be missed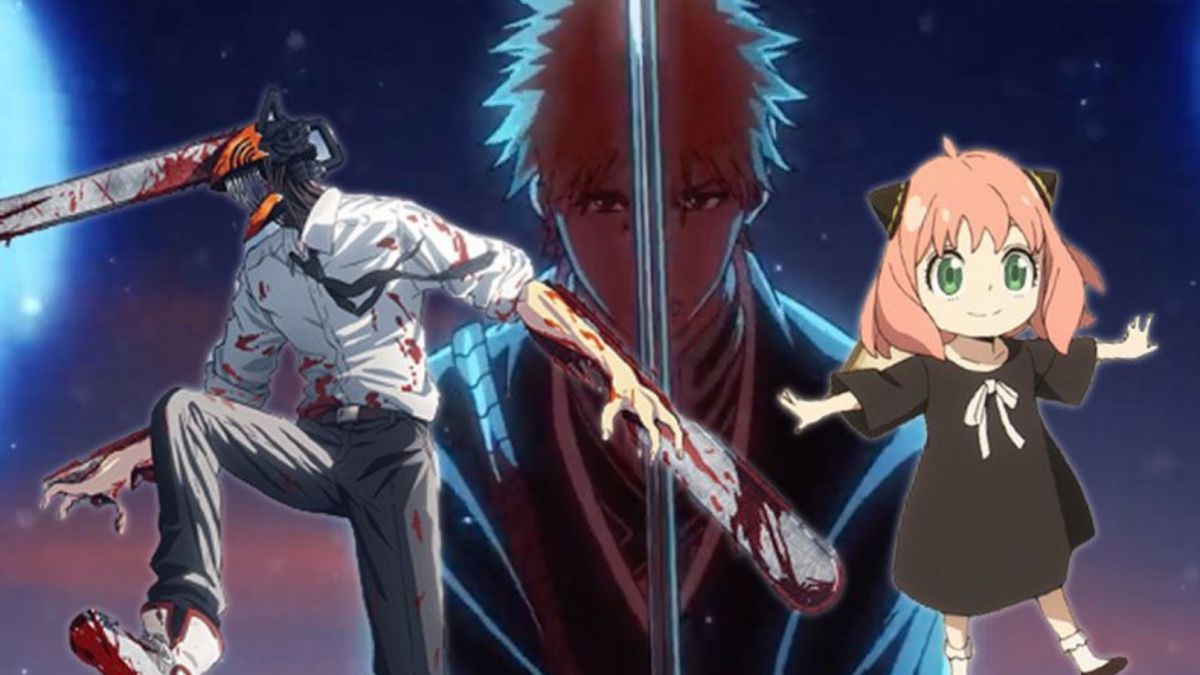 Chainsaw Man, Bleach: Thousand Year Blood War... The 5 biggest anime of the year all premiere this October. We take a look at the complete list.
Anime fans can buckle up now. This October will be a golden time for premieres and re-encounters with our favorite series. It's a moment of truth for the different anime studios, who are piling up their big releases on the calendar. Days are coming to be glued to Crunchyroll and simply get carried away, so let's start opening our mouths with a quick review of the 5 big releases of the season that you can not miss.
Spy x Family Season 2
We want to stay and live in the world of Spy x Family. What the hell, we want the Forger family to adopt us. Spies, assassins, and telepaths, what more could you ask for? Last spring's breakthrough anime puts an end to its summer hiatus and returns with the desire to repeat the feat. It took only 12 episodes to win a place in our hearts (you can catch up with a quick weekend marathon). Now Twilight, Anya, and Thorn Princess are back with 13 more secret missions (or in other words, with 13 more episodes) that make up the second part of the first season (for many it is already the second season).
Spy x Family tells the story of Twilight, Westalis' top spy in his war against Ostania. In these turbulent times, Twilight (also known as Loid Forger) is given the most complicated mission of his career: to start a family. So he can enroll his daughter in an elite school and go to the gates of the school to pick her up and befriend at that moment another father with his offspring enrolled in the school. There is no other way to approach the mission objective. But of course, the problem is that Loid has seven days to get a wife and daughter. An urgency that will lead him to adopt a very strange orphan with telepathic powers, Anya, and to unknowingly marry a professional assassin, Yor (aka Thorn Princess). The perfect family, indeed.
Both the manga and the anime Spy x Family start from that basis to create a comedy of manners in which Loid gradually develops feelings for his "fake" family. Only Anya, who can read minds, knows the true identity of Twilight and Yor, whom she will try to protect and keep together in her own way. A clumsy girl saving Westalis' best spy and the most lethal assassin on the globe. Humor is hidden in the day-to-day life of any family: admission interviews, physical education classes, visits to the zoo, and, in general, routine. Not to be missed.
Bleach: Thousand Year Blood War
Bleach said goodbye to us in March 2012, when the anime was canceled overnight and left us without knowing the end of the story of Kurosaki, Kuchichi, and company. Now, more than ten years later, the series returns with around 50 new episodes that will adapt the 218 missing chapters of Tite Kubo's manga (from 480 to 698).
The anime will try to redeem itself for what happened by returning with its bankai version. The new season will be uncensored in any way and will introduce major plot developments. When Tite Kubo ended the Bleach manga in 2016, many complained about the abruptness of its ending and the mangaka himself apologized and confessed that it was so because he could not take it anymore. He suffered from his shoulders and had several torn tendons as a result of the hellish schedules to which he had been subjected for fifteen years, as many as Bleach had lasted. The artist spent entire days bedridden with pain and needed to put the shinigami story to rest.
But as Kubo himself has warned, Thousand-Year Blood War will take its time and answer the questions that the manga failed to answer. He has worked closely with the creators so that it will not be an adaptation as is, but will serve to solve several script gaps. We will see how many loose ends he is able to tie up and if they manage to say goodbye to one of the most important shonen of the 21st century with the honors it deserves.
Chainsaw Man
It is the most awaited adaptation of the year and no wonder. To give you some context, Chainsaw Man is currently the most-read manga on Manga Plus, where it competes with industry giants such as One Piece and Dragon Ball Super. The tragic story of Denji and his demonic dog, Pochita, has gripped millions of people around the world, largely thanks to its lack of pretension... and scruples. Unbridled action in vein with a crazy character design whose best example is the protagonist: a young man with chainsaws for arms and head.
Composed of only 11 volumes, Tatsuki Fujimoto's work offers us a refreshing cocktail of gore and jokes, an adventure full of surprises and adrenaline in which we will even find one of the 25 best story arcs in history. Chainsaw Man is as big as a chainsaw.
The first season consists of 12 episodes and has been made by the animation studio MAPPA (responsible for Shingeki no Kyojin), which has promised not to censor absolutely anything from the manga. Any reader of Chainsaw Man can imagine how complicated the negotiation with TV channels and platforms must have been. Fujimoto's work is an unprecedented cocktail of action, blood, and guts.
Mob Psycho 100 Season 3
After almost three years of waiting, this October sees the return of what for many is one of the best anime of the last decade. We are referring to Mob Psycho 100, in which we follow the steps of a high school student with psychic powers. And don't think of powers that are trifles or clichés like mind reading. Our protagonist, Mob, is practically God. The only problem is, of course, Mob is too kind and naive for his own good and you know what they say: With great power comes great responsibility, God gives bread to the toothless. Mob Psycho 100 is loaded with cool powers, awesome fights, and tons of quirky characters to fall in love with.
We will see what surprises await us in the 12 or 13 episodes of this third season since in the previous ones the first 13 volumes of the manga have already been adapted and the series only has 16 volumes... This means that the Mob Psycho anime could say goodbye for good this fall or break with the official canon and destroy us even more mentally. Do one or the other, we don't recommend anyone to miss it. Especially with this majestic launch trailer:
Blue Lock
We could have closed this list with season 6 of My Hero Academia, which came out this October 1 and is well worth it, but we wanted to take a chance with a lesser-known name that we have no doubt will take little or no time to become a mass phenomenon. Slam Dunk, Haikyuu!, Ping Pong, Rookies... What do all these anime have in common? Their sports genre also known as spokon. Blue Lock will be a new soccer series that will take the baton from Captain Tsubasa, Inazuma Eleven and so many others, but it has already proven in the manga that it is not just another one of the bunch.
It is a series that exudes emotion and is set after the Japanese failures in the recent soccer World Cups (its fantasy is mixed with real events). The country starts a program to create the Blue Lock, the best striker in the world, a crack player to lead Japan to win its first World Cup, almost nothing. Far from being about the power of friendship and team play, the series focuses on selfishness and individuality, a curious approach that you'll devour if you're a soccer fan.