How did Aaron Judge go from being an average high school player to an MLB superstar?
When the New York Yankees 6-foot-7, 282-pound center fielder cranks another home run, it all seems so obvious, but it wasn't always so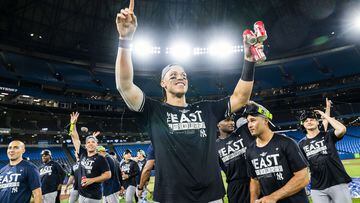 Towering over the plate, Aaron Judge is a giant of a man. At 6-foot-7 and 282 pounds, he is one of the largest men in the major leagues. "Home run hitter" hardly needs to be placed in front of his name, it just seems so obvious. If anyone that big can also be athletic, getting ahold of a baseball seems like a foregone conclusion. But it wasn't always the case.
Growing up in Linden, California, Aaron Judge lived the typical small-town American childhood. Adopted at birth by two local teachers, his years revolved around sports. Football, basketball, and baseball marked his childhood.
Judge told MLB.com's Mark Feinsand, "All the way through high school, I was playing three sports and just enjoying it. I wasn't too serious about any of them. To be honest, I would get tired of the sports."
"Once it got near the end of football, I'd say, 'I can't wait for basketball season to get here; I'm tired of getting hit every day.' Then once it got to the end of basketball, it was, 'I'm tired of running up and down the court; when does baseball start?' Then when baseball was deep in the season, I would start getting excited for football again. It was a cycle."
Anytime a six-foot tall freshman shows up on campus, coaches will take notice, and it was no different in Linden. Judge played wide receiver on the football team, center on the basketball team, and first base on the baseball team. And he was a standout in all of them.
Setting the school record with 17 touchdowns, Judge was recruited by Notre Dame, Stanford, and UCLA to play tight end, but he chose to focus entirely on baseball, opting to turn down a 31st-round pick by the Oakland A's and attend Fresno State on a baseball scholarship.
Height is something that is innate, nothing that any of us do can change our height. But size is something else entirely, and it is something that you can grow into. Aaron Judge was always tall, but he didn't become big until college. While MLB scouts may have seen a high-school senior who was gangly, perhaps even looking uncoordinated, by his Fresno career, Judge had begun to solidify. Gaining mastery of his frame, the contact hitter began to add power to his swing.
"For me, as a kid growing up, the average was the king. You wanted to be the guy with the best average, the highest average. For me, that's a ballplayer. That's the guy," says Judge. "They hit the ball and they get on the base. And that's what it is about. So I always try to be a hitter first and then let my size provide the power."
It was Fresno State that shifted Judge into center field, and he was part of a barnstorming team, who wound up sharing the WAC title, winning the WAC Tournament, and qualifying for the College World Series. Judge was named a Freshman All-American, and the pro scouts who had overlooked him in high school gave him their rapt attention now.
Drafted by the Yankees in 2013, he spent three years in their minor-league system before being called up in 2016, where he hit a home run in his first professional at-bat. While his run in the Show has had some injury involved, Judge has still managed over the past six seasons to become the second-fastest player in history to reach 200 career home runs.
His 2022 campaign is incredible, particularly coming on the back of last season's failed contract negotiations which saw Judge reject a $213.5 million extension and ultimately sign a one-year deal worth $19 million. After his run which sees him just one blast shy of Roger Maris' mark with a week to go in the season, it is safe to say that free agency will be very lucrative for the gentle giant from California.