Jerry West on the possible transfer of Durant: "He's not going to be traded"
The Lakers legend, Jerry West, doesn't think the Nets will trade "one of the best players we've ever seen"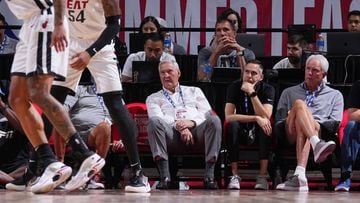 Jerry West spoke to SXM NBA Radio about the current situation in the North American league and, specifically, about the transfer that can change the course of the NBA competition: that of Kevin Durant. The hall of fame member, legend of the Lakers and NBA champion as a player in 1972 with the Los Angeles team and on eight occasions as an executive (1980, 1982, 1985, 1987, 1988, 2000, 2015 and 2017) declared that he thinks the Nets will not trade "one of the best players we've ever seen."
Durant's request to the Brooklyn Nets to be traded destabilized the plans of every franchise out there. A trade of this magnitude must be studied, and, as Sean Marks, general manager of the franchise and Joseph Tsai, the owner, have already stated, they won't accept anything in return. West wanted to point out the latter in particular: "You can't give enough for a player like Kevin Durant".
The high price, the pieces that could enter the transfer and the accounts that would have to be settled may end up not materializing and, therefore, keeping things as they were. A superstar of his caliber, with all that he influences both on and off the track, can't be traded overnight.
Durant's own demands, as confirmed by The Athletic's Shams Charania, and ESPN's Adrian Wojnarowski, being traded to Phoenix, Miami, or Toronto, who's entered the equation, makes it even more difficult to achieve. The three franchises have pieces for it, but, in the case of the Suns, a possible departure of Deandre Ayton would derail everything.