Warriors' Steph Curry passes Shaquille O'Neal on all-time NBA Finals scoring list
The Warriors' star wrote his name on yet another page of the NBA history book after yet another stunning contribution in Game 4.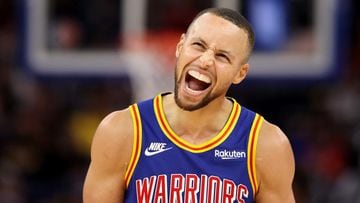 On Friday night the Warriors' star put in a performance that many are calling his first real showing of the finals. Either way it was one to remember and more importantly one that guided his team to an all important win, but it should be said, he did make history.
Steph Curry passes Shaqille O'Neal on NBA Finals All-time scorers list
If there was one take away from Game 4 of the NBA Finals on Friday night, it was that Steph Curry truly is a cut above the rest. Having seen his team enter the game down 2-1 in the series, Curry made it known from the outset that he was going to make the Celtics pay and indeed he did. With 43 points posted and 10 rebounds to go with four assists across his 40 minute contribution, Golden State's talisman spearheaded a 107-97 win and will now play host to the Celtics on Monday night when they come to the Chase Center for Game 5. Did we mention that he drained seven of his 14 attempts from beyond the arc to finish the night with 53% shooting overall?
Yet it wasn't just Curry's orchestration of a blow out Warriors win that drew attention on the night, the NBA's three point king actually made some NBA history on the night as well, as he passed Shaquille O'Neal to move up to 12th place on the NBA's all-time Finals scoring list. In case you're wondering, during his career O'Neal made it to the NBA Finals on six different occasions, scoring a total of 865 points in 30 Finals games. Given the age and stage of Curry it's quite likely to believe he won't stop at 12th, which is to say watch this space.
Shaquille O'Neal loves Steph Curry
While some may be wondering whether Shaq will be bitter about Curry's latest entry in the NBA history books, it might surprise a few to know that on numerous occasions the big man has actually shown nothing but love for the Warriors' star and has in fact called him his favorite player. "I like him because he's something that I haven't seen before," O'Neal said of Curry last year. "See, a lot of times when I try to compare the old era to the new era, people say I'm hating," O'Neal added. "First of all, I'm too great to hate. Second of all, I've never seen anything like Steph, and that's why he's my favorite player."
Could Kobe Bryant be next on the list for Steph Curry?
What's incredible about Curry's journey to this point is that he may well be able to move up one more position before the playoffs are over. Who's currently 11th on the list of NBA All-Time Finals scorers? The late and great Kobe Bryant. A former teammate of the aforementioned Shaquille O'Neal, Bryant is currently 11th on the all-time list with 937 total points scored in the Finals. Should Curry continue to put in the kind of performance that we saw on Friday, expect him to take the spot from Kobe before the fat lady sings in this series.
With that said, one can imagine that Curry would happily trade any records for the chance to lift the Larry O'Brien trophy once again when the dust settles in the 2022 NBA Playoffs. That he and the Warriors were able to even the series with a big win on enemy turf will do wonders for their confidence. What remains to be seen now is whether they can ride that wave to a victory in Game 5 which would certainly be a decisive blow to the Celtics' hopes of being crowned NBA Champions.