Why did Bucks' Giannis Antetokounmpo and 76ers' Montrezl Harrell almost get into a fight?
Tense scenes were witnessed on court after Philly's hard fought win, raising the question of professionalism vs unsportsmanlike conduct.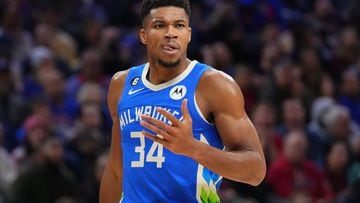 Though it was an intense affair between the two teams, it may well be that what happened after the final whistle is what sets the stage for future encounters between Philly and Milwaukee.
Bucks' Giannis Antetokounmpo & 76ers' Montrezl Harrell had a problem
On Friday night, the Philadelphia 76ers battled it out with the Milwaukee Bucks at the Wells Fargo Center and in the end were able emerge with a 110-102 victory. Yet, it was the conflict that came once the game was over that has stolen headlines. Bucks star Giannis Antetokounmpo, who did not shoot well from the line on Friday night - he was 4 of 15 - decided to take a few throws after the final whistle was blown. Surprisingly, Philly's backup center Montrezl Harrell clearly didn't like that. Indeed, both Harrell and assistant coach Jordan Love approached the two-time MVP and proceeded to take the ball from him.
"This isn't f------ Milwaukee," Harrell apparently said to Antetokounmpo, before adding "Get that s— out of there." As per reports, Love stood between Harrell and Antetokounmpo, who actually left the court and went to the locker room, returning moments later with two basketballs. At that point, matters were made worse by a Wells Fargo Center employee who placed a ladder between the Bucks star and the hoop. Upon realizing the employee would not move the ladder, Antetokounmpo promptly knocked it over.
What did Giannis Antetokounmpo say?
Following the incident, Antetokounmpo made it clear that he didn't like the situation, but downplayed its significance. "I never try to disrespect anyone, in any way shape or form," Antetokounmpo said. "I feel like today was just unfortunate event that took place. I think people did not respect the fact that sometimes players want to get some extra work in. I think it's unprofessional to kick somebody off the court or take the ball or whatever the case might be. Or put the ladder in front of somebody while he's trying to do his job. We get paid to do this. They didn't just pick us. We get paid."
The 76ers' Montrezl Harrell wasn't having it in his house
Where Philly's big man was concerned, Harrell reportedly continued to shout at Antetokounmpo during his impromptu free throw session. "Yeah I took the ball, get the f--- outta here," Harrell said, while Giannis shouted back: "I'm doing my f------ job." Eventually, Antetokounmpo's brother Thanasis went out onto the court, at which point Harrell proceeded to threatened him as well. "I'll beat your ass," Harrell reportedly said before adding "you better send that s--- back to the locker room." There was apparently no further confrontation between any of the three.
Giannis Antetokounmpo's son added the cherry on top
To make matters worse, or funnier Milwaukee's locker room was later plagued by someone turning the lights on and off. As one can imagine it was not a welcome joke after the incident between Antetokounmpo and Harrell, however, an 'investigation' into the matter revealed that it was actually Giannis' two-year-old son Liam. Though we're sure the Bucks finally got a laugh following both a defeat and a near fight, we're also sure that the 76ers - especially Harrell - will need to be on their best behavior when the visit the Bucks on March 4th in the new year. Look out for that one.