Why was Steph Curry fined $25,000 by the NBA after the Warriors' 122-120 win against the Grizzlies?
For defending NBA Champions, the Golden State Warriors have had a rough time of late. From a bad start to the season, to an injury to their star player and now that he's returned, his behavior seems to have got him in trouble.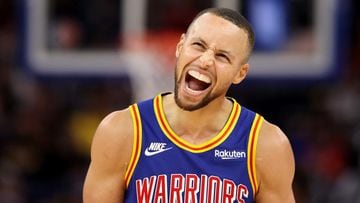 Golden State's talisman got on the wrong side of the referee during Wednesday night's game against Memphis. Yet, given the growing rivalry between the two sides, it's no wonder that he lost his cool and ultimately paid the price.
Steph Curry fined after ejection in Warriors win
According to an official announcement from the NBA, Golden State Warriors star Stephen Curry was fined $25,000 for throwing his mouthguard into the stands, during his team's tight 122-120 win over the Memphis Grizzlies on Wednesday. To be clear, Curry was actually ejected from the game following his actions and as such would have likely known the sanction was coming.
As for why the Warriors' sharp shooter took the decision to throw his mouthguard, there 1:23 remaining on the clock in Wednesday's game at the Chase Center, when Curry became visibly upset with his teammate, Jordan Poole, after the latter decided to take a shot. In the moments prior to Poole's shot, Curry - who was open - could be seen asking for the ball. Ultimately, Poole's attempt missed at which Curry lost it as he ran back down the court to take up a defensive position. At that point, the four-time NBA Champion ripped his mouthguard out and flung it into the stands. His ejection was forthwith.
What did Steph Curry and the Warriors say about his ejection?
Speaking after the game, Curry acknowledged that his actions weren't the best and more importantly it placed an unnecessary strain on his team. "It was a crucial time in the game, and the way that our season has gone, questions about a heightened sense of urgency...when you want something really bad...I reacted in a way that put myself out of the game and put the team in a tough place," he said.
Interestingly, Poole defended Curry, making it clear that he was not in agreement with the decision. "There's no reason he should be thrown out in the last three minutes of the game," he said. "He's one of the greatest players of all time." It's worth mentioning that the pair appeared to be completely fine after the game as they walked through the tunnel. Be that as it may, Warriors head coach, Steve Kerr, was less amenable to the situation. "He knows he can't make that mistake again," Kerr said. For his part, Curry finished the night with 34 points on 10-of-19 from the field. Not a bad shift for 35 minutes of game time.