Will Kawhi Leonard return to play for the Los Angeles Clippers this season?
Despite hopes that Los Angeles Clippers star Kawhi Leonard would be playing again in the postseason, his return to the harcdcourt may take a little longer.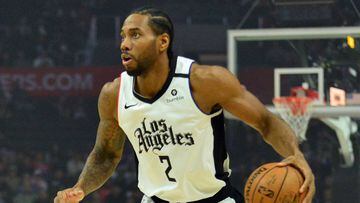 The NBA regular season is wrapping up, and the Los Angeles Clippers have made it to the Western Conference play-in tournament despite missing key players for most of this year.
One of them is star forward Kawhi Leonard, who injured his right ACL last year in the second round against the Utah Jazz. Because of the injury, he has missed all of the games this season.
Kawhi could boost Clippers' postseason performance
He has been training and working on his rehabilitation, but it is still to be determined whether he will be able to re-join the Clippers in the postseason.
Cliippers head coach Tyronn Lue has said that the 30-year-old "has not progressed beyond individual workouts," according to Andrew Greif of the LA Times. Lue has also indicated that Leonard has not yet been able to play three-on-three.
A couple of weeks ago, ESPN's Ohm Youngmisuk had reported that Leonard could be close to returning to play, but now adds that although Leonard appears to be in good shape, there is still no actual timetable for when he will re-join the Clippers.
Kawhi's will to train
If the five-time NBA All-Star is indeed not yet ready to compete again, it's not because of any lack of effort on his part. His teammate Reggie Jackson is all praises for Leonard, saying that he has been working very hard to become game-ready.
"Throughout the year we've seen him, he's been vigorously going through his workouts… Dude's a machine," he said.
Jackson says that although they they haven't been able to play with him on court, just having Leonard and his energy around has been good for the team.
In the event that Leonard does make a comeback in time for the postseason, it may just make the Clippers the best Western Conference wildcard.
Forward Paul George, who sustained an elbow injury in December, has finally returned to play, while guard Norman Powell could be seeing action in the remainder of the regular season.