Will Steph Curry play against the Nuggets?
Golden State Warriors coach Steve Kerr said they are expecting superstar point guard Steph Curry to return to action for Game 1 against the Denver Nuggets.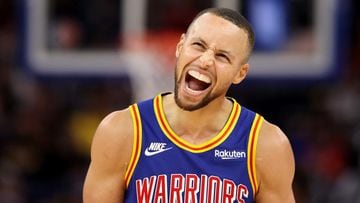 Things are looking up for the Golden State Warriors.
Head coach Steve Kerr has expressed confidence that star point guard Steph Curry will be able to return to the hard court for the team for Game 1 of the playoffs opening round against the Denver Nuggets.
Steph Curry: 'Probable' for Saturday
The team has listed Curry as "probable" for the game. "We are expecting him to play," according to Kerr.
Kerr said he expects the two-time MVP to experience some "cobwebs" after being out of action for an extended period of time, but believes he will be able to shake them off and get back into his usual groove.
The coach however said that Curry's time on the court will have to be limited. "He's not playing 30, 35 minutes," he said.
The standout player showed steady progress the past few days, first taking part in individual on-court exercises, then moving on to practicing with the Warriors.
Steph Curry: Full team participation
The 34-year-old had full participation in the team's practice session this week, and he also took part in scrimmage, which he punctuated with a two-handed dunk.
Curry had been sidelined for the Warriors' last 12 games in the regular season after spraining a ligament in his left foot in March.
The Warriors would certainly welcome the return of Curry on Saturday, especially as they are playing against Denver who will be led by Nikola Jokic, one of the top contenders for this year's NBA Most Valuable Player award.
Curry pulled in an average of 25.5 points, 6.3 assists, and 5.2 rebounds for Golden State in the regular season.
The Golden State Warriors will host the Denver Nuggets for their matchup on Saturday, April 16 at the Chase Center in San Francisco. Tip off is at 8:30 p.m. ET / 5:30 p.m. PT.