Why have the NFL suspended Chiefs DE Frank Clark for something that happened in 2021?
With serious criminal charges brought against him and a relatively light sanction from the league, the Chiefs and their DE should count themselves lucky.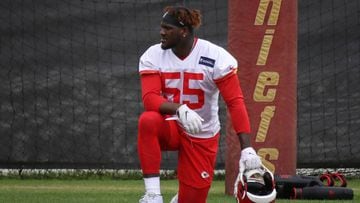 It appears to be a case of 'better late than never,' as the league has taken the step to suspend the Chiefs player though his infraction is related to an incident which occurred last year.
NFL's suspension of Chiefs' Frank Clark related to 2021 case
According to an NFL announcement, Chiefs pass rusher Frank Clark, will serve a two-game suspension for violating the league's personal conduct policy. The sanction is related to Clark being arrested on two occasions in 2021 Los Angeles for possession of a concealed firearm. Most recently, the 29-year-old pled no contest to a pair of misdemeanor charges in September and was sentenced to a year of informal probation to 40 hours' worth of community service according to reports.
Regarding why the league has only now taken the decision to punish Clark, this is due to his recent conclusion of his legal situation. Clark's rectification, allowed the NFL move forward with a complete review of the case and in turn arrive at the view that he had violated the league's conduct policy, which activated his suspension. With the Chiefs on a bye in Week 8, the Chiefs DE will be absent for Week 9′s game against the Titans and their Week 10 tussle with the Jaguars. That means the next time Clark touches the field will be in Los Angeles on November 20th when the Chiefs take on the Chargers in Week 11.
What's the lowdown on Frank Clark's arrests?
As noted above, Clark was arrested twice during the 2021 offseason. The first of those times was in March and the second in June. Concerning his arrest in March, Carter was arrested during a traffic stop after police observed loaded firearms inside his vehicle. At the time he posted $35,000 bond. As for June, it was related to possession of a concealed firearm. Officers noticed an Uzi inside of a duffle bag that Clark was carrying. At the time, he claimed that it belonged to a memory of his security team, however, he was eventually booked and again released on a $35,000 bond.
Needless to say, with his 15 tackles and three sacks across the seven games that he has started for the Chiefs, his presence will be missed. While the Chiefs currently sit atop the AFC West on a record of 5-2, Clark is a part of what got them there and will likely play a role in keeping them there as well.