LALIGA
Antoine Griezmann: David Beckham fan, NBA and Lionel Messi's business partner
From a young age, Griezmann's idol has been David Beckham, due to his ability as a player and his personality.
Antoine Griezmann's life is as hectic on the pitch as it is off it. The priority is his wife, Erika, and his three children (Mía, Amaro and Alba), all born on the same day, 8 April, although in different years.
From a young age, the Frenchman's idol has been David Beckham. He admires the Englishman for his quality as a player, his personality and his role as a brand icon. As a tribute to Beckham, he has always played in long-sleeved shirts. If in a few years, the co-owner of Inter Miami were to call him to finish his career at the MLS club, one can imagine that it would be difficult for Atlético Madrid's No. 7 to reject the offer.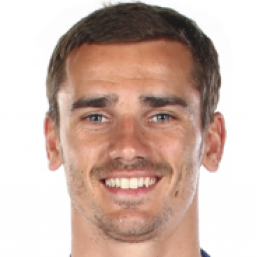 "I love Derrick Rose"
Griezmann is fascinated by American culture and its sense of entertainment. He is a passionate NBA fan and is a huge admirer of Derrick Rose, currently with the Memphis Grizzlies. Once, during an interview on Fox Sports with Paul Pogba, after winning the 2018 World Cup with France, he interrupted his team-mate to take the microphone and say, live on air: "I love Derrick Rose".
Another competition he loves is the NFL, especially when the Kansas City Chiefs and Patrick Mahomes are playing. He has a group of friends, including Atlético midfielder Koke, who have the habit of getting together to watch games.
A love of horses and Messi's business partner
With Sergio Ramos, he shares his great interest in horses. As part of his venture, he bought an English thoroughbred for €97,000 with which he has earned over €200,000 from racing victories.
He is also a key member of the Atlético dressing room and did what he could to try to integrate fellow playmaker João Félix in the summer when he had fallen out of favour under head coach Diego Simeone.
A collector of stickers, a model for various advertising brands, and a style icon like Beckham, Griezmann is also Lionel Messi's business partner in the hugely popular and rapidly expanding Vicio hamburger chain.
Madrid derby
It will be back to the pitch for Griezmann later on Sunday when Atlético welcome Real Madrid to the Metropolitano for the first Madrid derby of the season. As one of the league's finest players, he'll be helping to give Los Colchoneros bragging rights in the red and white half of the Spanish capital.