Barcelona 0-1 Rayo Vallecano summary: score, goals, highlights, LaLiga 2021-22
Barça-Rayo: as it happened
Barça-Rayo: headlines
- Alvaro Garcia fires Rayo ahead in the 7th minute
- Barcelona fall to third successive Camp Nou defeats (after Eintracht and Cadiz)
- Rayo do the 'double' over Barcelona after October win in Vallecas
- Real Madrid can now be crowned champions with a point in next league game (vs Espanyol)
Barça-Rayo: match report
Rayo Vallecano forward Alvaro Garcia netted an early goal to give his side a surprise 1-0 win against Barcelona at the Camp Nou on Sunday, moving rivals Real Madrid another step closer to sealing their 35th LaLiga title.
Garcia sealed the game for the visitors when he opened the scoring in the seventh minute, receiving the ball inside the box and rifling it past goalkeeper Marc-Andre ter Stegen to a wave of whistles at the Camp Nou.
Barcelona failed to convert a number of golden chances despite going agonisingly close to an equaliser.
Real Madrid now need only one point from their last five games to secure the title, while Barcelona are second on 63 points, 15 behind Madrid and level with Sevilla in third.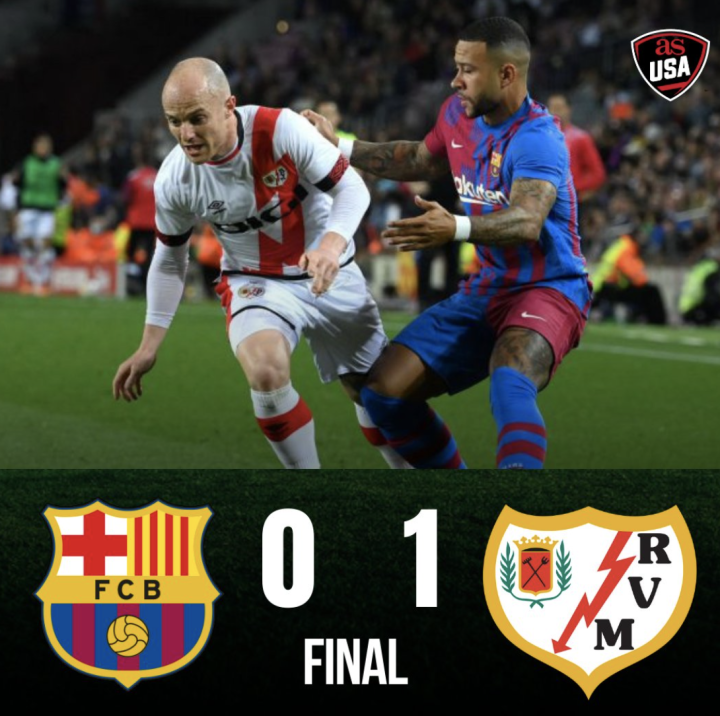 FCB 0-1 Rayo
Cheers for your time tonight as we say Rayo claim a famous win at Camp Nou against a poor FC Barcelona with Xavi's men delivering an under-par performance with only Dembele a real danger man for the home side.
Take nothing away from Rayo with a solid defensive display from Iraola's side and as good as an assist you will ever see in the lead up to the Alvaro Garcia goal with an absolutely sublime pass from Isi.
A major blow to Barcelona on so many counts. They let their rivals in the hunt for a Champions League place to make ground with just five games remaining in the season. They also permit Real Madrid to be named champions next weekend as Ancelotti's men face Espanyol.
FT at Camp Nou and Barcelona lose to Rayo. Only the second time ever the side from Vallecas win at Camp Nou.
Alvaro Garcia is fouled and Rayo can take a breather ....
Catena saves the day as he clears the ball off the line after a Dembele volley.
Many fans heading for the exit signs as Barcelona break and Catena clips Adama as the Spain international steams forward. Danger for Rayo as the clock hits the 103 mark.
Rayo would seal a double over Barcelona this season with two 1-0 wins over the Catalan giants.
100 minutes of football played at Camp Nou and one senses that we could play a further 100 and Barcelona would be unable to find the net.
Dembele miscues and the move breaks down. The French striker has been the best player for the home side in a night to forget for FC Barcelona as Rayo hit the post in a counter attack.
The clock continues to tick down as Rayo withstand the pressure. Barcelona dominant in possession now as they look for a way through the resolute Rayo rearguard.
Tension palpable now as Barcelona continue their onslaught as Rayo are clinging on for dear life as Trejo is also carded.
Mario Hernandez carded for kicking the ball away.
Game paused now as an object is thrown onto the pitch at the Rayo keeper. The ref. has to halt the game until the stadium PA averts the fans from launching missiles. We're now back underway....
Adama almost makes it 1-1 as he barges through and forces a fine stop from Stole Dimitrievski. Jordi Alba carded for protesting
We'll have 11 (eleven) minutes of time added on.
Into the final minute as Gavi looks for a spot kick as he collides with Catena. The Camp Nou faithful are incensed as the ref looks the other way.
The home side dominant in possession but it's Rayo who hold the adavantage in the key statistric with their 0-1 lead.
Rayo switch as Isi makes way for Mario Suarez. Mario Hernandez on too for Unai Lopez.
Rayo with everyone behind the ball as they press looking for a valuable equaliser. The home fans too now upping the volume as they look to play their role with the clock ticking towards the 90 minute mark.
The mobile cart comes on as Isi still lies on the pitch with a massive ice pack applied to the Rayo player's head. Iraola may be forced to make yet another switch. Mario Suarez and Mario Hernandez both getting stripped to make an entrance.
Great shot from Memphis and Stole Dimitrievski is forced to palm the ball away .... The home side win a corner and a Barcelona player lies on the ground as De Jong attempts a spectacular bicycle effort. The Dutch striker whacks Isi and the Rayo man needs attention after the kick to the head.
Another stoppage as Rayo do their part in running the clock down. Nerves at Camp Nou with the home fans realising that they are poised to witness a negative chapter in the club's history should the scoreline remain as it is....
Shots: Barcelona 9-1 Rayo.
Unrest growing at Camp Nou now with every misplaced pass from the home side greeted with jeers and whistles. Rayo 15' away from a famous Camp Nou win.
Stole Dimitrievski is now in trouble and seems to have a muscular problem as the club medic attends to the keeper. A quick burst of the magic spray and a swift massage and the North Macedonia keeper is back on his feet.
Auba off and De Jong on. Adama on with Eric Garcia making way.
Twenty remain at Camp Nou and Barcelona are staring at a third consecutive home defeat for the first time ever !
Xavi set to shuffle the deck again with Luuk de Jong and Adama set to make an entrance.
Change for Rayo as Valentin is swapped for Trejo.
Oscar Valentin goes to ground and seems to have aggravated the muscular problem that saw him in trouble earlier on.
Great work from Alvaro Garcia as we secures a corner for his side by chasing down a dead ball.
Past the hour mark and still no way through for FC Barcelona. The game a carbon copy of what we saw in the first 45' with Barcelona dominant in possession but unable to really test Rayo or Macedonian international stopper Stole Dimitrievski
Memphis Depay poised to make an entrance. Ferran making way for the Dutch striker. Nico too on for De Jong.
Alba shoots as Barcelona launch a fine counter. Once again, Dembele at the heart of what Barça do in an attacking capacity tonight with the French winger one of the few home players to deliver a solid performance.
Guardiola and Ciss on for Randy and Santi (Rayo)
Sergi Guardiola getting ready to make an appearance for Rayo.
The break came at a good time for Rayo as they seem to have regrouped and look comfortable as they did for large spells of the first half.
Nico and Memphis Depay now warming up for the home side.
A Barcelona loss today would also see Real Madrid take a step closer to being proclaimed league champions as all they would need in their next game (at home vs Espanyol) would be a draw.
Both teams are back on the pitch with the home side to start the half
Change for Barcelona at the break as Lenglet is on for Dest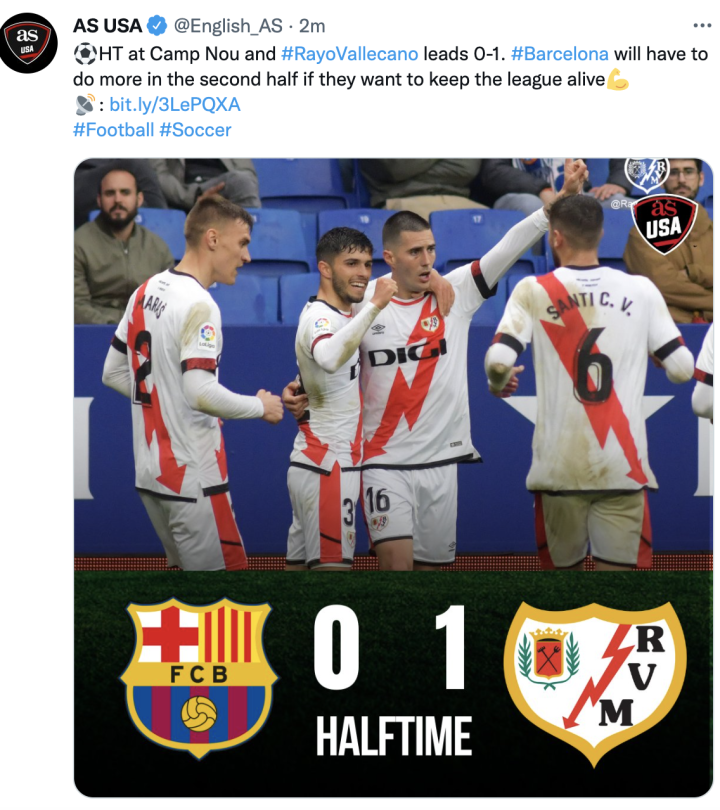 HT: FCB 0-1 Rayo
Alvaro Garcia's early goal the difference between the teams as we await for the second half.
Even more dramatic when one considers that FC Barcelona have never lost three consecutive home games at Camp Nou ever !
Whilst most FC Barcelona fans would appreciate the massive difference Xavi Hernandez has made at the Catalan club, a third home defeat would certainly be tough to stomach for many Cules around the world.
Long way to go at Camp Nou but Barcelona look void of ideas with too many players failing to step up to the plate with a poor first half showing particularly from Auba and Ferran. Xavi with plenty of work at the break with Andoni Iraola undoubtedly set to be the happier of the managers at the half way period of the game.
Whistles ring out as the whistle sounds. Far from vintage FC Barcelona with Rayo looking solid as they manage to keep the home side from creating any major danger.
Dembele strikes and the execution is disappointing as he strikes over. We'll have one minute of added time.
Dembele is brought down right outside the box. Great run from the French man as Maras clips the Barcelona man.
Pique is out warming up for Barcelona as it appears that Araujo seems to be in some sort of bother.
Gavi sees a ball hit the bar but the flag is up as the ball ends in the Rayo net. Correct call from the match officials
Left than five minutes left in the half and Rayo still holding out with Stole Dimitrievski in the Rayo goal still yet to be stretched this evening by the home side.
We've seen little from Auba and Ferran Torres this evening with Dembele the most active of the FC Barcelona striking trio.
Danger for Rayo as Dembele is primed to take. The ball drifts into the box but the ref spots an infringement and Rayo are awarded a free and a moment to take a breather.
Santi is carded as he hauls back Busquets
Fran Garcia is dominant in the left back position for Rayo as the visitors almost gift Barcelona as they fail to clear the ball from a goal kick. Ten minutes left for the men from Vallecas to hang on as we edge towards the interval.
Barcelona now upping the ante as Rayo for the first time all night look rattled.
Valentin seems to have developed a muscular problem as he holds his hamstring and the Rayo physio attends to his worries.
First card of the night goes to Barcelona boss Xavi for venting his displeasure over recent referring decisions.
Barcelona look for a spot kick but the ref signals an offside as Gavi is clipped by Comesaña.
Isi and Alvaro Garcia are really causing a headache for the Barcelona rearguard tonight with crisp passes and great movement off the ball. Rayo looking very solid and what a boost an away win would deliver to their efforts to retain top flight status.
Another battle between Dembele and Fran Garcia and once again the Spanish defender wins out.
Rayo doing a fine job in depriving Barcelona from time on the ball and their pressure is paying dividends at present with the 0-1 scoreline.
Dembele looks to take on bit Fran Garcia reads the French player's mind to perfection and drives the ball away from danger. Garcia is currently on loan at Rayo from parent club Real Madrid.
1 shot a-piece with Garcia on target and Araujo firing at the Rayo keeper. Rayo will be delighted if they could keep Barcelona at bay through to the interval.
A very genuine sense of unrest here from the home fans. Another defeat tonight would mark a hat-trick of adverse scorelines and unsettle the social peace that Xavi has been able to deliver to Cules following a disappointing spell under Dutch coach Ronald Koeman
Rayo are looking good in the opening quarter of an hour and certainly spurred on by that early Alvaro Garcia strike.
Barcelona back in control of the ball as Araujo shoots on the turn but the ball is straight at Rayo keeper Dimitrievski
Barcelona fans now trying to do their bit to rally their side after the early set back... The hardcore fans were protesting in the last home game (vs Cadiz) for the ticket situation in the Europa League game, but are back tonight in the goal currently being manned by Ter Stegen.
Fine finish from Alvaro Garcia but what a ball from Isi as the central player picks out the pass to perfection.
Gooooooooool. Rayo take the lead as Isi finds Alvaro Garcia and the Rayo man beats Ter Stegen as boos ring out at Camp Nou.
Some timid whistles from the home fans as Rayo enjoy a sustained spell of possession
Barcelona enjoying the early pressure with Rayo doing all they can to pressurise the men in 'blaugrana'. The Camp Nou has not been a happy hunting ground in recent years for the side from Vallecas but Andoni Iraola's men will be encouraged by their October 27 (2021) win over Barça in Vallecas.
Approximately 50,000 fans in attendance at Camp Nou tonight, some 40,000 less than the stadium held on Friday for the semi-final of the Women's Champions League clash vs. Wolfsburg.
Rayo to start the action..... We're underway at Camp Nou....
With Trejo on the bench, Galician Santi Comesana is the captain tonight for Rayo. He exchanges club pennants with Barcelona captain Busquets.
What can we expect from Rayo tonight? The side from Vallecas (along with Granada) are the poorest performing sides in the second phase of the 2021-22 league campaign.
The sides take to the pitch as the classic 'Tots al Camp...." FC Barcelona hymn 'Blaugrana al Vent' rings out from the stadium PA.
The FC Barcelona handball team take to the Camp Nou pitch to celebrate with the fans after winning the Asobal league title.
Balmy Barcelona evening
It's a mild April evening in the Catalan capital tonight with a temperature of 18C/64F at kick-off with no rain forecast so ideal conditions for players and fans alike.
A far from packed Camp Nou with fans still disgruntled after recent home hiccups with a handful of Rayo fans scattered around the Camp Nou stands too distinguished in their red and white colours.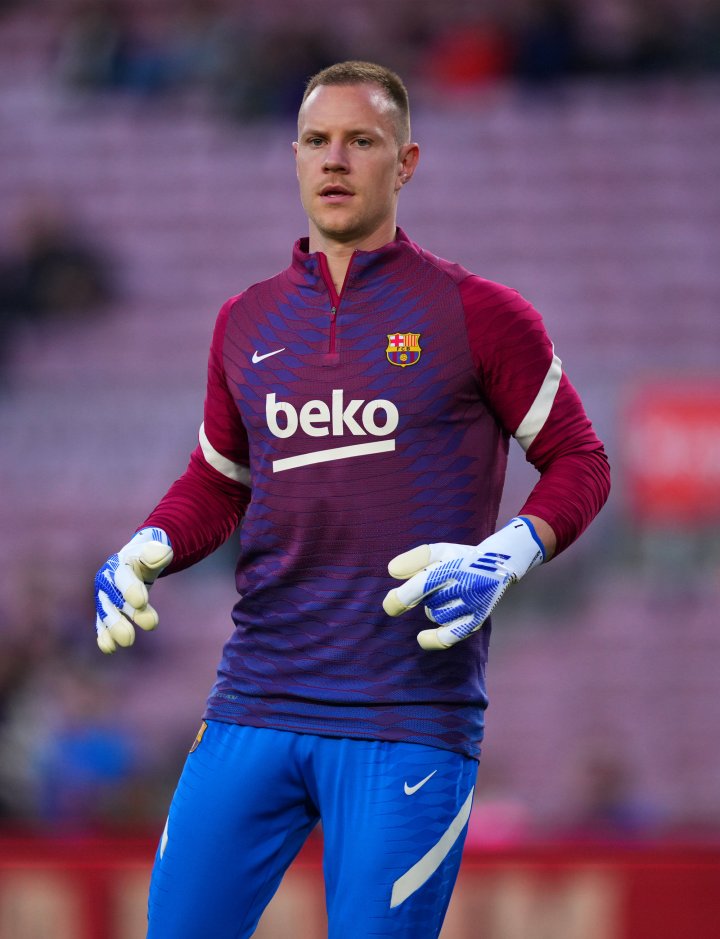 Ter Stegen goes through warm-up drill at Camp Nou
Marc-Andre ter Stegen of FC Barcelona warms up prior to the LaLiga Santander match between FC Barcelona and Rayo Vallecano at Camp Nou
FCB-Rayo: match official
Castilla La Mancha born Isidro Díaz de Mera Escuderos is tonight's referee in Barcelona and celebrating his third season as a top flight LaLiga match official.
A reminder of the team news should just be joining us. Rayo captain Trejo and goal hero against Espanyol Sergi Guardiola both start on the bench with Randy Nteka selected to start as a lone striker for the visitors.
Barcelona have no Pique or Alves tonight and Xavi selects Ferran, Dembele and Auba to lead the attack for the home side.
Rayo Vallecano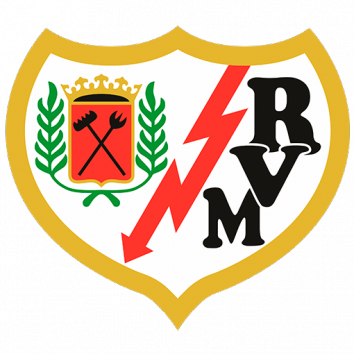 goalkeeper
defenders

20

Balliu
midfielders

7

Isi
forwards
Rayo finally secured their first win of 2022 in the Catalan capital on Thursday night as a Sergi Guardiola goal gave Iraola's men the win. The 0-1 win handed Andoni Iraola's side just their second away victory in the league and their first since a 2-1 win at Athletic Club in San Mamés back in September of last year.
Barcelona managed to bounce back from a double run of losses with a morale boosting win in San Sebastian midweek.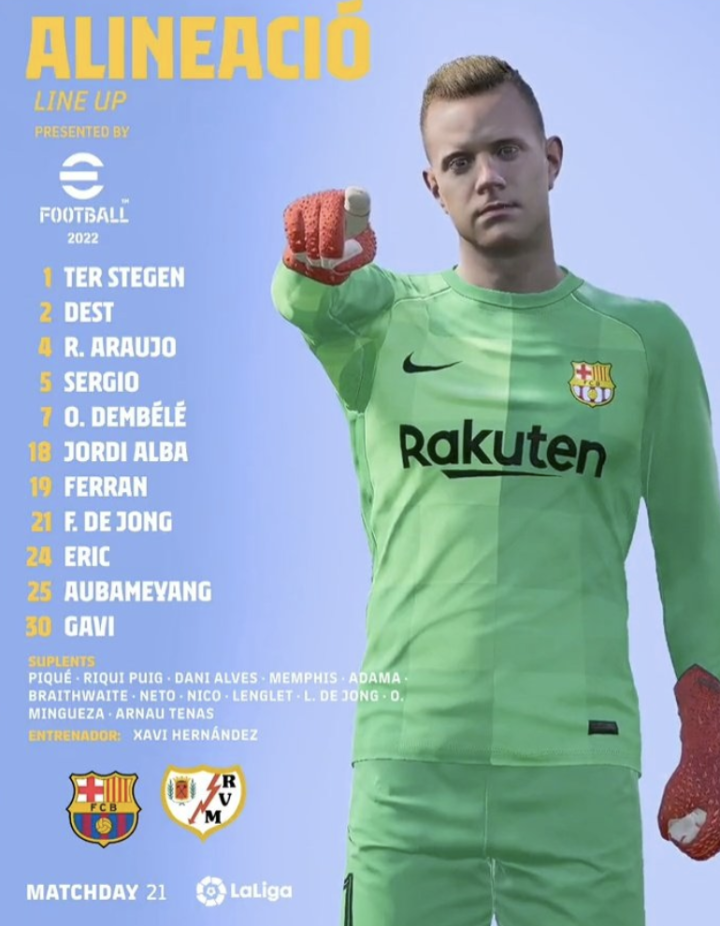 Team news: FC Barcelona
Auba, Ferran and Dembele set to offer the attacking thrust for the Catalan side tonight at Camp Nou.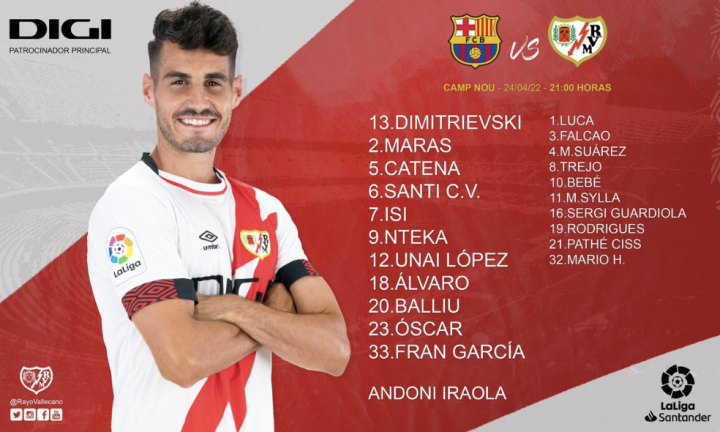 Team news: Rayo
Oscar Trejo and Sergi Guardiola start on the bench for Rayo with Nteka set to lead the line for the side from the capital
Rayo did record their first win against Barcelona earlier this season at Vallecas where el 'Tigre' Falcao bagged the only goal of a 1-0 win that did little for Ronald Koeman's tenure on the Camp Nou bench. Rayo in the Catalan capital is a different proposition however with their last visit here in 2019 ending in a 3-1 defeat.
Games between both sides have typically meant goals, and usually for Barça, including 7-0, 6-0 and 6-1 wins in recent years. In in 40 meetings between the Catalan giants and side from the Madrid 'barrio', there has only ever been one 0-0 draw.​​​​​​
Rayo stemmed their freefall with a badly needed midweek win over Espanyol and still need to break that all important barrier of 40 points that should mean salvation. Despite an excellent start to the campaign and a phenomenal Copa del Rey run that saw the side from Vallecas eliminated in the semi-final to eventual winners Real Betis, it's been a season of two halves for Iraola's side with the Basque coach linked with a return to San Mames as a coach should Marcelino depart.
Barcelona desperately need a top four spot and will be anxious to avoid a repeat of the last two Camp Nou outings where they fell to Eintracht Frankfurt in the Europa League quarter finals and then suffered a shock defeat to Cadiz.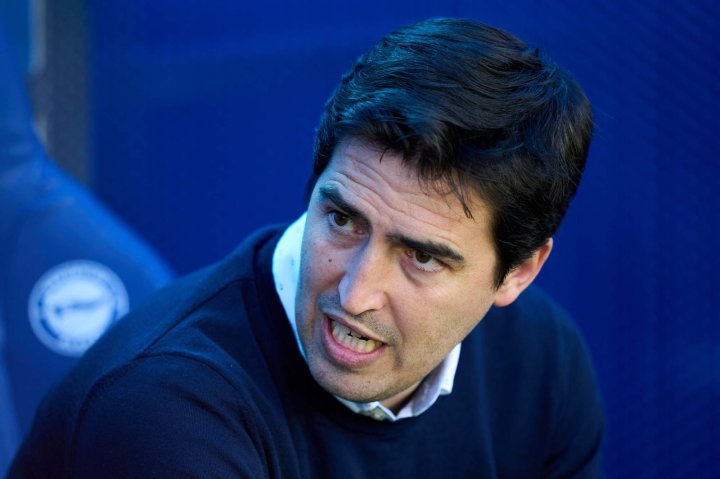 Rayo's Iraola on Barça
"I think Xavi's idea has been to reestablish the Barça we know from the past and develop a team that plays with positional dominance".
After the recent defeats against Eintracht Frankfurt in the Europa League and Cadiz in the Spanish League, Iraola assured that "now it is perhaps unlikely that they will lose again", as they showed last matchday against Real Sociedad.
Tonight's clash at Camp Nou could see Radamel Falcao reappear. The Colombian forward was included in the last call-up against Espanyol. Now, some two months after his last game, on February 26, the striker could play again after overcoming a muscular problem in his arm.
FCB-RVM: possible XI's
Barcelona: Ter Stegen; Dest, Eric Garcia, Piqué, Jordi Alba; Sergio Busquets, Gavi, Frenkie de Jong; Dembélé, Ferran & Aubameyang.
Rayo Vallecano: Dimitrievski; Balliu, Mario Suárez, Catena, Fran García; Comesaña, Valentín; Isi, Trejo, Álvaro & Guardiola.
Barça short in defence
Xavi has a series of injury concerns ahead of the LaLiga clash with Alves, Gerard Pique, and Ronald Araujo a doubt for this game. There is a possibility that young star Ansu Fati could make an appearance after a lengthy spell on the sidelines though ionjuru. Dest, Eric Garcia, and Leglet shape up to be most likely to be in the back four that will play this weekend.
Things are quite different for Andoni Iraola's men who enjoyed a stunning start to the season with the newly promoted side the revelation team in the first stage of the 2021-22 campaign. Things in the new year have turned sour however for 'Los Franjirojos' with the side going on a 13 game run failing to record a win. That negative dynamic was halted midweek against Espanyol and Rayo will look to deliver another Catalan shock at Camp Nou tonight.
Barcelona need to win to both cement their Champions League place next season which is imperative to the club's economic health and at the same time keep a little heat on Real Madrid and deny the side from the capital of being proclaimed champions with still a handful of games remaining.
Tonight's game is actually the delayed week 21 matchday fixture which was postponed at the time but once completed all, 20 LaLiga sides will have completed 33 games with just five matches of the 2021-22 season outstanding.
Hello and welcome to our live coverage from Camp Nou as Rayo are the visitors to the Catalan capital with a 2100 CET (local time) - 3pm (ET) kick-off