Courtois vs Alisson: who has the better penalty save percentage?
Liverpool's goalkeeper has a better success rate during matches, but in penalty shoot-outs, Courtois comes out on top.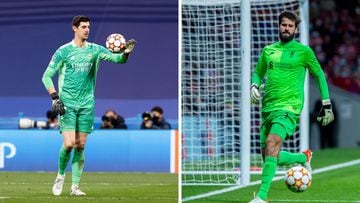 Liverpool goalkeeper Alisson is better than Thibaut Courtois when it comes to saving penalties. The 29-year-old Brazilian goalkeeper has saved four of the 25 penalties he has faced in his career, a save percentage of 16%.
If you take out the five penalties that missed the target, his save rate rises to 20 per cent. Courtois has a slightly lower record, although he is much more experienced. The 30-year-old has faced 58 penalties, with the Belgian shot-stopper saving nine (15.25%).
Penalty takers have been more accurate against Courtois, with only two missed kicks, bringing the success rate to 15.79%. The last penalty saved by Courtois was in Paris, the one taken by Lionel Messi in the first leg of the last 16 Champions League match against PSG.
Courtois better at saving penalties in shoot-outs
Courtois has more success in penalty shoot-outs, but it is Alisson who has more experience. The former Atlético Madrid keeper has experienced two. He faced one with Chelsea in the 2017 Community Shield final against Arsenal and another in the 2020 Spanish Super Cup in the derby against Atlético.
Of the seven penalties he has come up against in shoot-outs, Courtois saved one (14.29% success rate) and the taker missed another (bringing his success rate to 16.67%). Alisson, meanwhile, has been involved in four shoot-outs, one for Brazil and three for Liverpool. The last, a fortnight ago in the FA Cup final win over Chelsea. Out of 22 shots, the Brazilian saved two (9.09% success rate) and his opponents missed another two, bringing the rate to 10%.
Courtois offers more guarantees than Alisson when it comes to penalties. The goalkeeper has saved 10 of the 66 penalties, 15.15%. If you deduct the three missed by opponents, the rate rises to 15.87%. The Liverpool goalkeeper, meanwhile, has successfully saved six out of 47 shots from the spot (12.77%).
Since their Champions League final win over Tottenham in Madrid in 2019, Jurgen Klopp's side have gone to penalties in five of their six finals.
The run began with the Community Shield final in 2019, which Manchester City won on penalties. Just 10 days later, the European Super Cup against Chelsea was also decided on penalties, this time in favour of the Reds. The Club World Cup final was the exception, but Liverpool still had to go to extra time to be crowned champions against Brazilian club Flamengo.
This season, Liverpool have won both FA Cups thanks to converted penalties, with two wins over Chelsea. Klopp's team won the Carabao Cup after eleven penalties and just a fortnight ago won the FA Cup against the London club.