PREMIER LEAGUE
Everton reportedly willing to pay up to €15 million for striker Duván Zapata
Duván Zapata, who has a contract until 2024 with Atalanta, is the target of Premier League club Everton.
Duván Zapata is one of the players who, every transfer window, arouses the interest of several teams due to his strong statistics with Atalanta over recent years. Despite the fact that his performances this season have not been the best and he has been plagued by injuries, the Colombian striker is already being targeted by several teams, both in the upcoming summer market and the following winter window.
Everton are said to be the team with the most interest in signing the player. According to British and Italian press, the Toffees would be willing to pay €15 million for the striker's signature. However, the negotiation will also depend on the whether or not Everton, who currently hover precariously over the relegation zone by just two points, are in the Premier League when the 23/24 season comes around.
Zapata looking for a change in fortune
"After a year and a half of hardly any goals, with just two in 2022 and zero in the first three months of 2023, Zapata's market price has plummeted from the €40-45 million that the Atalanta board of directors requested in August 2021″, the newspaper Il Giorno reported.
"Everton would be willing to offer €15 million for the centre-forward who turns 32 on April 1. His contract with Atalanta expires next season, meaning that the possibility of free transfer in summer 2024 is there″, the story added.
This season, between Serie A and the Coppa Italia, Duván Zapata has accumulated 956 minutes in 19 games, getting 1 goal and 4 assists in only three full games. His next challenge will be after the international break, on Saturday, April 1 when Atalanta visit Cremonese.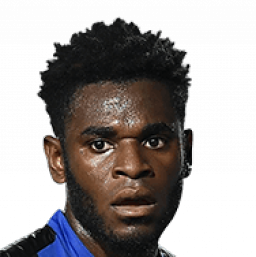 Premier League 2022/2023
*Data updated to date Mar 22nd, 2023