FA Cup fifth-round draw: as it happened, games, teams, dates
FA Cup 2022/23 fifth-round draw: live
Fifth round draw
Southampton v Luton or Grimsby
Leicester City v Blackburn or Birmingham
Stoke City v Brighton
Wrexham or Sheffield United v Tottenham
Fulham or Sunderland v Leeds United
Bristol City v Manchester City
Manchester United v Derby or West Ham
Ipswich or Burnley v Sheffield Wednesday or Fleetwood Town
Many thanks for joining us this evening for the draw.
Fifth round games and kick-off times will be confirmed in the next few days by the FA.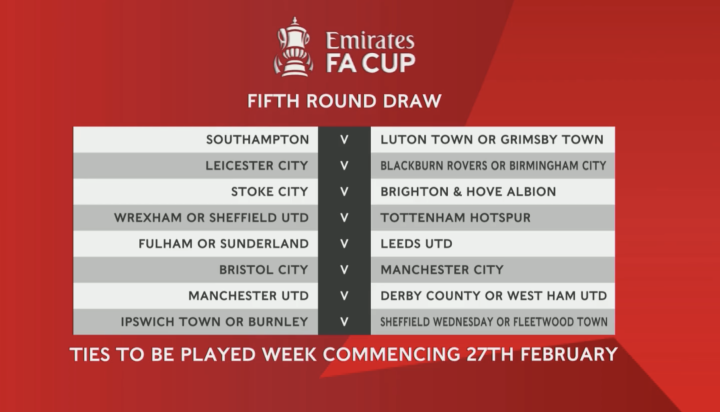 Ipswich/Burnley will face Sheff Weds/Fleetwood
Man United at home and will face Derby/West Ham
Next tie...
Bristol City who face Man City
Fulham or Sunderland will take on Leeds
next tie sees...
Wrexham/Sheff United vs Spurs
next game..
Stoke City vs Brighton
next tie...
Leicester City vs Blackburn/B'ham
Southampton vs Luton/Grimbsy
So, here we go... the first tie out is .....
Jermaine Jenas and Alex Scott will conduct the draw.
The 16 balls
1 Tottenham Hotspur
2 Southampton
3 Wrexham or Sheffield United
4 Ipswich Town or Burnley
5 Manchester United
6 Luton Town or Grimsby Town
7 Derby County or West Ham United
8 Stoke City
9 Blackburn Rovers or Birmingham City
10 Leicester City
11 Sheffield Wednesday or Fleetwood Town
12 Manchester City
13 Bristol City
14 Brighton & Hove Albion
15 Fulham or Sunderland
16 Leeds United
A quick recap of the best of the 4th round action before the draw takes place.
Draw time....Here we go....
FA Cup draw coming up after a Reese Witherspoon interview !!!
The kick-off dates and match times will be confirmed by the FA in the next few days after a consultation process with television rights holders.
Alex Jones and Jermaine Jenas are the hosts and we're hoping to head straight into the draw.....after a feature om the NHS crisis.
The One Show on BBC is poised to start and with it, the FA Cup fifth round draw....
Derby-West Ham will know opponents
With the final 4th round game between Derby County and West Ham set to kick-off roughly 90 minutes after the draw, both sides will be aware of who awaits them in the fifth round when the game at Pride Park kicks off.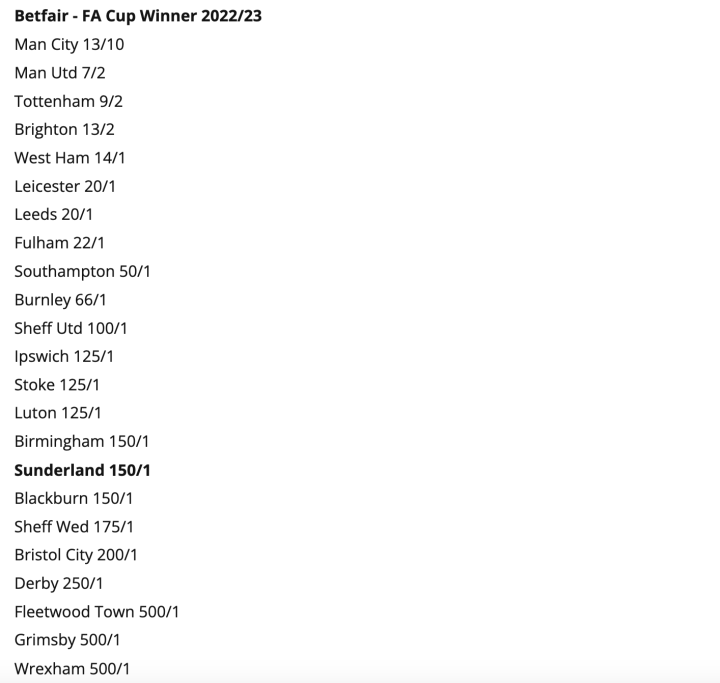 Ryan Reynolds and Rob McElhenney's Wrexham rank outsiders
The nine Premier League sides occupy the top spots in the ranking of the favorites to lift the 2022-23 FA Cup at Wembley in June.
National League side Wrexham (who drew 3-3 with Sheffield United over the weekend) are ranked as major outsiders and have a price of 500/1.
FA Cup 22-23: key dates
Quarter-Final Saturday 18 March 2023
Semi-Final Saturday 22 April 2023
Final Saturday 3 June 2023
FA Cup favourites
Both Manchester clubs are among the bookies favourites to lift the trophy this year with Spurs and the Brighton completing the top 4....
Brighton have never won the competition and were beaten finalists to Man United in 1983.
Only nine Premier League sides remain in the competition....The nine sides will be hoping to avoid their Premier League rivals and also bag a home draw for the games that will take place at the end of February.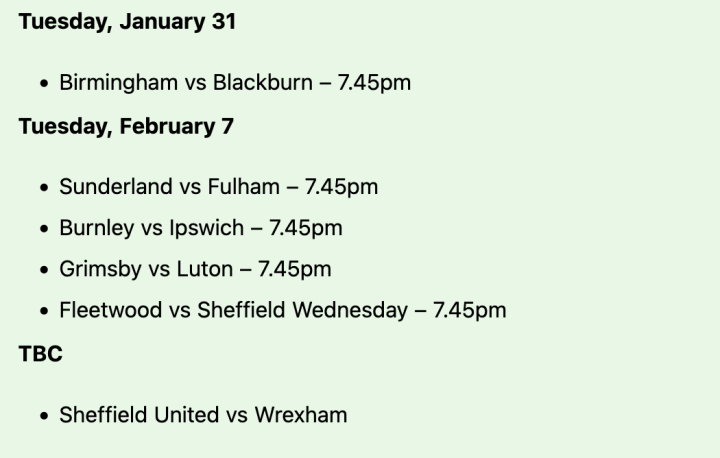 FA Cup 4th Rd. replay dates
Replay dates have been confirmed for 5/6 drawn games from the weekend's fourth-round action with Blackburn and Birmingham's game scheduled for tomorrow night.
As yet, there is no confirmed slot for the Sheffield Utd-Wrexham game.
Reigning champions dumped out by Brighton
A late winner from the Seagulls Japanese star Karou Mitoma saw Brighton advance to the fifth-round at the expense of current FA Cup holders Liverpool. Just when it seemed that a replay was on the cards, up stepped the 25-year-old to deliver a body blow to Jurgen Klopp's Liverpool.
In the overall hall of fame for FA Cup winners, Arsenal reign supreme with the Gunners having lifted the trophy 14 times. There will be no 15th triumph this season after Arteta's man fell 1-0 to Manchester City on Friday night.
Sprinklers interrupt Luton-Grimbsy start
An unfortunate intervention from the sprinklers at Kenilworth Road delayed the start of Saturday's fourth-round clash between Luton Town and Grimbsy with the game ending in a 2-2 draw.
The replay has been set for Tuesday, 7 February.
Hammers travel to Pride Park
The final game of the fourth-round will take place in the Midlands as West Ham travel to face an in-form Derby County side.
The winners of this game are ball 7 for the draw tonight.
When will the FA Cup fifth round be played?
Teams drawn together will meet in single-elimination ties played during the week starting Monday 27 February.
In each pairing, the first club out of the hat is given home advantage. If a tie finishes level, a replay is held at the other team's home ground. If the sides can't be separated at the end of normal time in the replay, extra time and penalties are used to decide the tie.
Which teams are in the fifth-round draw?
1. Tottenham Hotspur
2. Southampton
3. Wrexham or Sheffield United
4. Ipswich Town or Burnley
5. Manchester United
6. Luton Town or Grimsby Town
7. Derby County or West Ham United
8. Stoke City
9. Blackburn Rovers or Birmingham City
10. Leicester City
11. Sheffield Wednesday or Fleetwood Town
12. Manchester City
13. Bristol City
14. Brighton & Hove Albion
15. Fulham or Sunderland
16. Leeds United
The draw will be conducted on BBC Television this evening as part of the One Show with the action set to get underway at 19:00 GMT which is 2:00 pm (ET) / 11:00 am (PT)
Hello and a warm welcome to our live coverage of the FA Cup fifth-round draw.