FIFA World Cup 2026: The host cities of USA, Mexico and Canada have been revealed
FIFA World Cup 2026: host city announcement, live online
Goodnight from us here at AS USA
We hope you enjoyed our brief but fun coverage of the FIFA World Cup city reveal, as much as we enjoyed bringing it to you and with that we'd like to wish you a goodnight from all of us here at AS USA!
The 2026 FIFA World Cup promises to be quite a show
With a diverse mix of host cities, the first tri-nation FIFA World Cup is going to be like no other. The North American continent will offer its coastal cities with mountainous back drops, as well as the hustle and bustle of places like Atlanta and and New York.
Up north across the border Canada will undoubtedly showcase the multicultural melting pot that is Toronto.
Then to south we will certainly see the timeless history of the central peninsula as the ancient Mexico City and the mountain encircled Monterrey play host to football's greatest fiesta.
The cities have been revealed!
East to West and then some in the middle. The cities hosting the FIFA World Cup in Mexico, the United States and Canada are revealed and last. Take a look!
Dallas that's our bad!
We missed one and that's our bad. No disrespect to the 'Lone Star State' or the city that's the star on its hat. They say everything is bigger in Texas and we're willing to bet that Dallas will insure that's the case when the FIFA World Cup comes to town!
The World Cup goes down south
The sunny city of Miami with its beaches, vibrant scene, music and great food could well be the perfect match for the FIFA World Cup! US International Christian Pulisic himself was on hand to celebrate the news that there will be a World Cup played in his home city.
Philly is up!
The Roots themselves welcomed the news that their city - Philadelphia - had been selected as a host for the FIFA World Cup!
Boston is as good as it gets
The sporting traditions of Massachusetts are known world wide. With that it just makes sense that the city that gave us the Patriots and Celtics should be among the host cities for the FIFA World Cup!
The first eastern city is Toronto!
Canada sees its first city announced and it's the vibrant jewel of Ontario! A multicultural city with a vibrant life, there couldn't be a better place!
Mexico City is a home for the World Cup
Mexico City has hosted some of the biggest games in World Cup history history. Think Maradona in 86...
Monterrey once again!
Having previously hosted the World Cup on two occasions, the city of Monterrey knows what football is all about!
Georgia on my mind!
The World Cup is going to Atlanta and it promises to be something special. With a rich history, the pearl of Georgia will be a perfecting setting for the FIFA World Cup
KC is in the building!
Kansas City will be doing more than celebrating their Chiefs when 2026 comes, that's precisely why Patrick Mahomes was on hand to celebrate the fact that his city will be home to the FIFA World Cup.
LA is the place!
Magic Johson himself was on hand to give the good news that the 'City of Angels' will be hosting the world's game and its biggest event come summer 2026!
Down in Mexico
Guadalajara is the first Mexican city to be announced as a host city for 'la fiesta de futbol!'
The Bay Area is getting a football extravaganza!
San Francisco will be the scene for the World Cup when things kick off in the summer of 2026!
Seattle in at #2
The 'emerald city' in the North West of the USA will be a host for football's biggest party!
Vancouver is the first!
Congratulations to Vancouver on the western coast of Canda! They are the first city to be announced as a host for the 2026 World Cup!
East, West and Central
Given that it's the first time three nations will be hosting the FIFA World Cup, the tournament has been separated into three zones. Games will be played on the East and West coast of the North American continent and then of course in Central America!
Canada's first
What an occasion for Canada as they will be first time hosts of the world's biggest sporting event, The FIFA World Cup
'El Tri' for Three!
Mexico becomes the first nation in world football to host the FIFA World Cup three times. How about that? Congratulations Mexico!
The scene is set!
The room is full with journalists and dignitaries alike and we're just about ready to go!
Hosting a FIFA World Cup is a big deal
While there may be some who don't understand the fanfare, rest assured the opportunity to host a FIFA World Cup is not just a massive occasion due to the amount of people that will descend on your country/city though that definitely is a factor, but it's also an enormous economic injection for any location fortunate enough to have the honor.
Millions will descend on North and Central America when the summer of 2026 rolls around and rest assured they will all need a place to be and things to do when they aren't taking in the action on the field while the action plays out. It's most definitely a big deal!
Houston is hoping!
They say everything is bigger in Texas, we'll see if we get to witness that being the case!
The Countdown is on
We're now less than an hour away from discovering which lucky cities will be given the honor of hosting the world's biggest sporting event!
If you're just joining us then let us give you a warm welcome to AS USA's live coverage of the World Cup 2026 City Reveal! We hope you will stay with us throughout as we take you through the event city by city.
Houston hopeful
"We've all seen so much progress in the growth of soccer over the course of 20 plus years," said Chris Canetti, president of the Houston World Cup bid committee, who previously had a 19-season career in MLS.
"The platform that (hosting) will provide to really take the sport to even much greater heights is incredible and very exciting as well."
Canetti pointed to Houston's size and proximity to Central and South America among its advantages for the global tournament, but added he did not expect any advance notice from FIFA.
"There really hasn't been a lot of direct feedback to help you feel confident to say, 'Oh yeah, we're definitely in'," he said. "I think our chances are very, very strong."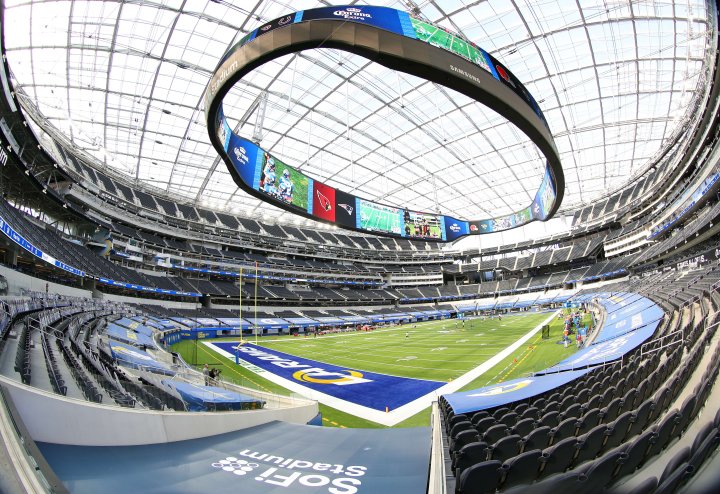 Sifi Stadium, strong candidate
Los Angeles, with its glitzy new $5.5 billion SoFi Stadium is widely considered an obvious candidate, as is global hub New York, whose joint bid with New Jersey is anchored on the 82,500-capacity MetLife Stadium.
Other contenders include former 1994 World Cup host cities Boston, Dallas, San Francisco, Orlando and Washington, D.C., which combined its bid with Baltimore this year.
Event set to start at 1700 (ET)
Despite initially starting that the event from NYC would start at 1500 ET, the governing body now state that we'll have a 1700 ET start.
Canada and Mexico candidate cities
In Canada, Toronto and Vancouver will be the destination for games, and Edmonton is the third candidate but may miss out.
In Mexico, FIFA are set to announce Mexico City, Guadalajara and Monterrey as the host cities.
US candidate cities
The following cities are competing to host World Cup games in 2026:
New York/New Jersey (MetLife Stadium)
Los Angeles (Rose Bowl Stadium or SoFi Stadium)
Miami (Hard Rock Stadium)
Seattle (Lumen Field)
Atlanta (Mercedes-Benz Stadium)
San Francisco/Bay Area (Levi's Stadium)
Dallas (AT&T Stadium)
Washington, D.C./Baltimore (M&T Bank Stadium)
Boston (Gillette Stadium)
Philadelphia (Lincoln Financial Field)
Houston (NRG Stadium)
Kansas City (Arrowhead Stadium)
Denver (Mile High)
Nashville (Nissan Stadium)
Orlando (Camping World Stadium)
Cincinnati (Paul Brown Stadium)
FIFA have been carefully considering the proposals presented by each candidate host city, which are broader in nature and also include ancillary events and venues, and key aspects such as sustainability, human rights, legacy, general infrastructure and financial impact.
FIFA have yet to confirm how many of the host cities they will select from the US, Canada and Mexico, however, is it expected that there will be 16 in total.
The USA are set to have 10 host cities, with three each for Canada and Mexico. There have, however, been rumblings that FIFA could select an 11th US city, or even a 12th.
Hello and welcome to our coverage of the FIFA World Cup 2026 host city announcement event in NYC, were we learn the names of 16 host cities that will host the tournament.