LA LIGA
Franck Kessié's El Clásico goal celebration pays tribute to late father
The Ivorian's first La Liga strike may well have secured the Spanish league title for Xavi Hernandez's men.
Since his move to Barcelona last summer Franck Kessié has struggled to tie down a place in Xavi Hernandez's starting XI. However he may have written his name into Barça folklore with an injury time winner to all but guarantee that the title returns to Camp Nou this season.
The Ivorian midfielder fired past Thibaut Courtois to give his side a 2-1 win, celebrating with his trademark 'salute' to the fans.
In a recent interview with Mundo Deportivo, Kessié explained that the celebration is a tribute to his father, a soldier, who died in a civil war in the Ivory Coast. The Barça midfielder was just 11 years old when his father passed away and he adopted the celebration in his honour. Adding extra significance to the gesture, the all-important clash with Real Madrid happened to fall on the same day as Father's Day in Spain.
"When someone older than [my father] arrived, he would greet them with the salute as a sign of respect for the other person," Kessié explained. "That's why this image stuck in my head."
Kessié makes his mark in El Clásico triumph
Barcelona were without young star Pedri in midfield for the visit of Real Madrid on Sunday evening and Xavi Hernandez opted to start Sergi Roberto in his place. The La Masia graduate scored the opener, before being replaced by Kessié who went on to clinch the victory with his late goal.
Kessié arrived on a free transfer from AC Milan last summer and has struggled at times to adapt to Xavi's very exacting instructions. Roberto, who joined the club at the age of 13, was picked for the starting line-up but Xavi made clear that there is more to come from Kessié in a Barcelona shirt.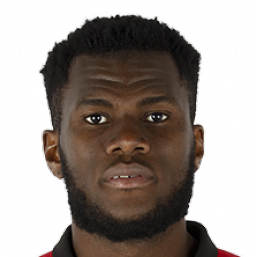 "I chose Roberto to start because I think he has a better understanding of our positional game," the Barça coach said. "It's normal, Franck has only been here for a year. But today it was really important to avoid losing silly possessions."
After the match, Xavi admitted that he had "doubts until the last minute between one and the other" about which of the two eventual goalscorers should start.
"They were the two options and both have gone well," he said of Kessié and Roberto. "Both have scored and have emerged victorious."