CHAMPIONS LEAGUE
Has Haaland ever won the Champions League?
The Norwegian striker is playing in the Champions League for his third club as his Manchester City side look to win the UCL for the first time.
Erling Haaland will play his 30th Champions League game on Saturday as his Manchester City side face Inter Milan at the Atatürk Olympic Stadium in Istanbul.
The Norwegian broke onto the scene in 2019 when playing with his Salzburg and his domestic form, coupled with eight Champions League games leading to six goals for the Austrian side soon saw big name European clubs anxious to secure his services.
The striker moved to Borussia Dortmund in 2020 and continued his prolific goalscoring habits before a 2022 move to Manchester City saw the player follow the footsteps of his father (and agent) who also had spells in England with Leeds United and Manchester City.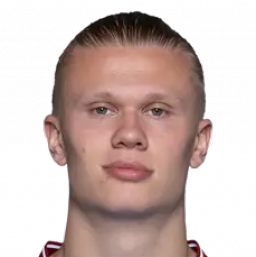 Despite having secured two Austrian league medals, a German Cup winners medal and his honours with City (Premier League title and FA Cup win), the 22-year-old has never played in a Champions League final with Saturday set to present his debut on the big stage.
Goal machine
The Norwegian has not only scored more Champions League goals (35) than games he has played (29) but he has done so for each of the three clubs he has featured for in the competition. He scored eight in six matches for Salzburg, 15 in 13 while at Dortmund and has now hit 12 in nine for Manchester City.
He became the only player to score a first-half hat-trick on his Champions League debut for the Austrians at the age of 19 and is one of only three players – alongside Alessandro Del Piero and Diego Costa – to have scored in each of his first five appearances. Haaland is also the man to have reached a number of goalscoring milestones the fastest: 10 goals (seven games), 15 goals (12 games), 20 goals (14 games), 25 goals (20 games), 30 goals (25 games) and 35 goals (27 games).

In his 28-game Champions League career to date, Ajax (one match), City (two games while at Dortmund) and now Real Madrid are the only teams he has faced without scoring.