LALIGA SANTANDER
Hazard asks for another year with Real Madrid
The Belgian was questioned about his future during the Copa del Rey celebrations, and he's keen to fulfill the remaining year of his contract.
Eden Hazard thinks in white. The Belgian celebrated the Copa del Rey title won against Osasuna with his teammates, despite not having played much, only contributing 67 minutes in a game. However, when asked about his future, he assured those listening that he wants to continue at Real Madrid, at least until his contract expires.
Hazard keen for Madrid stay
"Fulfill the year I have left? Of course," he confirmed amid the commotion.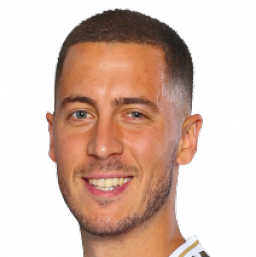 Hazard has participated this season in five league games (133 minutes in total), three in the Champions League (131′) and the one mentioned in the cup tournament.
"I hope to play minutes, it's a difficult year... but with a very big team,"commented the player, who is on his way to his least active season with Los Blancos since arriving in the 2019/20 campaign.
And, unlike many players in his situation, Hazard didn't have a bad word to say about the club or the technical staff, but rather made self-criticism.
"We have a good relationship, the coach and the players. I want to play, but I know it's very difficult and I know I have to work hard."